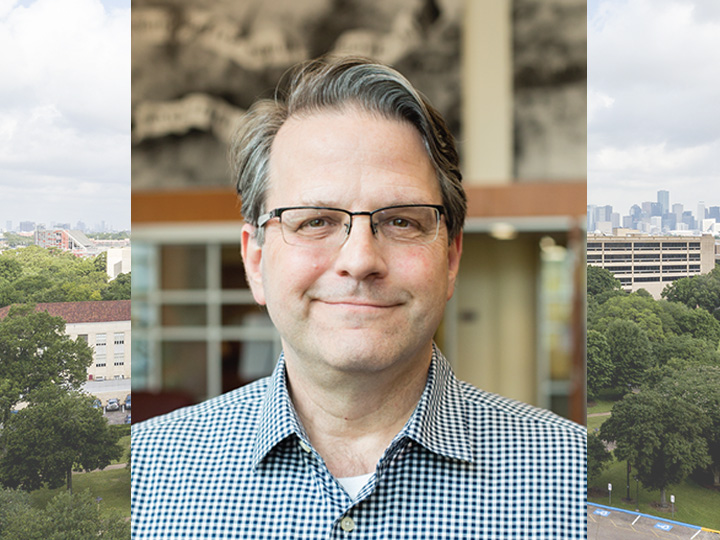 An international team of scholars, including CLASS classical studies professor Richard Armstrong, has launched a new exhibition at the Freud Museum London, showcasing the life and work of Sigmund Freud. The co-curated creative exhibition features an extensive collection of artifacts from Freud's personal collection, exploring connections between psychoanalysis, life and art. Alongside the exhibition, a digital archive has been created to preserve Freud's legacy for modern audiences. 
"It includes his collection of antiquities, which he was able to take out of Austria through the intervention of powerful friends, and his library and the famous couch, which is kind of an icon of psychoanalysis," Armstrong, an associate professor in the UH Department of Modern and Classical Languages, said. "They do art exhibits and lectures and all kinds of things there at the Freud Museum in London, and we thought — why not do an exhibit that was objects based?" 
Curated by experts from the University of Houston, University College London (UCL), King's College London (KCL) and Freud Museum London, the exhibition, "Freud's Antiquity: Object, Idea, Desire," explores the history of psychology and the life and work of Sigmund Freud. It concentrates on six key themes of Freud's work and showcases objects from his collection spanning over 50 years, including his early paper "The Aetiology of Hysteria" and his final work "Moses and Monotheism." 
"Freud created the 'archaeological metaphor' to show how the mind resembles an archaeological site which the analyst excavates to unearth buried memories and traumas," UCL professor Miriam Leonard said. "He used the objects in his vast collection of antiquities to make this metaphor vivid and dig further into our individual and collective unconscious." 
The exhibition and its supporting digital archive will stimulate contemplation on how meaning and comfort are found in the items people surround themselves with. Freud's figures are each highly treasured, whether hidden in plain sight or set apart for viewing and pertinent to his work.  
"We are kind of hitting a new era here at the museum, and one of the new things that we are realizing as academics is the significance of video," Armstrong said. "The work that we do has to reach a wide audience and requires a different skill set than previously. Much as we still love articles and books, broadcasting adds complexity to a story that is unique, and audio is highly effective."
The digital archive will be accessible through QR codes. It contains photographs of objects from Freud's private collection, podcasts, videos and text panels noting the correlation between Freud's antiquities and his most important theoretical discoveries.
Cancer-stricken, Freud fled Austria in 1938 with his family to escape the Nazi annexation. Taking nearly 2,500 objects that originated from or were inspired by the ancient world, they relocated to Hampstead, and the Freud Museum London is Freud's final abode.
"Richard, Miriam and I felt like we were excavating Freud's study, a room packed with Freud's antiquities collection kept by his daughter Anna as it was on the day he died," Orrells said. "But many of the objects are literally invisible to the visitor's eye, hidden away in cabinets. So, we wanted to dig into those cabinets to see what was lurking in there. It was like the return of the repressed! We were like archaeologists of the Freud Museum itself."
As a neurologist, Freud surrounded himself with statuettes of the Greek, Roman, Egyptian and Chinese era that gazed upon him from centuries past. His passion for the ancient world helped spark the concepts and method of psychoanalysis. Creating a cluttered look, his office was packed with an array of diverse objects. The items on his felt-covered desk were chosen to illustrate his theories of psychoanalysis, ranging from the Greek gods Athena, Eros and Venus to the baboon Thoth. They served as a reminder of differences between the unchanging state of the unconscious mind and the conscious mind, which is subject to wearing away.
"By collaborating with Richard Armstrong and working together with our colleague Daniel Orrells, we have reassessed a crucial aspect of Sigmund Freud's thought: the relationship between our individual life histories and the history of humanity," Leonard said. "The opportunity to look closely at these objects in the museum and link them directly with developments in Freud's thinking has been revelatory and would not have been possible without collaboration between UCL, UH, KCL and the Freud Museum."
The exhibition opened Feb. 25 and will run until mid-July 2023 at the Freud Museum in London. Visitors can also participate in the virtual tour and explore Freud's psychoanalytic couch, library and notable artworks such as the Wolf Man and a portrait of Freud painted by Salvador Dali.