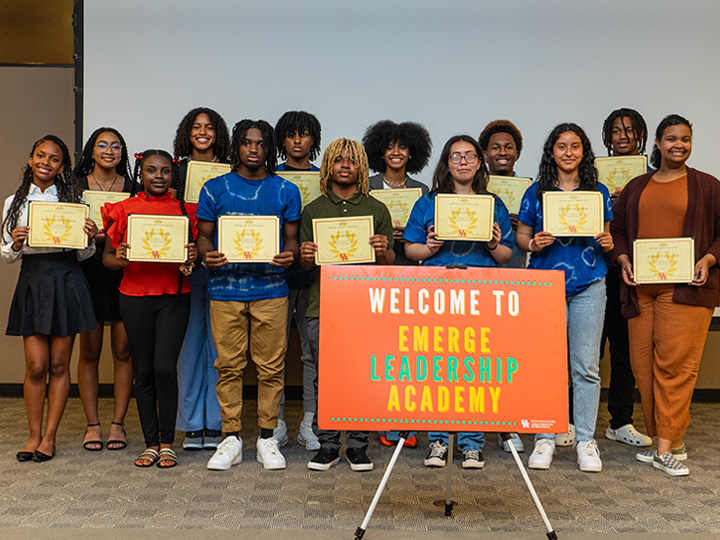 Thirteen students from Houston-area high schools participated in the inaugural Emerge Leadership Academy (ELA), a summer program hosted by the University of Houston Department of African American Studies. The free, two-week program brought students from the Greater Houston area together on campus, ensuring their college readiness and deepening their knowledge about African American culture.
"The experience was eye-opening for students," Kevin Thompson, AAS program manager and director of ELA, said. "They learned a lot about what college is, but more importantly, they learned about their role on the college campus. We exposed them to their role within the classroom and taught how they should conduct themselves and the level of excellence they should bring into every course."
Envisioned by African American Studies Chair Tara T. Green, ELA provides upcoming high school juniors and seniors with hands-on opportunities to experience different aspects of college. Students were exposed to various instruction styles, ranging from collaborative learning to classroom lectures to practical application.
"Dr. Green and I are both products of pre-college summer programs," Thompson said. "I attended an engineering camp at Mississippi State University, and Dr. Green attended something similar at her respective school. It really shaped our outlook on college and higher education overall."
In addition to fundamental classes — such as writing and supplemental math — students attended daily, 45-minute classes on a rotating schedule to expand their knowledge of African American history, health and creative arts. The courses were taught by UH faculty, AAS alumni, mentors and community partners.
"Everything I learned was new and insightful," Salyce W., Paetow High School junior, said. "I met an author who taught that African American studies leads to extra jobs; it is not just an extra major. In writing, we created college essays, and creative arts taught a lot about the Africana culture and Diaspora, arts and music."
The writing course targeted the basics of a resume and college essay, teaching students the importance of word choice and how to best market themselves. Students left with finalized and reviewed college application essays and/or resumes.
"They had a crash course on resume writing and portfolio creation, with just a little bit on financial literacy as well," Thompson said. "We covered a lot of ground in a short amount of time because we wanted to expose them early, and they got a lot of information in each course."
Being selected for the program took work. In addition to submitting their GPAs, students wrote compelling essays about their interest in the program, submitted teacher recommendations and demonstrated a commitment to community involvement and engagement. 
Applause rippled through the room at the program's June 16 graduation ceremony as students filed in while performing a traditional African American dance mere days before Juneteenth.
"They put a lot of emphasis on working with each other," Salyce said. "Even though there were 13 of us, all 13 of us are in contact somehow. I left the event with connections not only with the teachers but my classmates because in the future it will be just us."