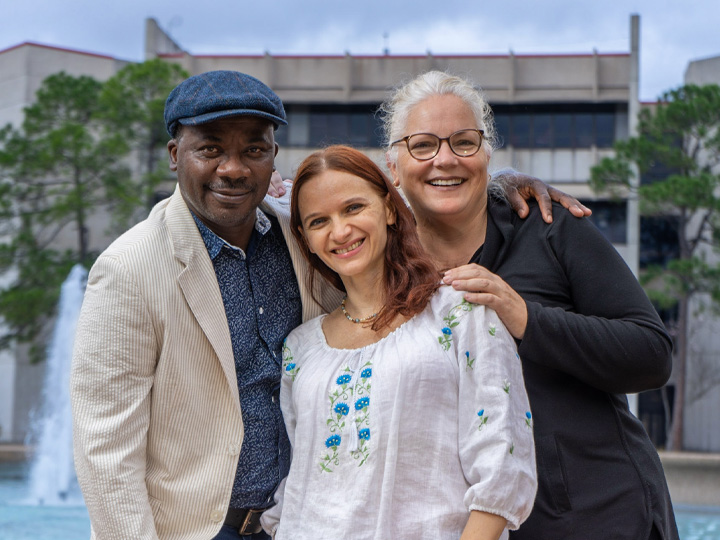 The French Embassy in the U.S. and the French American Cultural Exchange Foundation have awarded the University of Houston French studies program the 2022 Empowering French and Francophone Studies grant. The grant will fund the completion of a free open textbook to encourage students to pursue the language.
"We want to make it completely free and available for students with various backgrounds because a lot of our students come from first-generation, underprivileged backgrounds," Viola Green, instructional assistant professor of French, said. "The cost of the book is an important factor for them when looking into classes and schools."
Green, along with UH French professors Céline Wilson and Raymond Gnanwo Hounfodji, began the project in 2022 after receiving a grant from the University of Houston Libraries that launched the French in Higher Education Program. The Empowering French and Francophone Studies grant will fund a textbook for the first two years of French undergraduate study which will be written and geared toward the most current research in learning a second language.
The French program, located in the department of modern and classical languages, was awarded $5,000 to develop undergraduate French courses over two years. "We were inspired by what the French government was trying to do by making French more accessible and promoting the learning within this country," Green said. "We saw similar goals in making French more accessible at UH and making French more accessible to the entire U.S. We saw a fruitful collaboration in the future."
The French in Higher Education Program addresses an ongoing loss of foreign language departments across American colleges and universities by supporting the modernization of French departments through calls for projects which encourage innovation in teaching as well as faculty training and professional internships in France for American students.
"In January, myself and two team members will be diligently working on creating the content for Elementary French 1 and 2, choosing the text, creating the exercises, putting everything on the electronic platform and working with an artist for students to view," said Green. "Hopefully by the end of the semester, Elementary French 1 is finished, and in the fall of 2023, Elementary French 2 is completed as well.
"Afterwards, we will be piloting the program and getting student feedback, evaluating it and tweaking our methods and exercises based on their answers," said Green.
Ultimately, the program is working to develop a tier-one curriculum. Its innovative and inclusive style of instruction serves as strong demonstrations of excellence and international recognition of research and teaching in MCL.
"This is a game changer," said Emran El-Badawi, chair of modern and classical languages. "The grant is a proud achievement and a momentous milestone, which bodes well for the future of French studies and sets the standard for future language teaching as the new normal."