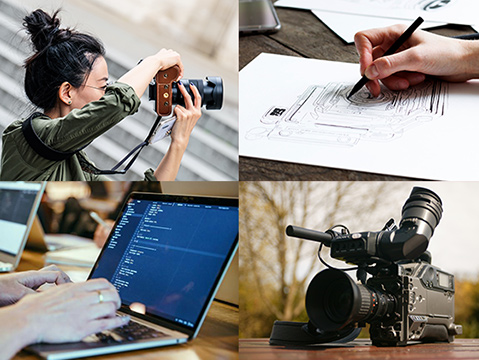 The Media and the Moving Image initiative hosted its third-annual showcase this semester, spotlighting nearly 30 student projects and awarding five University of Houston faculty members. 
The 2022 award winners are Jovan Slaughter for the podcast episode, "Feeding the Third Ward," Aixa Tovar for the original screenplay, Miguelito, and Angeline Abrera, for her video interview with activist author Holly Charles Pearson. 
Media and the Moving Image, an interdisciplinary initiative housed in the College of Liberal Arts and Social Sciences, supports the creativity of students and faculty interested in digital media and the arts. Each year, the initiative hosts an annual student competition, which awards $500 to winning entries in each of the three categories: Critical, Creative and Applied. A fourth "Special Jury Prize" is sometimes awarded as well. 
Karen Fang, 20-year University of Houston faculty member, has spearheaded this initiative since its official inception in 2019. 
"This is a real opportunity to showcase what UH does in media-related fields," Fang said. "It specifically showcases the humanities that sometimes get overlooked." 
Houston is home to a rich culture of arts and a steadily growing film and media industry. University students regularly engage with these networks throughout the city, but the MMI initiative strengthens those connections on the University of Houston campus, as well. 
Daniel Kennedy, 2021 winner of the Critical category, credits the MMI Student Prize Competition with encouraging him to spend more time carefully crafting his work. His advice to students who plan to submit their work is simple: challenge themselves. 
"Think of coursework as more than mere coursework," Kennedy, a doctoral student, said. "Assignments are drafts that can be expanded, revised and refined." 
What started off as Kennedy's term paper went on to win—after the MMI award--the Inprint Donald Barthelme Prize in Nonfiction and be published in the New England Review. For Kennedy, the most valuable thing he gained from this experience was a new "passion for the braided-essay form and writing about film." 
For students who are nearing graduation, this annual competition is a chance to add to their professional portfolio. For those seeking a creative career, having hands-on work experience is imperative. Those with tangible experience tend to be the most attractive candidates, even for entry-level jobs. 
"We have a lot of writers, producers, directors and technicians here in Houston," Fang said. "Many of our film and media graduates go straight into the industry in Austin, Los Angeles or New York." 
The MMI Student Prize Competition – and ensuing year-end prize competition– also give industry experts the opportunity to engage with students each year. One such veteran is Rick Ferguson, who worked at the Houston Film Commission for 30 years before his retirement. 
Throughout his tenure, he participated in many film organizations across Texas. In 2019, he was a judge for the MMI Student Prize Competition. 
Michelle Mower, a University of Houston alumna who went on to become an acclaimed writer, director and producer, was the keynote speaker for this year's MMI Award Ceremony on May 3. The CEO of Los Angeles-based film sales and distribution company, Imagination Worldwide, Mower is deeply invested in fueling Houston's film industry. 
"There are some producers and professional indie filmmakers who are doing their best to tell great Houston-based stories despite their low budget," Mower said. "I'm an example of this."