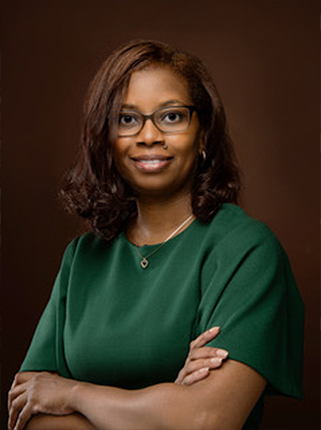 Effective Aug. 1, Tara T. Green begins her tenure as the founding chair and CLASS distinguished professor of the department of African American studies at the University of Houston. This historic appointment is the latest in a series of major developments for the program, which launched a large scholarship endowment and earned departmental status soon after marking its 50th anniversary.
"Dr. Green stood out as the best scholar-administrator for this position," Linda Reed, interim chair of the department, said. "As a former African American Studies director, she demonstrated a record of curriculum development, strategic planning and assessment, community engagement, fundraising, and increasing the visibility of the department. Dr. Green expressed a clear vision on how to increase AAS majors and how to work collaboratively with affiliate faculty to hire tenure-track AAS faculty in the new department."
The search for the new chair was a yearlong undertaking overseen by multiple University of Houston African American studies-affiliated faculty. Considering candidates from all over the country, the search committee was impressed by Green's scholarly and community accomplishments, alike.
Green, who joins the University of Houston after over a decade at the University of North Carolina, Greensboro, focuses her research on Black feminist studies, Black parent-child relationships and Black activism. She has authored and edited six books as well as numerous articles and book chapters. Her book, "A Fatherless Child: Autobiographical Perspectives of African American Men," won the 2011 Outstanding Publication Award from the National Council for Black Studies.
"I am proud that the hiring committee's rigorous search has paid off. Dr. Green is an accomplished scholar, and I am confident she will be a good leader, colleague and advocate for our University, College and local communities," Daniel O'Connor, dean of the College of Liberal Arts and Social Sciences, said.
As chair, Green will be instrumental in setting the charge for the department of African American studies, assessing and addressing curriculum needs, and helping recruit students to the new degree — all tasks for which she is well suited. During her time at UNC-Greensboro, Green built local and global partnerships to elevate the program. Key accomplishments included forming a partnership with the University of Ghana and increasing student enrollment for African American studies.
At the University of Houston, Green begins her tenure with a focus on community engagement. Impressed by the department's rich history as the first African American studies program in the state of Texas, she is particularly excited to build on it.
"Not only does the department of African American studies have a history, it has a future that I am excited about contributing to," said Green. "We are not starting from scratch, and I certainly want to acknowledge that. I may be the first chair, but there were people — like Dr. James Conyers and Dr. Linda Reed — who did the work to make it possible for there to be a department."
Similarly, she is inspired by the University of Houston's commitment to being a good steward of the community, from Third Ward and beyond. Inspired by a life-long interest in storytelling, Green brings her expertise and commitment to the community to the new role.
"I'll be able to do all the things that I've been doing throughout my career, but it's important to have the support of the University to do that," said Green. "This first year, I will focus on making connections with the community of Houston and our University colleagues, as well as drawing in more students. These are extremely important goals for building our undergraduate curriculum and foundation."