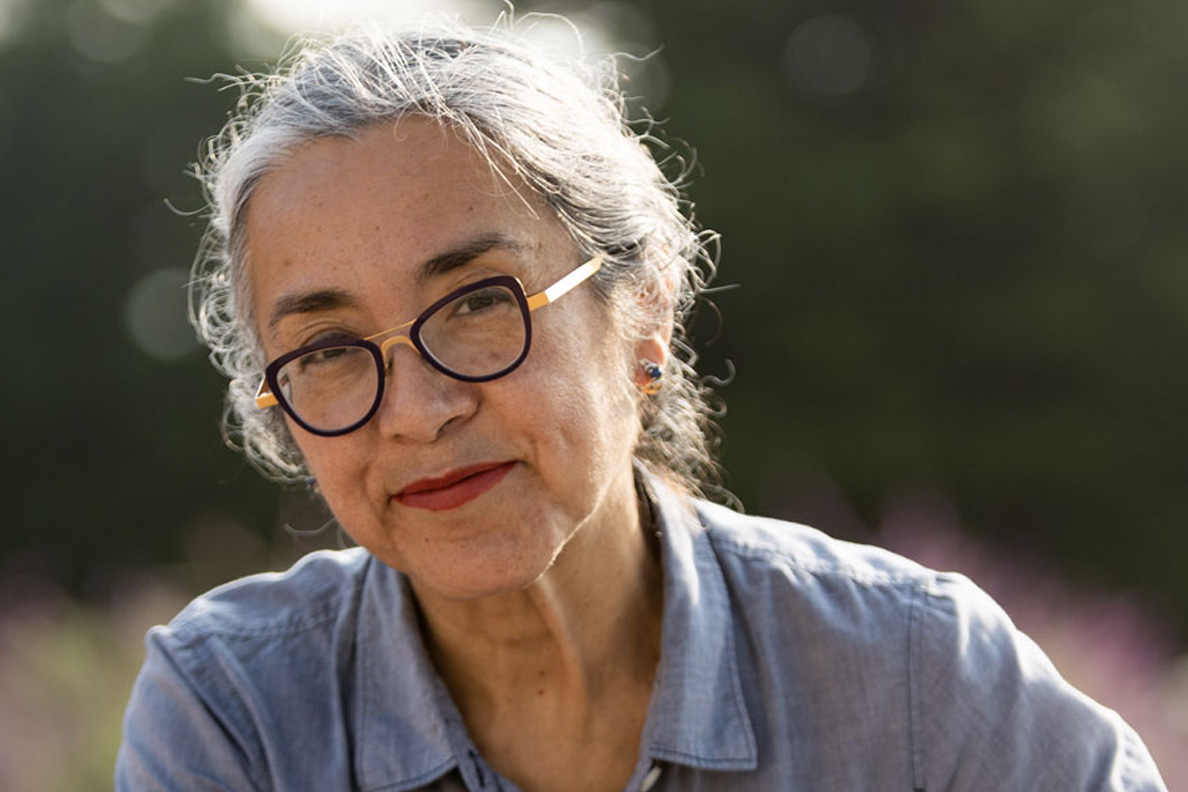 Distinguished Professor in Hispanic Studies Cristina Rivera Garza was recognized on June 6 with the 2021 Xavier Villaurrutia Award for her forthcoming novel, "El invencible verano de Liliana." Presented by the Ministry of Culture of the Government of Mexico and the National Institute of Fine Arts and Literature (INBAL), the prestigious Xavier Villaurrutia Award is the highest literary award given to a book published in Mexico.
"This is an award for Liliana Rivera Garza, my younger sister, whom we lost 30 years ago due to sexist violence," expressed Rivera Garza in an interview for INBAL. "She would have liked to share it with all the women who have been cruelly taken from us in Mexico and in the world."
Compiled during the pandemic, this heartfelt chronicle gives life to a loved one lost and is the product of a meticulous archive of letters, notes, documents and diaries of Rivera Garza's little sister, Liliana, who was assassinated when she was 20 years old in Azcapotzalco, a working-class borough of Mexico City. 
"This is a book that I wrote, almost co-authored, with Liliana. I discovered many things that I did not know as a result of the investigation and with her friends," Rivera Garza told ZETA. "Opening the boxes, I realized that Liliana was a budding writer, absolutely, and apart from that, a very avid reader."  
Rivera Garza, who launched the University of Houston's Creative Writing in Spanish — the first doctoral program of its kind in the United States — has received several of the highest awards for creation in Mexico. The José Rubén Romero Fine Arts Novel Award, the Sor Juana Inés de la Cruz Award, the José Emilio Pacheco Excellence in Letters Award, Shirley Jackson Award, Donoso Award, Nuevo León Alfonso Reyes Award, Mazatlán Award and the MacArthur Scholarship are all on her shelf, to name a few. 
Rivera Garza now stands alongside esteemed authors such as Octavio Paz, Fernando del Paso, Elena Garro, Juan José Arreola, María Luisa Puga and Inés Arredondo for achieving the Xavier Villaurrutia Award. 
Fight for Justice  
As a collective call for justice in one of the world's most dangerous countries for women, Rivera Garza recounts experiences with the Mexican justice system while searching her sister's femicide in "El invencible verano de Liliana." But justice has been hard to come by.  
When Liliana passed in 1990, femicide, or the intentional killing of women or girls because they are female, was not even classified as a crime. Even now, at least half of reported femicides in the country go unresolved, according to a report by Impunidad Cero. Worse — most violence against women is misreported or even unreported. 
Rivera Garza notes in the New York Times that her book was "written from a wound that I share with so many other families in Mexico, Latin America and around the world." And its voice gave insight into a case that had been stagnant for decades. 
Rivera Garza has painstakingly, personally translated "El invencible verano de Liliana" into both English and Spanish to ensure the overall message of her sister's suffering is not lost — society must change. "There is a larger concept of justice that involves the preservation of memory and the truth as well," Rivera Garza said. "I realized little by little that the book in fact was trying to do that work." 
In the book, Rivera Garcia imitated the epistolary writing style and relationship between friends and González Ramos. INBAL, the National Literature Coordination and the International Alfonsine Society unanimously hailed that Rivera Garcia "narrated with sobriety and various literary and testimonial resources, the heartbreaking family experience of an unresolved femicide."  
"This book, which has taken me a long time to write, is my way of demanding full compliance with justice," Rivera Garza said. "It is my way of restoring my sister's presence in the world, of bringing her to the collective memory and making sure that the femicide's opinion, which is to erase her presence and silence her, does not bear fruit anymore."