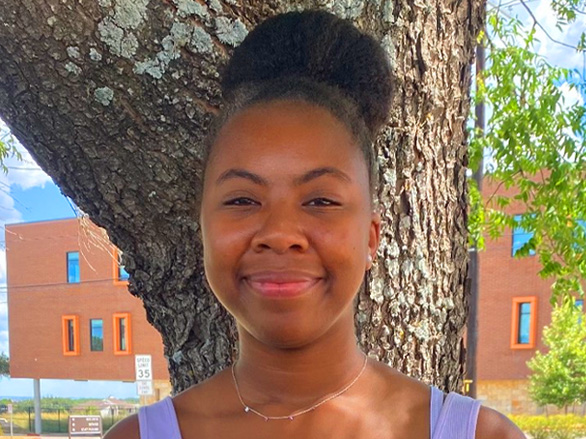 Two College of Liberal Arts and Social Sciences students were recently named 2022 Sumners Scholars. Selected from students nationwide, Cai Wilson and Ola Dafaalla were two of only 43 students to receive the award for the 2022-23 academic year.

"Following in the footsteps of Congressman Hatton W. Sumners, we are pleased to support students working to improve the political system, address issues through public policy, educate others about civic responsibility and be active, productive members of society," Sumners Foundation Chairman Jerry Reis said.

The Sumners Foundation has six endowed graduate and undergraduate scholarship programs in Texas and Oklahoma. Wilson and Dafaalla were each awarded $30,000 for demonstrating a commitment to pursuing civic justice and academic excellence.

"Ola and Cai are fantastic students and rising young leaders in the community," Professor Jeffrey Church said. "So well-deserving of this impressive award, they represent the best among our great group of political science students."

Sumners trustees specifically seek students who are civically engaged and actively working to further democracy. It places a strong emphasis on self-governance and encourages scholars to pursue information from different angles, find reliable sources and conduct research to understand facts and backgrounds instead of depending on sources that may be biased.

"After researching Sumners and looking into their purpose, I really found interest in their mission and what they are all about," Wilson, a third-year liberal studies major, said. "They strategically network with different areas in government and provide opportunities for students to become educated in political decisions."

A two-year award, the scholarship supports undergraduate studies in political science, pre-law, history, journalism, education and related fields. Scholarships must be applied to recipients' junior and senior years of undergraduate education, assisting with tuition costs, fees, on-campus housing and books.

"One of my political science professors, Dr. Jeffrey Church taught a lot of different political principles across the political science spectrum," Wilson said. "That really helped with the scholarship."

Applicants sent in an application along with two letters of recommendation, a transcript, resume and a 750-word essay detailing why they had chosen their major. An outline of academic and career goals that exemplified a passion for self-government was needed to quantify their aspirations. Once selected, scholars advanced to a second stage in the application process and had short interviews with trustees.

"I did a practice interview with Dr. Ben Rayder first, and he gave me some tips, telling me what I did well and what I could improve on before I interviewed for the scholarship, and that made me feel better," Dafaala, third-year student double majoring in political science and sociology, said.

Sumners Scholars receive ample opportunities to attend annual leadership and policy analysis conferences to supplement their learning and expand their growth potential. They enjoy additional time with and access to series lecture speakers and can participate in a variety of public policy, leadership and civic participation programs. Participation in the program prompts internship opportunities.

"In September, an event will provide me the opportunity to speak with former Supreme Court Justices," Wilson said. "That is a once-in-a-lifetime opportunity to speak with people in high government positions that would otherwise not have been possible."

Wilson and Dafaalla are in elite company. Sumners Scholarship alumni include U.S. District Judge Fred Biery, Senior Deputy Attorney General of Oklahoma Dara Derryberry, Chief Justice of the Texas Supreme Court Nathan Hecht, President of the University of Texas at Arlington Jennifer Cowley, and past Chancellor of the New Mexico Annual Conference of the United Methodist Church Charles L. Moore.