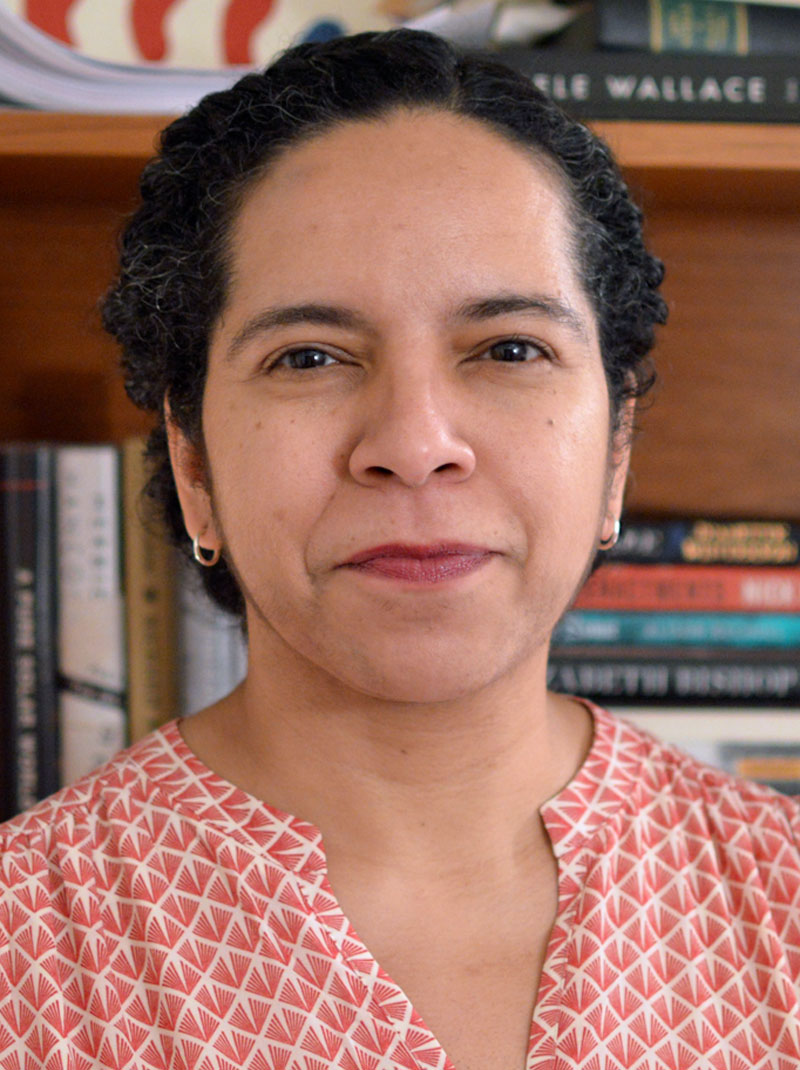 The University of Houston College of Liberal Arts and Social Sciences (CLASS) and the Department of English are pleased to announce that Associate Professor of English Francine J. Harris is the winner of the 2020 National Book Critics Circle (NBCC) Award for poetry. She received this honor for her most recent work, "Here is the Sweet Hand" (Farrar, Straus & Giroux, 2020).
"The National Book Critics Circle Award is among the pre-eminent literary awards in the country," said Paula Myrick Short, UH senior vice president for academic affairs and provost. "This honor, in addition to recognizing the considerable artistic accomplishments of Francine J. Harris, further establishes UH's reputation as a prime destination for the best writers in the nation."
"Here is the Sweet Hand" explores how race, expression and isolation affect females in America. Harris has a long history of personal involvement in social justice, beginning with her early days as a prominent voice on Detroit community radio. Her poetry has appeared in many journals, including McSweeney's, Ploughshares, Poetry, Meridian, Indiana Review, Callaloo and Boston Review. A 2008 Cave Canem fellow, she later won the 2014 Boston Review Annual Poetry Contest and was awarded a 2015 NEA Fellowship.
Harris acknowledges that she has been inspired by a wide range of poets, from the naturalists like Robert Frost and Walt Whitman to the confessionalists like Sylvia Plath and Sharon Olds. "But at heart, I am a child of the Black arts movement: Sonia Sanchez, Gwendolyn Brooks, Ntozake Shange, Amiri Baraka, all the Broadside poets, since I am from Detroit, and Robert Hayden," she said. "What I carry from them is their belief that poems could change the world, the way they celebrated Black folks and our resilience through their poetry and especially how they retooled language to make it new, exciting and revolutionary. It was an immense gift — what those writers gave me when I was young and struggling to make things make sense."
Poets who receive major book awards find their work is taught more often and are more often anthologized, Harris notes. "So this award is likely to increase my visibility and connect me to more readers, which is fantastic!"
"I am incredibly pleased that the NBCC has recognized Francine for the excellence of her latest work," said Daniel P. O'Connor, Ph.D., interim dean of CLASS. "Racial justice, women's rights and LGBTQ equality were at the center of the national conversation in 2020 and continues, so it is only fitting that the 2020 NBCC Awards honored a tireless advocate for African American, female and LGBTQ artists."
UH alumnus Bryan Washington's latest novel, "Memorial," also claimed an honorable mention in the NBCC Awards' fiction category. The NBCC Awards are considered among the most respected literary honors in America; past recipients include Margaret Atwood and Toni Morrison. In 2019, the NBCC awarded UH Arte Público Press, the nation's largest publisher of U.S.-based Hispanic authors, the prestigious Ivan Sandrof Lifetime Achievement Award.