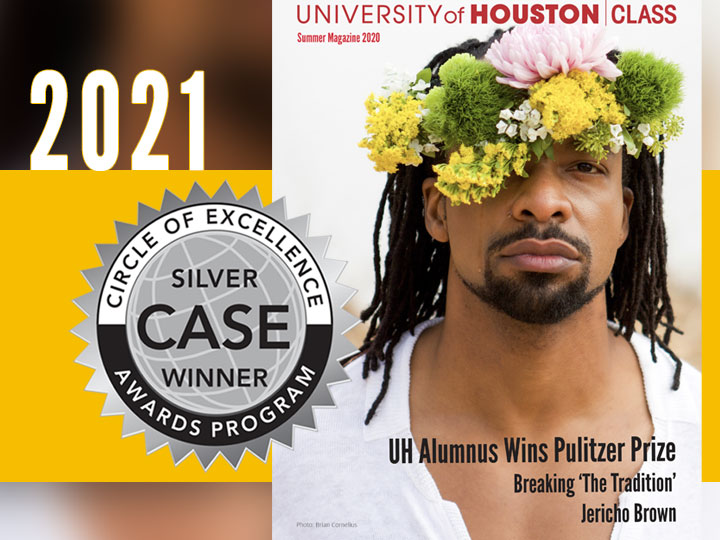 The University of Houston College of Liberal Arts and Social Sciences (CLASS) is pleased to announce that the Summer 2020 CLASS Magazine, a production of the CLASS Office of Communications, has won the Council for Advancement and Support of Education (CASE) 2021 Circle of Excellence Award. On June 9, CASE announced that the magazine issue, which was published in June 2020 and ushered in CLASS Magazine's eye-catching new digital format, was awarded the Silver prize in the category of Alumni Relations: Alumni Engagement on a Shoestring.
CASE's peer-selected and adjudicated Circle of Excellence Awards honor institutions worldwide whose talented staff have advanced their organizations through their resourcefulness and acuity. This year, CASE received almost 3,000 entries from 27 countries. Those entries came from 530 institutions for consideration across 100 categories. CLASS was the only college within the UH System to take home a 2021 Circle of Excellence Award.
"This year's CASE Circle of Excellence Awards highlight the creative, nimble and innovative approaches our members bring to championing the success of their institutions," said CASE President and CEO Sue Cunningham.
Amid the COVID-19 pandemic and national unrest surrounding Houston native George Floyd's death, the CLASS Office of Communications realized that maintaining alumni engagement would be both more challenging and more urgent than ever before. With social distancing, isolation and fear of disease transmission, traditional printing of alumni materials was not possible.
"The innovation and hard work of our faculty, staff and students has earned CLASS well-deserved recognition," said Daniel P. O'Connor, Ph.D., interim dean of CLASS. "Their stories have traveled beyond the borders of our campus and reached a global readership, enabling audiences around the world to learn about our research and academic achievements."
CASE judges congratulated CLASS for tackling an online magazine for the first time, noting its beautiful design and its ingenuity in showcasing individuals of various ethnicities and generations. By producing relevant material, highlighting cutting-edge scholarship and presenting content applicable to everyone, the issue has already attracted over 100,000 readers.
"The Summer 2020 CLASS Magazine represented a bold pivot for my hardworking team," said Toni Mooney Smith, executive director of marketing and communications for CLASS and the magazine's editor-in-chief and publisher. "This award validates our efforts to debut a visually stunning, interactive and fully online format while showcasing resilience and social justice stories. The magazine embraced innovation in its format and its content, finding new ways to tell the stories our community needed to hear."
CLASS alumnus Jericho Brown, the winner of the 2020 Pulitzer Prize for Poetry, graces the front cover, inviting readers to explore the range of diverse voices found within the magazine's pages. Among the highlights: dazzling images from the University's "Latino Art Now!" billboards campaign, Professor Elena L. Grigorenko's inside look at how she became the first female editor-in-chief of Psychological Review and a two-page spread titled, "A Remembrance of George Floyd," which captures thousands of Houstonians coming together to honor their friend and neighbor's life and make their voices heard at City Hall.
CASE Circle of Excellence Award winners are selected based on several factors, including overall quality, innovation, use of resources and the impact on the institution or its external and internal communities, such as alumni, parents, students, faculty and staff. 
"We were elated to be chosen as a winner among the best universities across the world," said Mooney Smith. "Many of the competing colleges and universities have much larger teams dedicated to producing magazines, but we did it with just CLASS's small team and won."