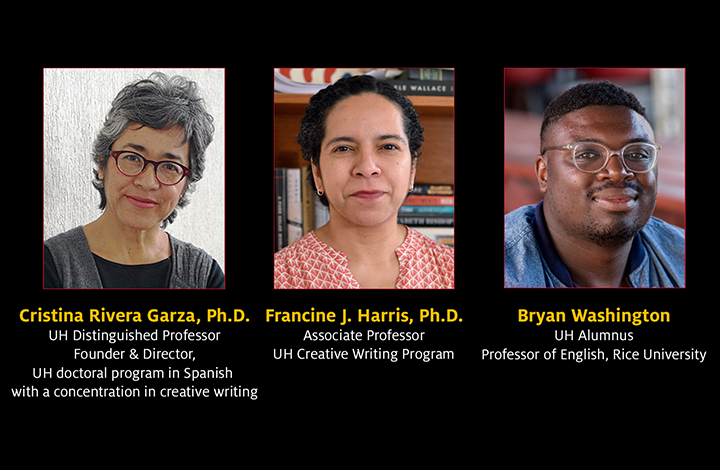 The University of Houston College of Liberal Arts and Social Sciences (CLASS), the UH department of English and the department of Hispanic studies are pleased to announce that the National Book Critics Circle finalists for its annual awards included three CLASS scholars.
"I am particularly excited about these national literary award finalists," said Daniel P. O'Connor, Ph.D., interim CLASS dean. "I not only feel the nominations are well deserved, but I am also proud that it brings additional recognition to the University of Houston as a Tier One university."  
Each year, the National Book Critics Circle presents awards for the finest books published in English in six categories: fiction, nonfiction, biography, autobiography, poetry and criticism. This year, three CLASS representatives have been named as finalists:
Cristina Rivera Garza, was nominated in the criticism category for her work, "Grieving: Dispatches from a Wounded Country" (

Feminist Press). Rivera Garza,

D., founder and director of the UH doctoral program in Spanish with a concentration in creative writing has recently been named a 2020 MacArthur Fellow.
Francine J. Harris, associate professor in the department of English at UH in the poetry category, was recognized for "Here is the Sweet Hand" (

Farrar, Straus and Giroux) and

has written numerous award-winning works.
Bryan Washington, was selected in the fiction category, for "Memorial" (

Riverhead). Washington is a UH alum who graduated with a

Bachelor of Arts degree in English and currently teaches in the English department at Rice University. He is the author of numerous publications and several novels that make many references to his life in Houston. Washington was named a "5 under 35" honoree by the National Book Foundation. 
"This is a well-deserved honor for Dr. Harris, Dr. Rivera Garza and Mr. Washington," said O'Connor. "These awards are just three examples that demonstrate how the University of Houston continues to be relevant to the community and recognized by the greater literary world." 
The NBCC Awards will be presented on March 25, 2021. The NBCC is considered among the most respected literary awards in America. Past recipients include Margaret Atwood and Pulitzer Prize winner Toni Morrison.