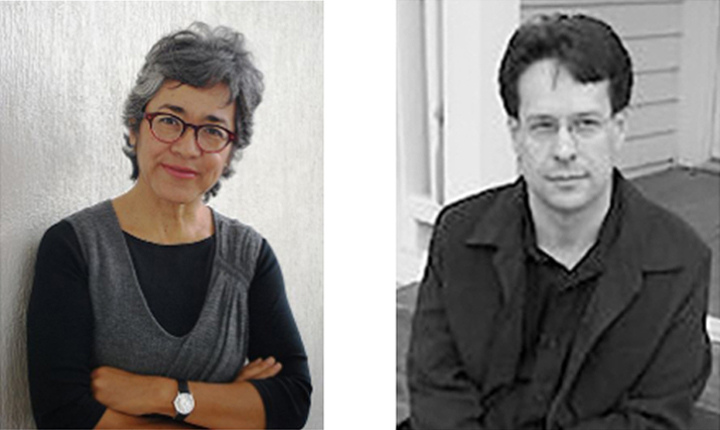 The University of Houston College of Liberal Arts and Social Sciences (CLASS) is proud to recognize four of its most accomplished writers — two faculty members and two alumni — for their induction into the 2021 class of the Texas Institute of Letters. Distinguished Professor of Hispanic Studies Cristina Rivera Garza, Ph.D., and Professor of English Kevin Prufer, MFA, join UH alumni Tony Diaz and Bryan Washington among 14 honorees chosen for their distinctive contributions to Texas literature.
"These four gifted writers are shining examples of the quantity, quality and variety of literary output that has emerged from the University's department of English and department of Hispanic studies," said Daniel P. O'Connor, interim dean of CLASS. "They have enriched our community not only through their written works but also by supporting and inspiring other creative writers."
Rivera Garza has authored six novels, five short-story collections, five poetry collections and three nonfiction books. She received a MacArthur 'Genius' Grant in 2020 and is the founder of UH's interdisciplinary Ph.D. program in Spanish with a concentration in creative writing. This year, she was named a finalist for the National Book Critics Circle's annual awards.
Prufer is the author of seven poetry collections, including 2018's "How He Loved Them," making the long list for the Pulitzer Prize in poetry. He has received three Pushcart Prizes and teaches poetry writing and poetic forms.
Diaz received his Master of Fine Arts in creative writing from the department of English and has gone on to a prolific career as a writer and activist. Diaz has written essays for the Houston Chronicle, Los Angeles Times and CNN.com, has published one novel and appears regularly on Fox 26 Houston as a political commentator.
Washington graduated from UH with a Bachelor of Arts degree in English and currently teaches in the English department at Rice University. His fiction and essays have appeared in The New York Times, The New Yorker and The Paris Review. Washington's debut novel, "Memorial," was released to widespread acclaim in October 2020. Alongside Rivera Garza, he is among the finalists for the 2020 National Book Critics Circle Awards.
All four UH inductees to the Texas Institute of Letters will be formally honored at a virtual ceremony on April 17, 2021.
For more information contact: Toni Mooney Smith, Executive Director of CLASS Communications