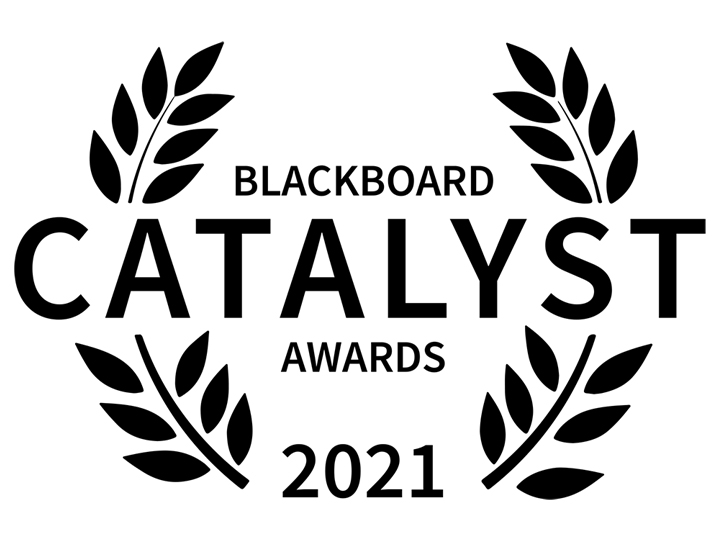 University of Houston College of Liberal Arts and Social Sciences Office of Educational Technology (OET) instructional designers have been named winners of the Blackboard Catalyst Award for training and professional development for designing an Online Teaching Program (OTP) for faculty, which is based on standards from Quality Matters, Exemplary Course rubrics, Accessibility Standards and the Backward Design approach.
Founded in 2005, the annual Catalyst Awards recognize and honor innovation and excellence in the Blackboard global community of practice, where millions of educators and learners work every day to redefine what is possible when leveraging technology. Winners are selected by a cross-functional team of Blackboard experts and represent the very best in their field.
"My staff and I are honored to receive this prestigious award," said Linda Davis, director of educational technology for CLASS. The course is the very first self-paced training program for online teaching at UH. "This on-demand course provides faculty with training wherever they want and whenever they want. Little did we know that by March of 2020, the decision to create an entirely online training program would meet an unexpected demand."
For the OTP, faculty are encouraged to complete a 7-module online Blackboard course to prepare for teaching online. The course culminates with a final activity where the faculty reflect on the OTP and how they plan to apply the knowledge and skills to current or future courses. A leadership vision for the CLASS OET is to expand the OTP to a Course Design System.
"The innovation, dedication, and hard work of Dr. Davis and her team have earned CLASS and the University well-deserved recognition," said Daniel P. O'Connor, Ph.D., interim dean of CLASS." As a result, this platform benefits 13 other colleges across the UH campus who have joined our program, which ultimately helps faculty apply the knowledge and skills to current and or future courses.
For more information about the OTP, please view the video submitted for the award at https://youtu.be/j-Sw71w4Vq0 and to register for the program, please visit our website at https://uh.edu/class/oet/online-teaching/.