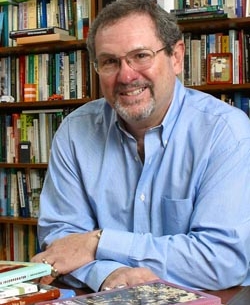 As wildfires rage through West Coast communities and Houstonians keep watch on another severe hurricane season, History Professor Emeritus Martin Melosi, Ph.D., is once again in the spotlight for his writing and research on urban waste, pollution, and climate change. His work on environmental racism—the ways in which ecological hardships disproportionately affect communities of color—feels especially timely in light of ongoing conversations around racial justice in the United States.
In January 2020, Columbia University Press published Melosi's latest book, "Fresh Kills: A History of Consuming and Discarding in New York City." The book examines the environmental and social impacts of the 2,200-square-mile landfill that operated on Staten Island from 1948 to 2001. On October 6, Melosi will discuss the book in a virtual lecture hosted by the Gotham Center for New York City History.
"My work has taken me to environmental justice questions, especially the placement of toxic sites in the neighborhoods of people of color and the poor," Melosi said. "Locating waste facilities in a community of color is discriminatory, as is the exposure of these communities to a workplace—like a landfill or a recycling center—that poses environmental risks."
Melosi's studies of waste, pollution, and the environment throughout U.S. history have informed his views on the potentially racialized effects of present-day environmental crises. His work has garnered attention from MIT, where he was invited to speak on the topic "Cities and the Plague" as part of a virtual event series on modern plagues and pandemics.
"This year, we have seen how the housing of poor people or people of color in specifically flood-prone or fire-prone areas can racialize a situation," Melosi said. "I would suspect this is more common with respect to hurricanes than wildfires. When it comes to climate change, we have seen poor people and minorities having to accept the negative impacts on living conditions in areas of sea-level rise."
Citing the recent history of Fresh Kills Landfill and increased attention on environmental justice in recent activism, Melosi sees some cause for optimism in the face of mounting environmental challenges.
"In the last several years, the City of New York has begun to convert Fresh Kills Landfill and the surrounding land into a city park—three times the size of Central Park," Melosi said. "The Department of Sanitation and other local, state, and federal entities have been trying to mitigate the various pollution problems there. As for the protests, issues of environmental racism do come up periodically as conversations have widened to include an array of injustices."
To learn more about Martin Melosi's October 6 virtual lecture, "The 'World's Most Wasteful City'? New York and its Garbage," please visit the Gotham Center for New York City History's website. Click here to register for the free virtual event.