For questions about joining ROTC or scholarships please contact our Admission Officers at 713-743-3883.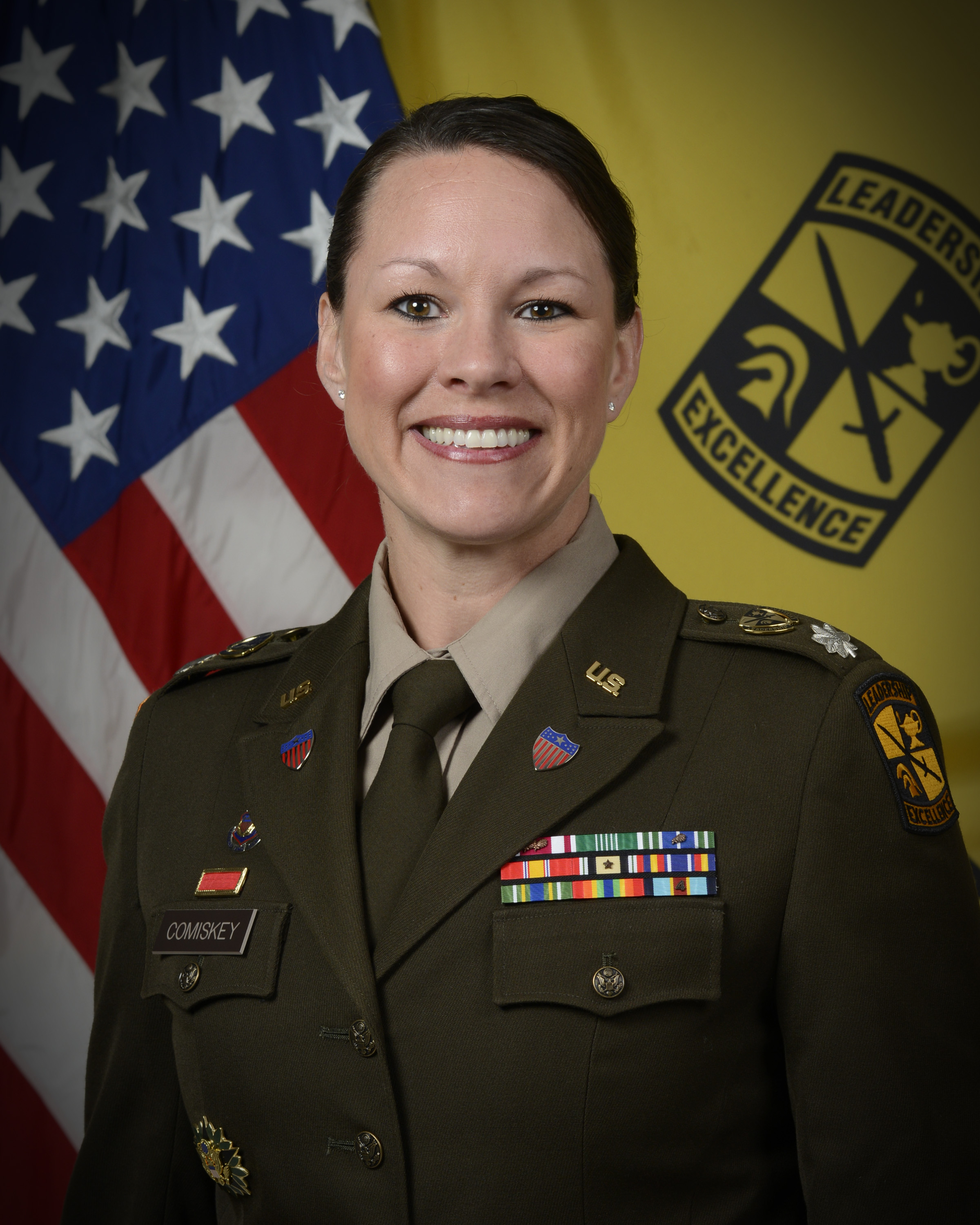 Lieutenant Colonel, U.S. Army
Department Chair and Professor of Military Science 
3875 Holman Street, Rm 14, Houston, TX 77204-6014
Phone: 713-743-3875


Lieutenant Colonel (LTC) Melissa Comiskey was born in Woodward, Oklahoma, but calls Texas home.  She is a graduate of Texas A&M University, commissioning as a Second Lieutenant in the Adjutant General Branch in August 2004. Her initial assignment upon completion of the Adjutant General Officer Basic Course and Postal Operations Course was in Stuttgart, Germany as a postal platoon leader from 2005-2007.
As the Army transformed to a modular force, she was called to serve as the Battalion Human Resources Officer (S-1) in 2007 for 3-158th Assault Helicopter Battalion, moving to Ansbach, Germany.  Within four months of her arrival to the unit, she deployed to Iraq for 15 months, assigned to Balad, Taji and BIAP, Iraq.
Upon redeployment from Iraq, LTC Comiskey moved to Mons, Belgium to serve as the Alpha Company Commander, Supreme Headquarters Allied Powers Europe (SHAPE) Battalion, USANATO Brigade for two years.  In 2011, she was selected to serve as an instructor at the Adjutant General School, Fort Jackson, South Carolina, teaching the Basic Officer Leaders Course and Captains Career Course.  She moved to Maxwell Alabama in 2014 to attend the Air Command and Staff College, where she earned a Master's Degree in Military Arts and Science. 
After graduating from the Air Command and Staff College in Maxwell, Alabama, LTC Comiskey moved to Fort Hood, Texas, serving two years as the Brigade Human Resources Officer (S-1) for the 1st Armored Brigade Combat Team, 1st Cavalry Division, deploying with the unit to the Republic of Korea for nine months.  She was then selected to serve as the 1st Cavalry Division Deputy Human Resources Officer (G-1) and later the Executive Officer for the 1st Cavalry Division Commanding General.
In May 2019, LTC Comiskey began work in the Pentagon with the Army G-1, Directorate of Military Personnel Management serving as the Chief, Command Policy, and then Chief, Distribution Branch for Enlisted Personnel Policy.  In 2022, she was selected for and now serves as the Department Chair and Professor of Military Science at the University of Houston, supporting seven colleges and universities in the Greater Houston area. 
LTC Comiskey holds a Bachelor's Degree in Animal Science from Texas A&M University and Masters of Military Arts and Sciences Degree from the Air University.  Her awards and decorations include the Meritorious Service Medal with four oak leaf clusters, the Army Commendation Medal, the Army Achievement Medal with one oak leaf cluster, the Iraqi Campaign Medal, the Korean Defense Service Medal, the Overseas Service Medal with the numeral four, and the Army Staff Badge.  She was also part of a great team that earned the Meritorious Unit Citation. 
Lieutenant Colonel Melissa Comiskey is married to Lieutenant Colonel Todd Bradford of Heber Springs, Arkansas, and together they have four great kids.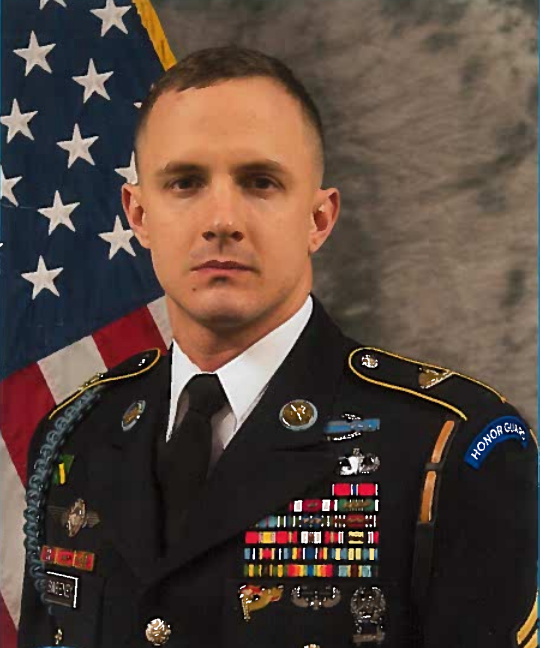 Master Sergeant, U.S. Army
Senior Military Instructor
3875 Holman Street, Rm 22, Houston, TX 77204-6014
Phone: 713-743-8066

1SG Sweeney was born in Philadelphia, PA on 10 August, 1986. He enlisted in the Army in November 2004. After basic training and airborne school, PFC Sweeney was assigned to the 3rd Ranger Battalion where he deployed twice, once to Afghanistan and once Iraq. SPC Sweeney was then reassigned to the 1st Infantry Division in May 2007.
               SPC Sweeney deployed twice to Iraq with 1st ID, once as a Team Leader and once as a Squad Leader, and was subsequently selected to be a Drill Sergeant at Fort Jackson, S.C., in August, 2012. After serving three years as a Drill Sergeant, the final 2 ½ years as a Senior Drill Sergeant, SFC Sweeney was assigned to the 2nd Battalion, 503rd Infantry, 173rd Airborne Brigade in Vicenza, Italy.
SFC Sweeney was a Platoon Sergeant for Battle Company for 2 years, completing numerous multinational live fire events from Team up to Company level. SFC Sweeney was subsequently selected as the Battle Company First Sergeant for his final 10 months in Italy and led the company thorough 2 company live fire events as well as EIB. While assigned to Battle company, SFC Sweeney was selected for promotion to Master Sergeant and was reassigned to the 3rd Infantry Regiment, "The Old Guard", in July 2018. 
               First Sergeant Sweeney completed over 2 ½ years a the HHC 4/3 First Sergeant within the Old Guard which included The Tomb of the Unknown Soldier Platoon and the United States Army Drill Team. In addition to ensuring both these unique platoons were manned and equipped, MSG Sweeney played an integral part for the State Funeral of President George H.W. Bush, the 2020 riot response in Washington DC, the 2021 Presidential Inauguration, and countless Army retirement ceremonies and Presidential and VIP wreath laying ceremonies at the Tomb of the Unknown Soldier. In early 2021, 1SG Sweeney was selected to become the Senior Military Instructor at The University of Houston.
               1SG Sweeney's awards and decorations include the Bronze Star Medal, Meritorious Service Medal (3rd Award), Army Commendation Medal (6th Award), Joint Service Achievement Medal, Army Achievement Medal (6th Award), Army Good Conduct Medal (5th Award), Afghanistan Campaign Medal,  Iraq Campaign Medal, GWOT Expeditionary Medal, GWOT Service Medal, National Defense Service Medal, Military Outstanding Volunteer Medal, Army Service Ribbon, Overseas Service Ribbon, NCO Professional Development Ribbon (4th Award). 1SG Sweeney is also a member of the Sergeant Audie Murphy Club, Sergeant Morales Club, and was inducted into the Prestigious Order of Saint Maurice (Legionnaire). 1SG Sweeney is also a lifetime member of the National Infantry Association, Society of the 1st Infantry Division, the 173rd Airborne Brigade Association, and The Old Guard Association.
               1SG Sweeney has attended schools including Airborne School, Pathfinder School, Sniper School, Jumpmaster School, the Master Fitness Trainer Course, Master Resiliency Trainer Course, SHARP Foundation Course, and the Equal Opportunity Leader Course. 1SG Sweeney has attended every level of NCOES up to and including the Master Leader Course. 1SG Sweeney earned his Bachelors degree in Business Administration and is working towards his Masters of Business Administration – Strategic Management.
Captain, U.S. Army
Assistant Professor of Military Science
3875 Holman Street, Rm 18, Houston, TX 77204-6014
Phone: 713-743-7599


Captain Justin Eley is a Signal Officer who served as an Infantry lieutenant for the first four years of his career. He has since transferred to the Signal Corps. Both graduating and commissioning from Pacific Lutheran University as a member of Phi Alpha Theta academic honor society, he earned his Bachelor of Arts in History.
During his nine-year career, Captain Eley has held the positions of Infantry Platoon Leader, Battalion Signal Officer, and Company Commander. In 2015 he mobilized to Thailand, Korea, and the Philippines in support of Operation Pacific Pathways. He has also deployed to Iraq in support of Operation Inherent Resolve. While in Iraq and serving as a Company Commander, he administrated the Network Enterprise Center of Qayyarah West Air Base
Major,
U.S. Army
Assistant Professor of Military Science
3875 Holman Street, Rm 28, Houston, TX 77204-6014
Phone:


Major Eduaro is incoming personel. 
Sergeant First Class, U.S. Army
Training Non-Commissioned Officer
3875 Holman Street, Houston, TX 77204-6014
Phone: 713-743-9387
SFC Gilley enlisted into the United States Army as a 19K Armor Crewman on September 15th 2005. He spent 9 months in the delayed entry program and then attended One Station Unit Training at Ft Knox, Kentucky on June 22nd, 2006. After graduating OSUT his first assignment was as an Abrams Main Battle tank driver in 1-64 Armor Battalion Ft Stewart, GA. SFC Gilley has been stationed in many different locations throughout his 14 years in the Army. Ft Stewart, GA. Ft Carson, CO. Ft Benning, GA. Newark, NJ. Ft Irwin, CA. Marietta, GA, and now Houston, TX. He has been assigned as a Tank Driver, Tank Loader, Tank Gunner, Tank Commander, Section Sergeant, and Platoon Sergeant respectively. He has also served as a Regular Army Recruiter.
He is affiliated with the following units: 1-64 Armor 2nd BDE, 3ID. 1-68 Armor 3rd BDE 4ID. 1-15 IN 3rd BDE 3ID. Newark Recruiting Company, Mid-Atlantic Recruiting BN. 2/11 Armored Cavalry Regiment (Blackhorse), and the Marietta Recruiting Company, Atlanta Recruiting BN.
He has completed three overseas deployments including: Operation Iraqi Freedom 5, from April 2007 to August 2008. Operation New Dawn, Iraq from March 2010 to March 2011, and Kuwait in support of Operation Enduring Freedom / Spartan Shield from June 2012 through Feb 2013.
His awards and decorations include the Army Commendation Medal (6th oak leaf), the Army achievement medal (3rd Oak Leaf), The Army Good Conduct Medal (4th), The National Defense Service Medal, Iraqi Campaign Medal (2nd), the Global War on Terrorism Medal, the Non-Commissioned Officers Professional Development Ribbon (3rd), the Army Service Ribbon, the Overseas Service Ribbon (3rd), Certificate of Achievement, the Silver Recruiting Badge, the Combat Action Badge, and both wheeled and tracked vehicle drivers badges.
Major, U.S. Army
Exexutive Officer
3875 Holman Street, Houston, TX 77204-6014
Phone: 713-743-9379
The Battalion executive Officer of the UH Army ROTC program.

Ms. Susan Mangum
Program Coordinator/Academic Advisor
3875 Holman, Rm 28
Houston, TX 77204-6014
Phone: 713-743-3875


Ms. Audrey Smith
Human Resources Assistant
3875 Holman, Rm 28
Houston, TX 77204-6014
Phone: 713-743-3881


Mr. Tuan Nguyen
Recrutment and Enrollment Officer
3875 Holman, Rm 26
Houston, TX 77204-6014
Phone: 713-743-3883 

armyrotc@uh.edu