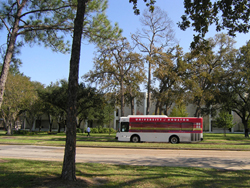 The department of Economics at the University of Houston is made up of an innovative group of scholars who are dedicated to producing top-flight research while training our students in the latest techniques in economic analysis. At the undergraduate level, we offer a standard sequence of introductory courses as well as a wide range of upper-level classes to prepare students for positions in the private sector, government, or graduate school. Our Masters in Applied Economics provides advanced training in empirical techniques, health, and energy economics. Our Ph.D. program provides our students with a firm understanding of economic theory and empirical methods that they bring to their dissertations while working closely with our faculty.
The department has recently added exciting new faculty. In international macroeconomics, we have added specialists in capital flows, risk-sharing, and the effects of foreign direct investment on firms in developing countries. Combined with a strength in time-series econometrics, the department has built a solid core of empirical macroeconomists. At the microeconomic level, the department has developed a group of quality applied researchers that have contributed to our understanding of labor market flows, productivity changes, the effect of charter schools, immigration, and technology adoption. With faculty also engaged in work on the effects of lobbying on public goods provision and the efficiency of resource allocation within developing countries, the department provides a range of expertise that can be brought to bear as teachers, researchers, and advisers.
Our department has been recognized at several levels for excellence, with several members of the National Bureau of Economic Research (NBER), the Hoover Institute, and the Centre for Economic Policy Research (CEPR). Our faculty has been invited to give seminars at a number of top institutions including Harvard, MIT, Stanford, Michigan, Cornell, and Brown. Within the department, seminar series in applied microeconomics, macroeconomics, econometrics, and public policy have brought in top scholars to share their work with our faculty and students. As teachers, the department includes several faculty nominated by students for university-wide awards.
Please explore our site to learn more about our programs and people.
UH Campus Map
We are located in Teaching Unit II.