With Women's Equality Day fast approaching, the Heritage Society at Sam Houston Park is preparing to celebrate by hosting an event this Friday, August 26 from 4 PM to 6 PM. Women's Equality Day has been celebrated annually since 1973 on August 25th and pays tribute to the anniversary of the ratification of the 19th Amendment in 1920 that granted women the right to vote. This event to be held in the Heritage Society's Museum Gallery will feature guest speakers, wine, dessert, and inspiration.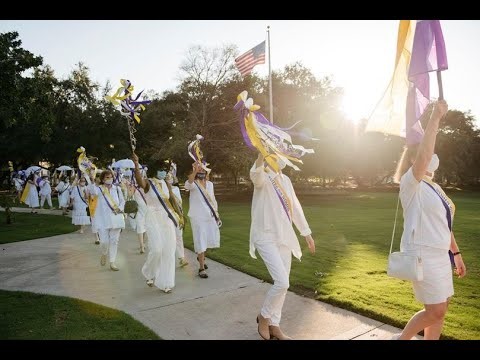 The Heritage Society is a non-profit organization founded in 1954 whose mission is to tell the stories of the diverse history of Houston and Texas through collections, exhibits, the arts, educational programs, film, video, and other content. A number of public-spirited Houstonians formed in order rescue the 1847 Kellum-Noble House from demolition. 
The Heritage Society has since saved an additional nine historic buildings, moved them from various locations to join the Kellum-Noble House in Sam Houston Park, and restored them to reflect their respective eras. These 10 buildings, along with the museum gallery, serve as historic reference points and exhibition spaces for more than 23,000 artifacts that document life in Houston from the early 1800s to the mid-1900s.
During the Women's Equality Day celebration, visitors will have the unique opportunity to be part of a gallery tour led by the artist. "The artist, Carolyn Marks Johnson, will give a tour of the collars representing 21 key historical women who fought for equality," The Heritage Society's executive director, Alison Bell, said.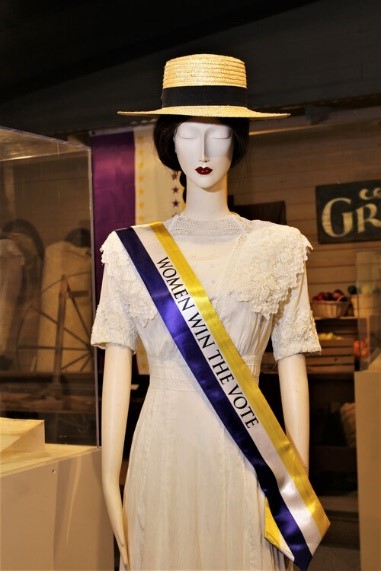 The exhibit of bronzed collar sculptures represent the neckwear that adorned the necklines and shoulders of the following women: Margaret Brent, Abigail Smith Adams, Betsy Ross, Deborah Sampson Gannett, Sojourner Truth, Harriet Tubman, Myra Bradwell, Elizabeth Blackwell, Margaret Louise Higgins Sanger, Dorothea Lange, Anna Eleanor Roosevelt, Patsy Takemoto Mink, Mazie Keiko Hirono, Barbara Jordan, Ann Richards, Georgia O'Keefe, Wilma Mankiller, Dolores Huerta, Sally Ride, Nancy Pelosi, Sonia Sotomayor, and Ruth Bader Ginsburg. 
Along with a tour, attendees will also hear from several guest speakers such as Dr. Annie Johnson Benifield who is the president of the League of Women Voters of Houston and Dr. Leandra Zarnow of the University of Houston's Women's, Gender & Sexuality Studies.
Dr. Zarnow will talk about the history of women's civic engagement and suffrage history, as well as the history of Women's Equality Day.
For more information and to RSVP for this event, head to The Heritage Society event page:
https://www.heritagesociety.org/calendar/2022/8/26/members-event-womens-equality-day-dessert-and-wine-reception
(Photos:  Centennial Women's Equality Day event at The Heritage Society, 2020)