This past summer, the Center for Public History launched a ten-week summer undergraduate internship program guided by faculty from the College of Technology and College of Liberal Arts and Social Sciences.
The goal of the CPH Summer Internship Program was to bring STEM and humanities students together to engage in an interdisciplinary hands-on co-curricular research experience. They applied public humanities-grounded research and writing approaches as well as digital tools, popular media, and data science techniques to historical and contemporary problems.
During this internship, interns worked closely with faculty mentors in researching, developing, and publishing historical content for a public audience. Student interns engaged in archival and contemporary research, worked on quantitative and qualitative data, and learned both the front and back end of web and media development.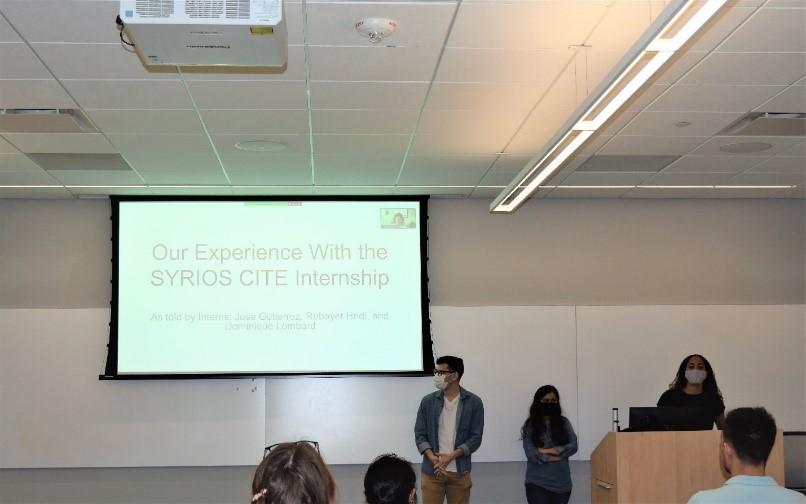 Interns met each week as a CPH cohort to hear exciting speakers and discuss their specific project. Individually, students learned how to advance an argument through original research, real-world technologies and communication mediums. Collectively, they gained experience working in interdisciplinary teams. In all venues, interns learned how social responsibility is a leading preoccupation of public historians, but also humanist-oriented technologists committed to making history relevant and useful.
The CPH Summer Undergraduate Internship Program engaged students in three ongoing digital humanities and public history projects:
100 Years of Stories - a three-year collaboration led by Dr. Debbie Harwell & Dr. Monica Perales with the Center for Public History, Houston Public Media, and UH Libraries to collect new oral histories and archival content leading into the University's 100th Anniversary, with stories featured in local public media and the Houston History magazine. 
SYRIOS - an interdisciplinary, collaborative digital humanities project led by Dr. Kristina Neumann, Dr. Peggy Lindner, & Dr. Liz Rodwell, that draws upon interactive storytelling and data visualization to teach scholarly and public audiences about the multicultural communities and artifacts of ancient Syria; created in 2016, it currently has a "proof of concept" exhibit hosted live online.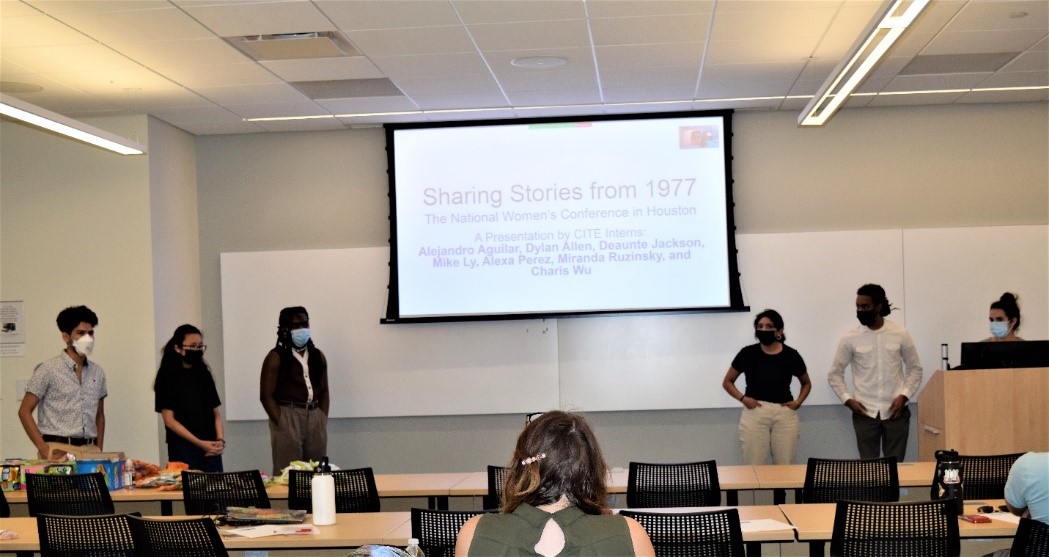 Sharing Stories from 1977 - led by Dr. Leandra Zarnow and Dr. Nancy Beck Young, Sharing Stories is an interdisciplinary, multi-year, nationally prominent website and archive-building project that documents and preserves the stories of over 150,000 participants of the 1977 National Women's Conference held in Houston as well as the legacy of this historic event, thereby generating new scholarship on women and politics.
In early August, the CPH Summer Undergraduate Internship Program culminated in final presentations of all completed work for each project. Presentations were made to faculty and staff as well as fellow interns in the program, allowing students to share their research successes, and roadblocks, as well as skills and lessons learned along the way.
Rubayet Hridi, an intern with the SYRIOS project, shared how she learned more than just how to archive Syrian coins, but also how technology and history can work together: "Before this internship, I was really excited to see how CLASS and the College of Technology could collaborate with each other, especially when it came to history and media. The process of this internship made it very clear to me, yes, you need technology in this age to deliver historical things in a broader way and that is only possible through technology."
Alejandro Aguilar was excited to work on the Sharing Stories project and to have an impact on the city of Houston: "I would say the reason I wanted to take this internship was to bear witness, especially for the city of Houston. We have so many interesting things that occurred here that you would think are better documented, but unfortunately, they are not. That is why I wanted to take part in this internship and honestly, I am very appreciative of it because all the women I did biographies on all had super interesting aspects about themselves." 
He was not alone in his desire to give back to the community. Dylan Allen spoke about how his time with the Sharing Stories project allowed him a chance to volunteer in ways he never expected: "I have always wanted to help the community, especially locally. I have wanted to do it for a couple of years, but this is my first time actually serving my community in a way. This internship has given me an idea of how I could volunteer my services, and it inspired me to volunteer more, especially for local history."
Others hoped that their work can be a positive outlet for fellow Houstonians navigating a busy world. Jacob Loew expressed his view about his work with the 100 Years of Stories project: "Well with all of the national news and international developments happening, I hope that people are able to de-stress by taking a look at local history, by reading these magazines, biographies, and looking at Syrios coins. I think that would be helpful to know that people are learning something new about their community."
While these interns worked selflessly to bring the history of their community to light, they also cultivated their skill set in ways that will benefit their education. Interns were excited to receive a byline for their writing or media creation, for some their first. Sydney Rose, intern for the 100 Years of Stories project, said, "It's always cool seeing your name in print and anything that you have done being out there in the world. I think that it will be good for students at UH or even alumni to look back and see all the different aspects that have happened over the 100 years."