On the five-year anniversary of Hurricane Harvey, many Houstonians are remembering the tragedy, the flooding it brought, and the devastation it caused. Others remember how the city of Houston came together to help their neighbors overcome hardship.
Dr. Debbie Harwell and Dr. Todd Romero spoke with Ahmed Sharma, a University of Houston alumni at Fox 26 Houston about the history of Hurricane Harvey, as well as their efforts to collect the stories of those who endured the storm.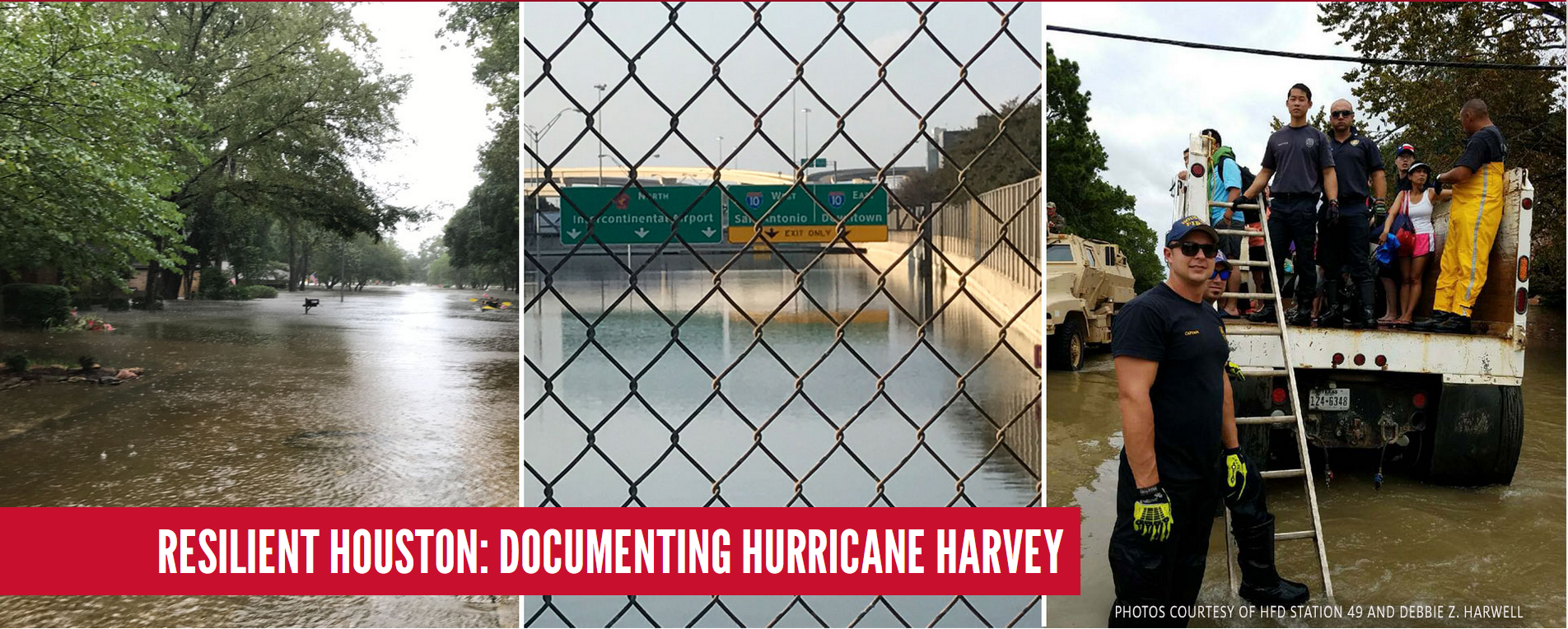 The project, Resilient Houston: Documenting Hurricane Harvey, is an initiative of the University of Houston (UH) Center for Public History and has created a substantial archive of oral histories and supporting materials to tell the story of the storm and the city's response. The interviews conducted by faculty and public history students represent three primary groups – survivors, responders, and volunteers – whose stories are told through this website. They are mapped by location and can be searched by keywords, communities, and specific topics.
For Dr. Harwell, collecting oral interviews of Hurricane Harvey survivors and first responders was a necessity in preserving the accounts of those who lived and endured this historic hurricane.
"For those of us who do oral histories as part of our, sort of our daily routine or our work, we recognized Harvey immediately as something that lends itself to oral history because oral history really gets to the crux of people's experiences and how those experiences impact them," she said. "And there was no question that a storm of the magnitude of Harvey was a historic event; and so to capture those stories right away is also really good because you are tapping into people's memories very close to the time of the event. So, it lent itself to oral histories and those of us who enjoy doing that sort of research really keyed in on that from the beginning."
Resilient Houston is a product of the University of Houston and Dr. Romero explained the collaborative effort that helped this project come to life. This project involved a collaboration of the History Department, public history graduate students, and undergraduate students in the UH Honors College who took part in collecting interviews. Including students in this project brought the unique perspective of local students, many of whom, have lived in Houston their entire lives.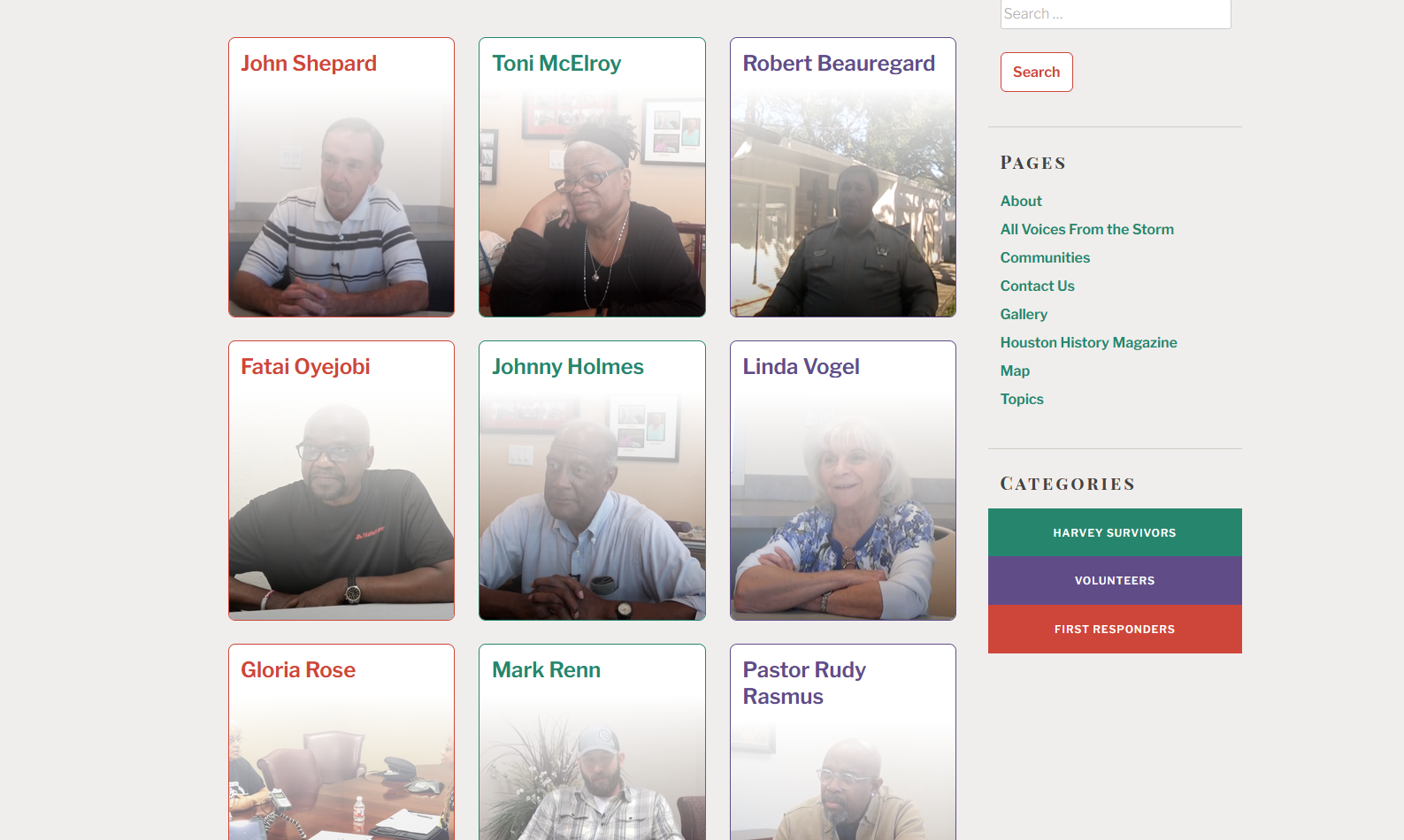 "They ultimately understand the area in a way that as someone who's lived here for 16 years now, I know a lot more than I did 16 years ago, but I didn't grow up here," he continued. "And I don't understand the city, I think in that kind of organic way that many of our students do. And so, the work was put forward by talented students who most often met in community centers and houses of worship."
Both Dr. Harwell and Dr. Romero added that they were pleasantly surprised at how many people were willing to share their stories of their experiences during Harvey. Despite their openness, there were still those who found it difficult to relive memories of an event that drastically changed their lives.
"I think one of the things that you become really sensitive to is to recognize that when you ask people to share their stories, they're sharing something that's precious; you're asking them to (depending on their experience during the hurricane) to pick at stories that are traumatic, that involve a variety of different kinds of loss that sometimes can be about the immediate event, but it can also be about a longer history as well," Dr. Romero added. "And so I think over time we became better at being sensitive to that, learning how to listen and learning how to honor those stories that people go through."
While interviewing those who had lost so much during the devastating flooding, both professors started to ask how did this happen, why was it worse in certain areas, and what is being done to prevent it from happening again? Dr. Romero believes that putting the stories they have collected in context reveals a bigger picture of how the city of Houston neglects certain areas.
"We learned a lot, not just about the hurricane itself, but past weather events, about the long history of these communities, about how a tragedy like Hurricane Harvey will, in some cases, reveal not only the resilience of a neighborhood but also sometimes decades of neglect in some communities, that it reveals disparities in access to education, access to infrastructure, access to a lot of things that many of us consider just basic facts of life," he explained.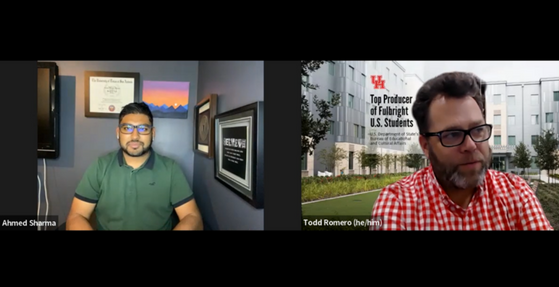 "I suppose my big takeaway is I don't think we've really learned our lesson yet. Unfortunately, the fact that even after Harvey, we seem to still be allowing people to build or developers to build in flood plains. We've got some improvement projects that are in the works, and some improvement projects that have been completed in the interim, but we need more and the public and the government are frequently reluctant to spend money on infrastructure," she continued. "And even after an event like Harvey, when a year or two or three passes, or five, in this case, although we had a few localized flooding events…back to back. And then now we seem to have forgotten some of that."
For Dr. Romero, this is a classic example of "those who do not learn from history are doomed to repeat it." While to some, Harvey's devastation is simply data or statistics of destruction, to Dr. Romero, it is people. The interviews collected show the grief and suffering of those who lost much during Harvey and their call to make a change for the future to prevent it from happening again.
"The single biggest lesson that I took away from doing the interviews is the degree to which natural disasters are conditioned by human choice, and that the way in which individual communities experience those disasters is shaped by the resources that they get prior to the disaster in the case of some neighborhoods, the neglect that they've suffered or suffered over decades," he concluded. "So one of the things that I think natural disasters can reveal to us in the aftermath of the storm, not as just the number of inches of rain that fell, or how many houses were damaged, or how many billions of dollars that cost, but it's a real major of what communities we have chosen as a society to support and what communities have been neglected in terms of education, in terms of access to work in terms of access to infrastructure, health care, and all the rest. And so, you know, in that way, it was really powerful to me, how much I learned about what some communities suffered, and how it was shaped by that history."
With the Resilient Houston project available to the public, Dr. Harwell and Dr. Romero hope that the collection of the history of Hurricane Harvey will create a call to action, resulting on a positive impact on the future of the city of Houston.  
https://documentinghurricaneharvey.org/