STUDENT Spotlight
Emily Blanco
Office of Sustainability outreach coordinator
By Richard Zagrzecki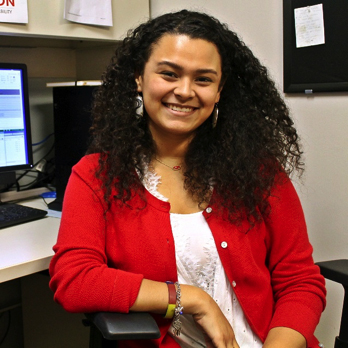 Between classes, two jobs, an internship and other obligations, Emily Blanco has little time for much of anything else.
That busy schedule means that when asked what her hobbies are, the first thing on her list is something most people take for granted.
"I would say sleeping," said the senior history major.
She juggles her obligations well, thanks in good part to the planner she always has with her. Organizing and planning – as well as reading – are some of the activities she likes to do.
Taken together, those traits will serve her well in the career path she has chosen to pursue: Law.
Blanco will be graduating in December from the University of Houston after completing her undergraduate degree in just two and a half years. Until then, she is focused on getting ready for law school. She is preparing to take the LSAT in November and applying to law schools from all across Texas, including the University of Houston Law Center.
For the past year, she has been a student employee in the Office of Sustainability. She is the outreach coordinator and is often the face people see at informational tablings. She represents the office at new student orientations, answering questions and providing information for new Coogs.
Another one of her main duties is managing the social media accounts for the Office of Sustainability, coming up with content on a regular basis.
Her second job is working part-time as a waitress at the Calhoun Rooftop Bar and Grill, a popular hangout for students right across the street from campus. She is also a CLASS ambassador and an officer for the Black Pre Law Society.
She rarely leaves UH, which is why she decided it would be a good idea to live on campus.
"You will always find me running around with my life in a bag – I carry my lunch, a change of shoes and books in it," Blanco said. "I am always on campus. Like 24/7. If I am not here at the sustainability office, I am at the 24-hour law library or working."
The times she does leave campus, it usually is to go to her internship at a law firm in downtown that specializes in business ethics. She does a variety of tasks, including researching case law.
"I'm usually assigned to cases and I will do research on them, such as looking for similar cases and seeing what the outcome was," she said.
She grew up in the Cy-Fair area is the first person in her family to seek a career as an attorney. She's also the first to attend college.
What does she like best about UH?
"It feels like home. Everybody here is so helpful. They want to see you succeed," she said. "I have never gone into an office asking for help where someone has not given 110 percent effort."