The University of Houston and HoustonPBS Channel 8 have collaborated to produce a new edition to the Channel 8 lineup, "UH Moment," which debuts April 20.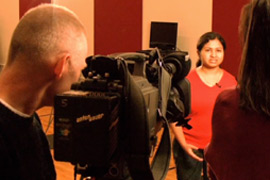 Currently heard on KUHF-FM radio, this series of 60-second informational spots that feature stories of UH's innovative research, programs and successes, will appear on broadcast television six times a week on both KUHT Channel 8.1, and 8.2.
"This latest evolution to television broadcast guarantees that UH's great achievements and developments are well known by the citizens of Houston and Southeast Texas," said John Hesse, general manager of HoustonPBS Channel 8.
"In addition, we champion our university's vigorous pursuit toward Tier-One status. We see this 'UH Moment' project as one aspect that contributes to that Tier-One effort."
Shawn Lindsey, assistant director of media relations, and Marisa Ramirez, media relations representative, are writing and producing the segments that will be seen throughout the day, between programs.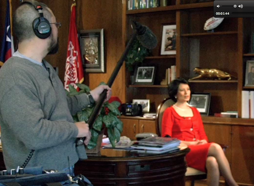 "We've talked with students working on market-ready smart phone advances, visited with Paul Chu, T.L.L. Temple Chair of Science, taken a tour of the public art on campus, and examined important recycling and green efforts on campus," Lindsey said of some of the segments already completed.
"This is a wonderful opportunity to tell the story of our emerging research university to an expanded audience, and the University of Houston is pleased to be working with HoustonPBS to produce the television version of 'UH Moment,'" said Richard Bonnin, director of media relations at UH.
The radio version of UH Moment debuted in September of 2008 and has featured more than 70 stories about the university. In 2009, the segment was honored with a Lone Star Award from the Houston Press Club.
Stories are archived at: www.uh.edu/uhmoment.
Watch UH Moment on PBS:
Behind the Scenes of UH Moment:
---