Graduate Program in Public History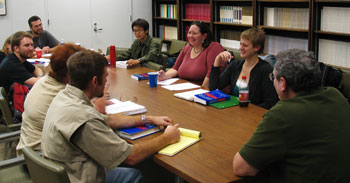 The Masters in Public History is a professional degree that prepares students for positions in various historical venues, government agencies, business enterprises, and educational institutions. The degree also is excellent preparation for the traditional PhD in History. The University of Houston also offers a minor in Public History for the MA and PhD in history. Every attempt is made to design an individually tailored curriculum.
The CPH recruits its majors and minors, as well as other graduate students, to participate in its outreach efforts and research projects. These research activities have four goals:
training good research historians
developing the history of Houston and the Gulf Coast region
building on faculty scholarship in energy, environmental, policy, and urban history
providing funds to support graduates students and sustain the CPH
Admissions and Applications
The University sets minimum standards for graduate admissions, which the Department of History has amplified. Applicants must be admitted to the Department's graduate program before they are accepted as Public History majors or minors. Acceptance to the Public History Program is at the discretion of the CPH Director, but admission into the graduate program normally assures acceptance.
Read detailed information on department requirements and application procedures »
MA in Public History Overview
Following admission to the University of Houston, the Course of Study for the 30-hour MA in Public History includes:
a two-semester survey of readings and applied research in public history
a methodological specialty (such as oral history, historical editing, archives/records management, public policy, material culture, or historic preservation)
three courses in history of a major geographic area
an internship
a thesis
competence in a foreign language (reading skill) or computer science
Non-thesis Track MA Overview
The University of Houston also has developed a non-thesis track MA. The non-thesis track includes the above elements except for the thesis. In lieu of the thesis, the student must complete (a) an oral comprehensive examination; (b) an additional methodology course; (c) and oral comprehensive examination; and (d) two of the following three: an additional methodology course, an additional major field course, or a research paper.
Minor in Public History Overview
The minor in public history for the MA (thesis and non-thesis tracks) requires 9 hours of public history courses approved by the director. Ph.D. students may choose Public History as their minor field according to the current guidelines of the department's Ph.D. program. They should discuss course selections with their advisor or the Public History Coordinator.