At the Jack J. Valenti School of Communication our goal is to produce graduates who: are well-educated in communication, the liberal arts and humanities, and in the social, natural, and physical sciences; are ethical, technologically proficient, analytical, and critical; have the cognitive, research, and professional skills required to succeed in their first jobs and to mature as leaders in a constantly changing, challenging, and exciting new information era; and are able to contribute as citizens to a changing and increasingly complex society.

NEWS and EVENTS
Valenti School Weekly Update 5.2.14
TEMPLE NORTHUP, as part of the Gulf Coast Food Project, has collaborated with 14 Pews theater in the Heights to put on an inaugural food film festival. The Bayou City Food & Film Festival, which is open to the public, is happening this weekend, May 2-4. Of particular interest, Saturday at 2 PM a series of short documentary films produced by undergraduate Valenti School majors will be screened. For more information, please follow this link: http://www.uh.edu/news-events/stories/2014/April/42514bcfff
Here's a media release regarding the film festival:
http://www.uh.edu/news-events/stories/2014/April/42514bcfff
CLASS Weekend Postcard:
http://www.class.uh.edu/email/epostcard/index.html
Entertainment item on Houston Chronicle website
http://www.chron.com/entertainment/movies/article/University-of-Houston-14-Pews-launch-food-film-5441849.php
Hear TEMPLE NORTHUP's interview on KUHF Houston Matters (at approximately 44:30 – 48:40) from Friday, May 2:
http://www.houstonmatters.org/
TEMPLE NORTHUP received a CLASS Outreach Grant to continue working on a documentary film focusing on a group of individuals trying to combat the obesity problem within Houston. The grant will enable Dr. Northup to employ a student assistant during the fall semester to help film and then edit the project.
TEMPLE NORTHUP was accepted into the 2014 Dow Jones Multimedia Training Academy held at the University of Texas, El Paso. During this week-long intensive boot camp, Dr. Northup will be trained by top multimedia professionals in the latest in digital storytelling techniques.
ARTHUR D. SANTANA was awarded at $3,000 CLASS Research Outreach Grant for his continuing research on user-generated content (UGC). The summer research project will look at the differences in how people respond to anonymous vs. non-anonymous comments (including the extent to which either impacts credibility) in commenting forums of online newspapers.
Drs. TEMPLE NORTHUP, ARTHUR SANTANA and JENNIFER VARDEMAN-WINTER were awarded a $38,000 Teaching Innovation grant from the University to develop a series of courses in support of their proposal: "iPad Curriculum: Equipping Students for Success in the New Media Environment." The grant will enable the purchase of iPads for student use that will be integrated into new journalism, media production, and public relations courses. The first class, iPad Journalism, is scheduled to be offered in the spring of 2015, pending committee/faculty approval.
DARRYL EWING's PR Campaigns and Organizational Communication classes presented their PR Campaigns for Shape Up Houston (SUH).
DAVID McHAM is quoted in the Houston Chronicle obituary article for Ken Bunting: http://www.chron.com/default/article/Holcomb-Trailblazing-journalist-always-could-5432153.php RANDY POLK was host and moderator for an "Introduction to Media Production Professional Organizations" for the Valenti School of Communication. A panel of representatives from local and national organizations met with Valenti students as well as students from the School of Theatre and Dance and the English Department's Creative Writing Program. The panel was comprised of Murray Campbell - International Alliance of Theatrical Stage Employees (IATSE), Mary Lampe - SouthWest Alternate Media Project (SWAMP), Rick W. Ferguson - Houston Film Commission, Michelle Robinson - Screen Actors Guild/American Federation of Television and Radio Artists (SAG-AFTRA), and Lorís Simón Salum, Anita Long, Marilyn Swick - Women in Film and Television (WIFT).
Bana Berhane (B.A.) has been accepted into the MBA program at Texas Women's University.
Staff members of The Daily Cougar are looking forward to summer opportunities:
Natalie Harms will be attending the publishing program at New York University.
Channler Hill has been chosen as one of 20 Chips Quinn Scholars, a Gannett newspaper program. She will spend a week in training in Nashville then will spend the summer at the St. Cloud Times in St. Cloud, Minn.
Nora Olabi will be interning at the Houston Business Journal.
Paulina Rojas will be at the Las Vegas Review-Journal and its Spanish language sister paper El Tiempo. The internship is sponsored by the National Association of Hispanic Journalists Nevada.
Chris Shelton will be interning at the Sun Sentinel in Fort Lauderdale under the sponsorship of the Sports Journalism Institute. The institute helps minorities and women find newspaper internships.
Cara Smith will spend the summer as a digital news producer at KHOU-TV.
Andrew Valderas will intern at the San Antonio Express-News.
Hill is the outgoing editor of The Daily Cougar and Smith will be the editor during the 2014-2015 school year.
Valenti School students who were interns at the Houston Chronicle ended the spring semester hearing Lise Olsen tell about her experiences as an investigative reporter April 24.
The spring interns were David Bryant, Rebecca Heliot, Katherine Morris, Paulina Rojas and Andrew Valderas. Morris and Rojas were continuing their internships from the fall. The six interns chosen by CHARLIE CRIXELL and DAVID McHAM for the fall internship also attended. They are: Laura Gillespie, Amber Hewitt, Michelle Iracheta, Nora Olabi, Ashleigh Painter and Maritza Rodriguez. They will be joined in the fall by Luiza Braga and Rebecca Hennes.
Dan Cunningham supervises the program for the Chronicle. He is a member of the Valenti Community Advisory Council, and he is scheduled to teach a sports writing course in the fall.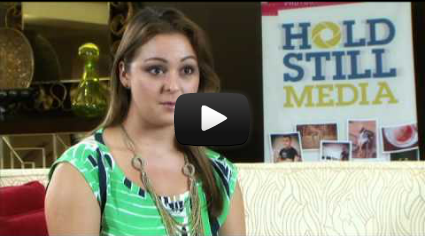 Valenti Alumnus Michelle Eulene
Keep Houston Red - Red Heroes
Dr. Northup is a professor at the Jack J. Valenti School of Communication. He lived in LA for seven years where he wrote in the entertainment industry. After writing for television, he decided to study the effects that watching television has on an individual. He currently teaches a documentary film class and persuasion.