LIEUTENANT COLONEL LYNN BENTLEY III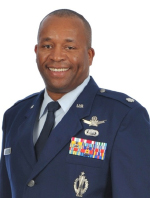 Lieutenant Colonel Lynn Bentley III is Commander, Air Force ROTC Detachment 003, and Professor of Air Force Science at the University of Houston. He is responsible for recruiting and preparing officer candidates for Air Force commissioning through a comprehensive college program. Lt Col Bentley is a Command space officer and Senior Intercontinental Ballistic Missile (ICBM) operator in both Peacekeeper and Minuteman weapon systems. Additionally, he has led teams conducting satellite and radars operations and maintenance within the continental United States and abroad. Finally, he is an acquisition professional certified as Program Management Level III and Test and Evaluation Level II.
He graduated from Southern Illinois University at Edwardsville in 1991 with a Bachelor of Science degree in Business Management and from Regis University at Denver 1996 with a MBA and in 2005 from Air University with a Masters in Military Operational Arts and Sciences.
Education
1991 Bachelor of Science Degree in Business Management, Southern Illinois University - Edwardsville, IL
1996 Master of Business Administration, Regis University - Denver, CO
1997 Squadron Officers School In-Residence - Maxwell Air Force Base, Alabama
2004 Air Command and Staff College In-Residence - Maxwell Air Force Base, Alabama
2005 Masters of Military Operational Arts and Science - Maxwell Air Force Base, Alabama
2008 Air War College, Correspondence - Maxwell Air Force Base, Alabama
Assignments
Oct 1992 - Jun 1996, Peacekeeper ICBM Crew Cmdr/Instructor/Flt/Cmdr, 400th Missile Squadron- FE Warren AFB, WY
Jul 1996 - Jun 1999, Instructor & Chief Simulator Ops Training, 392nd Training Squadron - Vandenberg AFB, CA
Jun 1999 - Jun 2002, Chief, Integrated Product Team & Executive Officer, US Strategic Command - Offutt AFB NE
Jun 2002 - May 2004, Dep Chief Ops Division & Chief Space & Info Ops Division, 505th C2 Wing - Hurlburt Field AFB, FL
Jun 2004 - May 2005, Student - Air Command and Staff College, Air University - Maxwell Air Force Base, AL
May 2005 - Oct 2006, Chief, Plans & Programs Division, Detachment 12 Space & Missile System Ctr – Kirtland AFB, NM
Oct 2006 - Jun 2008, Director of  Operations, Space Test Squadron, Space Test Group – Kirtland AFB NM
Jun 2008 - June 2009, Deputy Group Commander, Space Development Group – Kirtland AFB, NM
Jul 2009 - July 2013, Chief, Radar Operations Division, Air Force Technical Application Center – Patrick AFB
Jul 2013-Present, Commander, Air Force ROTC Detachment 003 - University of Houston, Texas
Major Awards & Decorations
Defense Meritorious Service Medal
Meritorious Service Medal with one oak leaf cluster
Joint Service Commendation Medal
Air Force Commendation Medal with one oak leaf cluster
Joint Service Achievement Medal
Air Force Achievement Medal
Joint Meritorious Unit Award with two oak leaf clusters
Air Force Outstanding Unit Award with one oak leaf clusters
Air Force Organizational Excellence Award with one oak leaf cluster
Combat Readiness Medal
National Defense Service Medal
Global War on Terrorism Service Medal
Military Outstanding Volunteer Service Medal
Air Force Longevity Ribbon with 4 oak leaf clusters
Effective Dates of Promotions
| | |
| --- | --- |
| Second Lieutenant | 12 Jan 1992 |
| First Lieutenant | 12 Jan 1994 |
| Captain | 12 Jan 1996 |
| Major | 1 Oct 2002 |
| Lieutenant Colonel | 01 Oct 2007 |