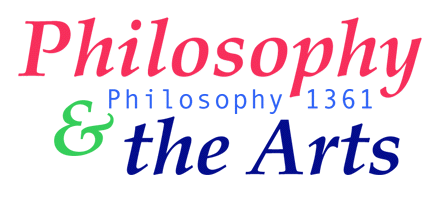 Philosophy 1361, Philosophy and the Arts, Fall 2009
MW 1-2:30, 116 Science & Research I
Section # 30613
Professor Cynthia A. Freeland, cfreeland @ uh.edu , 713-743-3206
Office Hours: TBA, 511 Agnes Arnold, (713) 743-3206
TA: Boomer Trujillo, boomer.trujillo @ gmail.com
Office hours: Tu Th 1-2:30 and M 2:30-5, Agnes Arnold 508
Overview
Note
The outline below will be gradually updated for the Fall 2009 semester. Some assignments shown below are from a previous version of this class. They are left here as examples, but do not do any assignments before confirming that they are the correct ones for the current semester. Learning Outcomes

1. You will acquire general knowledge of how philosophers at various time periods from ancient Greece to the present have defined art and aesthetic value, and about the examples they used to develop their accounts.

2. You will improve your analytic and writing skills by attending class discussion that brings out key points in the readings; by weekly writing assignments that encourage your own independent critical reaction to topics in the arts; as well as by assigned take-home papers and exams that require you to analyze abstract discussions and apply the results to particular examples.

3. You will learn research and writing skills in the humanities and be better able to apply abstract concepts to particular concrete, real-world problems.

Texts

Required
1. But is it Art? A Very Short Introduction to Art Theory, Cynthia A. Freeland. Published Spring 2001 by Oxford University Press; paperback version. Chapters listed on syllabus from "Freeland" are from this book. (Yes, I get some income from this book. I donate it back to the University for scholarship money. Seriously.)

2. Aesthetics: The Big Questions, (ABQ), ed. Carolyn Korsmeyer (Blackwell, 1998)

Recommended
1. Robert Cumning, Art: The World's Greatest Paintings Explored and Explained, DK Publishing, 1995. (This book is recommended to give you an excellent introduction to the interpretation of meaning and symbolism in paintings, with detailed studies of a number of great paintings in western art history.)

2. Carol Strickland, John Boswell, The Annotated Mona Lisa: A Crash Course in Art History, Andrews McMeel Publishing, 1992. (This book is highly recommended to give you a clear introduction to western art history from ancient Egypt up through modernism and post-modernism. If you don't know the difference between Impressionism, Expressionism, and Abstract Expressionism, but would like to, this book is for you.)

Warning
Some art to be shown and discussed in class may offend some students. This includes artwork that addresses themes about religion, race and racism, sexuality, violence, and gender identity.

Disability
If you need accommodations in this course, please notify Dr. Freeland immediately, and supply the relevant paperwork from the Office of Students with disAbilities on campus.

Plagiarism
All work in this course must be your own; be sure you have read and understood the university's academic honesty policy. Plagiarism, the use of someone else's work without proper citation, is a serious offense that can lead to an "F" in the course. This professor will regularly use Turnitin.com and other sources to check papers for plagiarism.

Requirements and Grading
Grading is done on a scale based on 100 points total. No in-class exams or final. Grades will be recorded on the WebCT Blackboard Vista version of this course and you can check at any point to see where you stand.

Explanation and comments:

Attendance (10 points) Attendance will be taken. Participation is part of the process of learning. This includes not simply your presence but your contributions to the ongoing dialogue in the class. The professor puts a lot of work into selecting images, music and film selections, and actual artworks to bring to class in order to assist in understanding the philosophical readings and arguments. The rationale for counting attendance as part of the overall grade is that if you miss a class you are most likely to miss seeing or hearing illustrations and explanations that are relevant to the assigned readings and essays, and this will hurt your performance. If you are 20 minutes or more late to class, or if you leave 20 minutes or more early from class, it will count as an absence. You will lose one point from your attendance score for every two classes you miss.
Art Log: See separate information page.
Take-Homes: The take-home essays format will allow some choice of topic and assignments will allow enough time for polished writing and for the use of the textbook and other research materials as resources. Take-home essays will be graded on the basis of content and also spelling, grammar, clarity, punctuation, etc. This is required both because it is important for everyone to learn how to write well and also because the course is listed as a writing-intensive course for purposes of the core curriculum.
Late Policy: Art log submissions will not be accepted late.
Papers will be severely marked down if submitted late, and the mark-down increases with each day it is late. Submissions must be done on line using the assignment drop-box on WebCT. Exceptions, or course, are consided and usually granted in cases of documented illnesses, medical emergencies, court appearances, family care emergencies, etc. Please do not kill off your grandmother in this class! (It happens all too often, I assure you! Hence, funeral attendance is regarded with some skepticism as an excuse.)
A note on grading: The professor will grade the take-home essays and will also grade some art logs at random. The TA will grade the art logs and the research projects.
The final grade depends on the total points. Please ask if you have any questions. The professor welcomes e-mail from students and will respond ASAP.

Topics and Course Plan

For details of the schedule and specific reading and writing assignments, please refer to the Class Schedule.

URL for this page:

http://www.uh.edu/~cfreelan/courses/1361

October 4, 2010
Note: The course web pages are in transition from a previous version; some links are sure to be broken. Please let me know if you find one, as I will be revising pages to update this course during the Fall 2009 semester.