Wilhelmina Daisy Cullen Robertson Smith
Longtime UH Supporter, Alumna Dies
January 22, 2009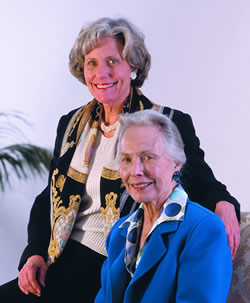 University of Houston alumna Wilhelmina Daisy Cullen Robertson Smith died Monday, Jan 26, of a heart ailment in her Houston residence. She was 86.
Smith was the last of the surviving children of Hugh Roy Cullen and Lillie Cranz Cullen, UH's founding family and first major benefactors.
Throughout the years, Smith, who graduated from UH in 1944 with a bachelor of science degree, and her family continued her parent's legacy of supporting the university. Her first husband, Corbin J. Robertson Sr., who died in 1991, was a strong advocate of early Cougar athletics programs. His name graces the university's sports stadium.
Smith was a life member of the UH Alumni Organization, which presented her with a Distinguished Alumni Award in 1989. The UH System Board of Regents also paid tribute to her, approving the construction of the Wilhelmina Robertson Smith Pavilion—a $38.7 million sports complex to be located at Robertson Stadium. She also received an honorary doctorate from UH in 1988.
Smith and Robertson's children are Wilhelmina E. "Beth" Robertson, former chair of the UH System Board of Regents; Lillie T. Robertson, friend and supporter of UH arts programs; Corbin J. Robertson Jr., advocate for the Texas Center for Superconductivity; Carroll Robertson Ray, current member of the Board of Regents; and Alison S. Robertson Baumann.
Besides her children, Smith leaves behind her husband, Edgar A. Smith Jr., and a host of grandchildren, nieces, nephews and many other family members.
Visitation will be 5-8 p.m. Thursday, Jan. 29, in the library of Geo. H. Lewis & Sons, 1010 Bering Drive. A memorial service will be held 11 a.m. Friday, Jan. 30, at St. Martin's Episcopal Church, 717 Sage Road.
Contributions in memory of Smith may be directed to the UH Creative Writing Program or the UH Athletics' Wilhelmina End Zone Facility at Robertson Stadium; the Texas Heart Institute, Post Office Box 20345, MC 3-117, Houston, TX, 77225-0345; or to the Baylor College of Medicine, One Baylor Plaza, MS: BCM160, Houston, TX, 77030-3411.
Staff reports