Faculty Experts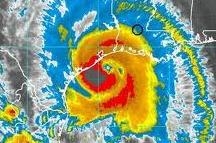 Representing experts across various fields, University of Houston sources have expertise in an array of topics related to storms – before, during and after.
Kevin Sumlin Named 11th Football Head Coach on Friday
Former Oklahoma Assistant Introduced at Press Conference
Houston-
University of Houston Director of Athletics Dave Maggard announced on Friday that Kevin Sumlin was hired as the Cougar football head coach. Sumlin becomes the 11th head coach in UH history, but more importantly, he becomes the first African-American to lead the prestigious Cougar Program.
"As I spoke with people around the country about Kevin, he is very highly regarded by his peers, by head coaches, by assistant coaches and by athletic directors," said Maggard. "He has been in programs that have been very strong programs (and in) programs where success has taken place and have continued the success. He has a great deal of success in recruiting, and he has been recruiting the Houston area for a number of years during the time he was at Texas A&M and the University of Oklahoma.
"He's a man of strong character. He will set expectations for the players, and yet at the same time, the players have enormous respect for him. And it goes both ways. He has respect for the players, and they have respect for him.
"I felt the need to have someone that will set high expectations with us (and) will meet the high expectations we have here at the University of Houston. The vision here for us is to reclaim our position in the national picture. In my conversations with Kevin, he feels that's more than possible. His goals will be consistent with those of ours in terms of moving this program up beyond where it is at this current time."
Sumlin is the first African-American to be hired to lead a Division I-Football Bowl Subdivision program in the state of Texas. Former North Texas head coach Matt Simon was first hired in 1993 when the UNT program was a Division I-Football Championship Subdivision (formerly Division I-AA) school, later moving up a division and coaching the North Texas program from 1994-97 as a member of the Division I-FBS.
"This is a great University and a great city," said Sumlin. "This is a place that has won conference championship in recent years, and we want to continue down that path and play for a conference championship every season. This is Dave Maggard's vision, and I share the same vision.
"I bring both energy and excitement to the program, as well as an aggressive style of offense and defense. It will be a style that the players will want to play and a style that our fans will like to watch.
"What excited me (about coming to Houston) was a chance to play for a championship every year."
The 43-year-old Sumlin arrives on Cullen Boulevard after spending the past five seasons at the University of Oklahoma, where he has served as both the co-offensive coordinator/wide receivers coach (2006-07) and special teams coordinator/tight end coach (2003-05).
In 2007, the OU receivers recorded 19 touchdowns while Malcolm Kelly and Juaquin Iglesias provided one of the best 1-2 receiving punches in the nation, ranking fifth and sixth in the OU records book for receiving yards in a season. While coordinator of the Sooner special teams, Sumlin saw his units place 10th nationally in net punting, while true freshman Reggie Smith led the team with a 20.9-yard punt return average in 2005.
Prior to his arrival in Norman, Sumlin spent two seasons at Texas A&M University, where he served as the assistant head coach, offensive coordinator and wide receivers coach. During the 2002 campaign, Sumlin was thrust into the offensive coordinator role, and the Aggies averaged 33.0 points per game after posting just 16.0 ppg before he took control.
Sumlin also has stops at his alma mater, Purdue, (1998-2001), Minnesota (1993-97) and Wyoming (1991-92). He began his career as a graduate assistant at Washington State, first for Dennis Erickson (1988) and then Mike Price (1989-90).
Sumlin has coached in nine bowl games, including five at Oklahoma (2008 Fiesta, 2007 Fiesta, 2005 Holiday, 2005 Orange, 2004 Sugar), one at Texas A&M (2002 GalleryFurniture.com) and three with Purdue (2002 Rose, 2000 Outback, 1998 Alamo.)
A four-year letterman as a linebacker at Purdue (1983-86), Sumlin ended his career among the top 10 in tackles for the Boilermakers. He was named to Sports Illustrated's All-America walk-on list as a freshman after leading Purdue with 91 tackles.
Sumlin was twice named Honorable Mention All-Big Ten while leading Purdue in tackles as both a junior and senior. He helped lead the Boilermakers to the 1984 Peach Bowl.
The Indianapolis, Ind., native graduated from Purdue in 1986 with a bachelor's degree in both criminology and liberal arts. Sumlin and his wife Charlene have four children: daughters Courtney and Shelby, and sons Jackson and J.R.
SUMLIN'S COACHING HISTORY
2007- • Head Coach • University of Houston
2006-07 •Co-Offensive Coordinator/Wide Receivers • University of Oklahoma
2003-04 • Special Teams Coordinator/Tight Ends • University of Oklahoma
2001-02 • Assistant Head Coach/Offensive Coordinator/WRs • Texas A&M University
1998-01 • Receivers • Purdue University
1997 • Quarterbacks • University of Minnesota
1993-96 • Receivers • University of Minnesota
1991-92 • Receivers • University of Wyoming
1988-90 • Graduate Assistant • Washington State University
WHAT THEY ARE SAYING ABOUT KEVIN SUMLIN
"We're excited for Kevin and his family. He helped our program achieve many of its goals and had a solid track record even before he joined our staff. There is no question that he is deserving of this opportunity and we're confident that he will make the most of it." -- Oklahoma head coach Bob Stoops
"Kevin is one of the brightest and most energetic football coaches in the country. Houston has made a great hire, and I'm very pleased for him. The Cougars are going to have a lot of fun playing for Kevin Sumlin. He is a positive, upbeat guy, and he's enjoyable to be around." --- UTEP head coach Mike Price, who was the head coach at Washington State in 1989-90
"He's a high quality coach; he has a lot of energy. The players will all relate to him pretty quickly the way they did with me. He's very knowledgeable, and he'll bring in a good staff. He's coached with a lot of big time coaches at a lot of places so he knows how things should be done on and off the field. He'll be disciplined with the guys and let me be really disciplined with the guys. We'll stay on them year round and make sure they do things the right way; he's very big on doing things the right way. I'm excited about getting this thing going. I've known him since 2001. He's a good guy, a family guy; I know his wife and kids. He and I have almost had opportunities to work together in the past but one thing or another happened to prevent it. To get this opportunity now is very good and we'll try to do something great here. I'm excited to have my boy out here and get this thing going." -- UH head strength and conditioning coach Larry Jackson
"Kevin is a high-energy guy who has a passion for college football. He's knowledgeable and thorough and has a great rapport with young people. I coached him at Purdue, introduced him to college coaching at Washington State and hired him at Wyoming and Purdue. We have watched with great interest the development of his career and wish him all the best at the University of Houston." -- Purdue head coach Joe Tiller
"I am excited for the University of Houston. Kevin is a bright coach, who did a great job for me, and I have the highest regard for him. He is a very good offensive mind and an excellent recruiter. I have the very highest opinion of Kevin, and I know he will do a great job. He will recruit players that will enjoy playing for him, because he has a great way of handling young people. He is a great role model for young players, and he will do well." -- Former Texas A&M head coach R.C. Slocum, where Kevin Sumlin was an assistant from 2001-02
"Kevin was an excellent football player. He started for four years at linebacker for us after walking on to the team. He was a very intelligent player and not only knew his position; he helped get everyone else on the field lined up correctly. Though he has been an offensive coach, he still has a great knowledge of the defensive side of the ball and will be a great head coach." --- Former Purdue head coach Leon Burtnett, who coached Kevin Sumlin in college
"When I first took the job at Minnesota in December 1996, Kevin was one of the guys on Jim Wacker's staff. I interviewed him and was very impressed with him. Even though he had a defensive background, we talked about his needing an offensive background since he had a strong desire to become a head coach. Although he had never coached quarterbacks before, I hired him to do that, and he did a tremendous job as we were building up our program. I was very impressed with Kevin on the recruiting trail. He recruited Florida for me and really did a good job. He has a great a personality that helps in recruiting, and he has tremendous people skills. Kevin will do a tremendous job. He is knowledgeable in the sport of football. This is a great hire, and there is not doubt in my mind that he will be successful at Houston." -- Former Minnesota head coach Glen Mason, where Sumlin served as quarterbacks coach in 1997
HOUSTON HEAD COACHING HISTORY
2007- • Kevin Sumlin
2003-05 •Art Briles
2000-02 •Dana Dimel
1994-99 •Kim Helton
1990-92 •John Jenkins
1987-89 •Jack Pardee
1962-86 •Bill Yeoman
1957-61 •Harold Lahar
1955-56 • Bill Meek
1948-54 •Clyde Lee
1946-47 • Jewell Wallace
Categories: