Music Professor David Ashley White Hits High Note With Farfel Award
HOUSTON, May 5, 2015– For more than 40 years, alumnus David Ashley White has composed a stellar career at the University of Houston. White served as director of the Moores School of Music for more than a decade, held the Margaret Alkek Williams Endowed Chair and has composed more than 450 pieces of music including 130 hymns, choral music and anthems.  
Now UH is paying tribute to his outstanding contributions as a professor, administrator and as an internationally renowned composer. The University recently presented its highest faculty honor — the Esther Farfel Award — to White. The award symbolizes overall career excellence and carries a $10,000 cash prize.
"When I learned that I am the recipient of this year's Farfel Award, I was truly surprised, and, of course, I was very honored to have been selected," White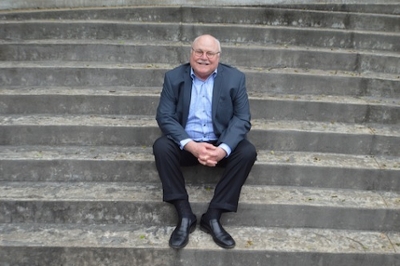 said. "Several years ago, I served on the selection committee for the Farfel, so I'm well aware that the competition is intense, which makes it even more humbling. It's even more special to me because few faculty from the arts have ever received this award: I believe I'm only the fourth."
White's music career began as a childhood dream that his parents, who were not musicians, supported. He studied the piano, learned to the play the saxophone at a Brownsville, Texas elementary school and "composed little piano pieces that I didn't know how to notate," White said.
While in high school, he took private lessons in music theory, solfege and piano at Del Mar College in Corpus Christi, then he pursued his dream at UH.
"I have always been grateful for the superb education I received here, first as an oboe performance major (Bachelor of Music), and then as a fledgling composer (Master of Music). Both periods of study were not planned. I was on my way to the University of Texas as an undergrad, but my situation changed and I came to UH. "For my master's study, I was set to continue graduate work in oboe in Pittsburgh — I even had an apartment rented — but my composition teacher from my undergraduate days, Michael Horvit, who came to UH in 1966, called me out of the blue in early June 1972, asking me to return in the fall to take a teaching assistantship in music theory. I jumped at the chance and decided to pursue a master's at UH," White said. "It was at that time I became a composer."
After graduating from UH, White focused his efforts on obtaining a doctorate at UT, but "fate" would intervene again. In 1975, UH offered him a position as a lecturer. He accepted. Though he juggled his teaching and studies at two universities for three years, White eventually received a Doctoral of Music Arts in 1978.
Since those early years, White has gone on to teach composition at all levels. He has held several administrative roles, including the directorship of the Moores School of Music. Under his leadership, the school grew steadily in quality and size, and its reputation has flourished across the country and overseas, his Farfel nominator commented. White, who was the school's director from 1999 to 2014, facilitated national and international performances of the school's ensembles, including the Moores Concert Chorale. The concert chorale took top prizes in such global competitions as the Llangollen International Musical Eisteddfod in Wales and the International Chamber Choir Competition in Marktoberdorf, Germany.
White's other administrative accomplishments include launching new initiatives such as the certificate in music performance and shepherding the doctor of musical arts degree program.
"The Moores School of Music and the University of Houston, as a whole, are extraordinarily well positioned to develop new initiatives, plan for the future and face imminent challenges because of David White's artistic and administrative sensibility, his reputation as a highly ethical and responsible steward of resources, and, indeed, his extraordinary personal warmth and humanity," his nominator stated.
White also has made significant contributions outside of the classroom, as he is one of America's most prominent, widely published and widely performed composers of sacred music, according to his nominator. Major-label collected recordings of his music include "Echoes from the American Cathedral: Music of David Ashley White" and "The Blue Estuaries: American Choral Music."
White's sacred music compositions have earned him high praise. Earlier this year, he received the Raabe Prize in Sacred Composition from the Association of Lutheran Church Musicians for his piece "Spirit Moving Over Chaos." White also is the recipient of the annual ASCAPLUS Award from the American Society of Composers, Authors and Publishers.
"David is a composer of the very highest order, and has had one of the most profound and enduring impacts on the musical landscape in Texas of anyone I can think of, having taught generations of musicians," commented a former student, who now is a music professor.
A seventh-generation Texan and San Antonio native, White is truly Cougar proud. "I have watched this University grow over many years (and, as I tell people, I know where all the bodies are buried). I continue to be proud of UH's growing success," White said. "We, as a university, have achieved so much, and there are still more wonderful things to come. Many faculty, staff and students have positively affected who I am and what I've accomplished. They all deserve a good deal of credit for my award."
White was presented with the Farfel Award at an awards lunch, where other faculty members were honored for teaching excellence, advising, research and scholarship.
By Francine Parker