Ganesh Thakur - Distinguished Professor, Director of UH Energy Industrial Partnerships
---
CULLEN COLLEGE OF ENGINEERING: PETROLEUM ENGINEERING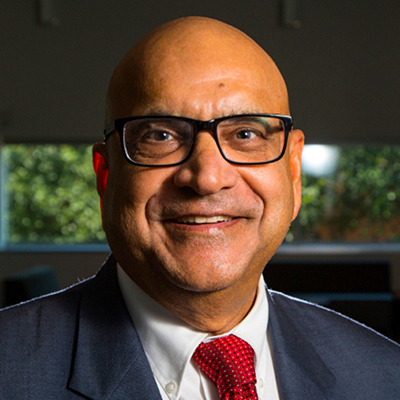 Dr. Ganesh Thakur is Distinguished Professor of Petroleum Engineering in the Cullen College of Engineering and Director for Energy Industry Partnerships at UH. He is President and Global Advisor at Thakur Services, Inc. and is a member of the National Academy of Engineering. Dr. Thakur is also a recipient of the Governor's University Research Initiative (GURI) grant where he is helping lead the nation in cutting-edge research and further elevate future generations of students and faculty at Texas universities while spearheading new breakthroughs in the fields of science, technology, engineering, mathematics and medicine, all of which are crucial to the long-term success of the Texas economy.
Dr. Thakur's current research interests include a multi-disciplinary, innovative and integrated approaches to the recovery of oil and gas through research pertaining to CO 2 – EOR conventional & unconventional Reservoirs, waterflooding / IOR – conventional & unconventional reservoirs and integrated reservoir management – conventional & unconventional Reservoirs.
He has published over 65 journal articles and conference papers and holds five (5) patents.
NOTABLE MEDIA
CCME Webinar Series: CCUS and EOR – Global Project Development by UH
The UH CCME webinar series continues to expand awareness in the CCUS direction with a presentation by Dr. Ganesh Thakur on the active project he is leading in India. Dr. Thakur will also provide highlights on Permian Basin CO2 EOR efforts he managed for Chevron for 3 decades before joining the UH faculty in Petroleum Engineering.
LEARN MORE VIEW RECORDING
SELECTED PUBLICATIONS
"ARMA: Horizontal Completion Fracturing Techniques Using Data Analytics - Selection and Prediction", paper presented at the 51st US Rock Mechanics/Geomechanics Symposium, San Francisco, California, USA. June 25-28, 2017
"SPE-186068-MS: Application of Multi-Level and High-Resolution Fracture Modeling in Field-scale Reservoir Simulation Study", prepared for presentation at the SPE Reservoir Characterization and Simulation Conference and Exhibition held in Abu Dhabi, UAE, 8 – 10 May 2017
"SPE-185747-MS: Cyclic Steam Injection Modeling and Optimization for Candidate Selection, Steam Volume Optimization, and SOR Minimization, Powered by Unique, Fast, Modeling and Data Assimilation Algorithms", presentation at the SPE Western Regional Meeting, 2017.
"SPE-185507-MS: Redistribution of Steam Injection in Heavy Oil Reservoir Management to Improve EOR Economics, Powered by a Unique Integration of Reservoir Physics and Machine Learning", presentation at the SPE Latin America and Caribbean Petroleum Engineering Conference, 2017.
"Computer-Implemented Systems and Methods for Forecasting Performance of Water Flooding of an Oil Reservoir System Using a Hybrid Analytical-Empirical Methodology", US Patent 8,805,631, August 12, 2014.
"Computer-Implemented Systems and Methods for Forecasting Performance of Polymer Flooding of an Oil Reservoir System", US Patent 8,510,089, August 13, 2013.
"Computer-Implemented Systems and Methods for Screening and Predicting the Performance of Enhanced Oil Recovery and Improved Oil Recovery Methods", US Patent 8,175,751 B2, Date of Patent – May 8, 2012.
"The New Conventional", The Way Ahead Magazine, SPE Journal paper, 2012.
"The Role of Integrated Project Teams Applying Innovative Technologies to Improve Production and Recovery", pages 5-12, Investigations in Geophysics No. 15, Methods and applications in Reservoir Geophysics, 2010.
"The Role of Multi-Disciplinary Teams in Innovative Reservoir Management" SPE 112921, 2008 SPE North Africa TC and Exhibition held in Marrakech, Morocco, March 12-14 2008
"Should a Technical Career Track/Ladder Be a Preferred Option for Young Professionals?" Pillars of the Industry, The Way Ahead, SPE, pages 20-21, Vol. 3, No. 3, 2007.
"Waterflood Surveillance and Monitoring: Putting Principles into Practice", pages 552-562, October 2007, SPE Reservoir Evaluation and Engineering.
"Techbits: Workshop Addresses Reservoir Water Control and Management", 1002-0026 JPT SPE Journal Paper – 2002.
ENERGY INDUSTRY PARTNERSHIPS
ABOUT UH PETROLEUM ENGINEERING