ABB Customer World - Student Ambassador Program

ABB Customer World is ABB's company's largest customer event in the US! Held every other year in Houston, TX, the upcoming event is scheduled for March 4 – 7, 2019. The event brings thousands of customers and industry leaders to Houston to participate in a variety of business forums, education and training sessions, keynote addresses, and product demonstrations.

The Student Ambassador program is an externship designed to support ABB's premier education and technology event. Student Ambassadors are selected from universities within the region and must meet stringent qualifications. You should have a desire to learn about how ABB is working to provide solutions to today's greatest energy challenges, as well as be among the top students on campus in regard to leadership and student activities. At our most recent event in 2017, we were proud to have four awesome University of Houston students on our Ambassador Team and are excited to welcome even more Cougars in 2019.



If interested, please contact:

Suzanne Walden


and visit the ABB CUSTOMER WORLD WEBSITE
---
9th Annual Summer Institute on Sustainability and Energy

In partnership with Argonne National Laboratory; Clean Energy Trust; Institute for Sustainability & Energy at Northwestern (Northwestern University); Loyola University; UI LABS; University of Chicago; Wanger Institute for Sustainable Energy Research (Illinois Institute of Technology)

About SISE
The Summer Institute on Sustainability and Energy (SISE) is a two-week "boot camp" for future decision makers eager to join the sustainability and energy revolution happening around the globe. Held annually since 2011, the program boasts over 400 alumni. During weekdays, SISE'ers participate in high-level talks, visit energy and sustainability sites, and network. During evenings and weekends, they work collaboratively on a research project and enjoy exploring Chicago.

Theme
This year's theme, Implementation, moves beyond the "what" to the "how." Building on the research of previous years, 2019 SISE Fellows will engage with Chicago communities and collaborators to develop critical strategies to help local neighborhoods realize their vision for their future. They will engage with theory and case studies, and then move to the streets and homes of our Chicago neighbors and communities where real change is made at the ground level.

Applicants
Participants (SISE'ers) from around the country join SISE at the University of Illinois at Chicago. SISE'ers are chosen from a highly competitive pool of applicants from across the country. Diversity is one of the strongest features of the program, with participants representing a broad range of backgrounds and expertise. They live together. They research together. They become a part of our extended and international "SISE family."

Cost and Support

There is no program fee.
Lodging is provided for all participants.
Transportation support is provided to many participants.
How to Apply
Senior-level undergraduates (as of the fall of 2018), graduate students, recent graduates, and professionals working in the fields of sustainability and energy are eligible to apply
The application process includes:
An online application
A resume/CV
One letter of recommendation
A short Skype/Google Hangouts interview
Applications are accepted through

May 30

; interviews must be completed by

June 15
If you have any questions or concerns, please contact:
Thomas Aláan, SISE Program Coordinator |  uic.sise.admissions@gmail.com
and visit the SISE WEBSITE

We hope to see you in Chicago this summer!
---
WindAir Volunteer Program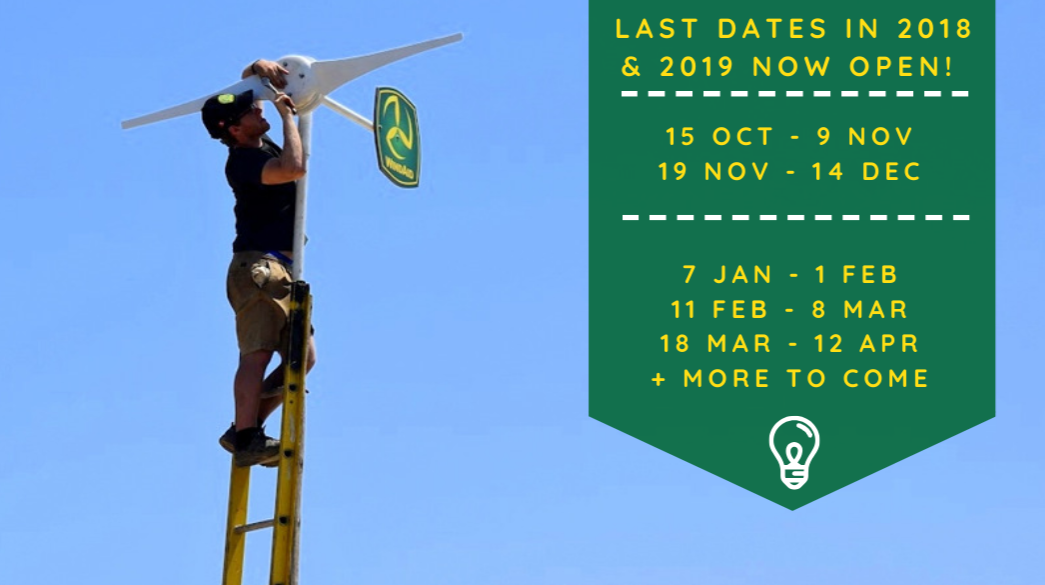 R&D Involvement
We involve volunteers on all of our standard 4-week turbine construction & installation programs in the R&D projects. This year we have studied everything from blade composition to dust-free electronics development, as well as resistance and longevity of the towers. Upcoming goals are to research new battery technology and re-design the alternator for increased efficiency!

Community Engagement
A major focus of 2018 has been community outreach. Volunteer input has not only been invaluable, but necessary for improvement. Outreach projects include surveys within communities, database compiling, and long-term project planning that's heavily focused on training local technicians.

Building Skills for the Future
We aim for every volunteer to learn as much as they can from their volunteering experience in Peru. This means that everyone who comes through our doors has the opportunity to gain hands-on engineering experience, practice working and networking with an international team, and creating a lasting impact through installing wind turbines for those without electricity. Our past volunteers have gone on to work in major corporations, been invited to do graduate studies at prestigious universities, and created connections from around the world in the sustainability sector.