The Sustainable Energy Development credentialing program delivers a multi-disciplinary understanding of challenges and solutions to achieve sustainable energy development. It is taught by world class instructors, including leaders from industry and the marketplace, and accomplished faculty from the University of Houston, the Energy University, in the Energy Capital of the World. This gallery provides a sample of our instructor corps.
---
UH INSTRUCTORS
Greg Bean
Executive Director of the Gutierrez Energy Management Institute, Bauer College of Business, University of Houston
Greg Bean is the Executive Director of the Gutierrez Energy Management Institute in the Bauer College of Business at the University of Houston. In this position, he is responsible for energy education, research, events and industry outreach at Bauer.
He is also the Faculty Director of the Master of Science in Global Energy Management Degree Program and an Adjunct Faculty member. His teaching and research focus is on the transition to a sustainable energy system. Greg has forty years of energy-related experience in industry, management consulting, and higher education.
Aparajita Datta
Research Scholar, UH Energy, University of Houston
Aparajita Datta is a Research Scholar with UH Energy. Her research interests include determining low-cost pathways for the commoditization of carbon dioxide and advancing international climate policies for carbon management. Working with Dr. Ramanan Krishnamoorti, she is currently examining public support and willingness to pay for carbon management and sustainable energy development in the US.
Aparajita holds a bachelor's degree in computer engineering from the University of Petroleum and Energy Studies, India; and master's degrees in energy management and in public policy from the University of Houston.
Dr. Birol Dindoruk
American Association of Drilling Engineers Endowed Professor, University of Houston
Dr. Birol Dindoruk is currently American Association of Drilling Engineers Endowed Professor of Petroleum Engineering at University of Houston, previously he was the Chief Scientist of Reservoir Physics and the Principal Technical Expert of Reservoir Engineering in Shell.
His technical contributions have been acknowledged with many awards during his career, including SPE Lester C. Uren Award (2014), Cedric K. Ferguson Medal (1994), and Distinguished Membership. In 2017, he was elected as a member of the National Academy of Engineering for his significant theoretical and practical contributions to enhanced oil recovery and CO2 sequestration.
He was one of the Distinguished Lecturers of SPE for 2010-2011 term.
Dr. Dindoruk was Data Science and Engineering Analytics Technical Director of the SPE and a member of the Advisory Committee of the SPE Reservoir Dynamics and Description Technical Discipline. He has been active in various editorial positions under SPE and also Elsevier. Currently he is the Editor In Chief for all SPE Journals.
Dr. Dindoruk is well-known for his extensive work on thermodynamics of phase behavior/EOS development and experimental work, interaction of phase behavior and flow in porous media, enhanced oil recovery and CO2 sequestration, and correlative methodologies.
Recently, Dr. Dindoruk has also been working in the area of data analytics, artificial intelligence, and machine learning and focusing on effective incorporation of data sciences into the oil and natural gas industry practices and energy systems. In recent years, he has authored/co-authored various articles for hydrogen, geothermal systems and adsorptive storage.
Dindoruk has 28 years of industrial experience, holds a BSc Degree from Technical University of Istanbul in Petroleum Engineering, MSc Degree from The University of Alabama in petroleum engineering and also a PhD from Stanford University in Petroleum Engineering and Mathematics, and an MBA from University of Houston.
Dr. Ramanan Krishnamoorti
Chief Energy Officer, University of Houston
Dr. Ramanan Krishnamoorti is the chief energy officer at the University of Houston. Prior to his current position, Krishnamoorti served as interim vice president for research and technology transfer for UH and the UH System.
During his tenure at the university, he has served as chair of the UH Cullen College of Engineering's chemical and biomolecular engineering department, associate dean of research for engineering, professor of chemical and biomolecular engineering with affiliated appointments as professor of petroleum engineering and professor of chemistry.
Dr. Krishnamoorti obtained his bachelor's degree in chemical engineering from the Indian Institute of Technology Madras and doctoral degree in chemical engineering from Princeton University in 1994.
Charles McConnell
Energy Center Officer, CCME, University of Houston
Charles McConnell is the energy center officer of the Center for Carbon Management in Energy at the University of Houston. Prior to joining the CCME, McConnell was the executive director of the Energy and Environment Initiative at Rice University. McConnell served as the assistant secretary of energy in the US Department of Energy from 2011-13 and was responsible for the Office of Fossil Energy's strategic policy leadership, budgets, project management, and research and development of the department's coal, oil and gas, and advanced technologies programs, as well as for the operations and management of the U.S. Strategic Petroleum Reserve and the National Energy Technologies Laboratories.
McConnell also previously served as vice president of Carbon Management at Battelle Energy Technology in Columbus, Ohio and with Praxair, Inc. serving in a variety of operations, sales and global business and technology roles including hydrogen, gasification and energy as the global VP of energy and hydrogen.
McConnell is currently a board member of the Energy & Environmental Research Center (EERC) Foundation in North Dakota, is a member of the National Coal Council, has served on the Society of Petroleum Engineers and National Petroleum Council subcommittees, and has held a number of board positions including chairmanships of the Gasification & Syngas Technologies Council and the Clean Carbon Technology Foundation of Texas. McConnell holds a bachelor's degree in chemical engineering from Carnegie-Mellon University (1977) and an MBA in finance from Cleveland State University (1984).
Dr. Ognjen Miljanic
Professor of Chemistry, University of Houston
Dr. Ognjen Miljanic is a Professor of Chemistry at the University of Houston. Since 2010, he has been teaching courses on Energy and Sustainability at the University of Houston to a diverse audience of students. He is currently finishing a textbook on this topic.
His research interests include porous materials for capture of pollutants and carbon dioxide, as well as science and education policy. Ognjen has presented the results of his work at more than 100 universities and conferences in 20 countries.
Ognjen holds a Diploma (2000) from University of Belgrade and a PhD (2005) in Chemistry from the University of California at Berkeley. Before taking up his position at the University of Houston, he was a postdoctoral scholar at UCLA where he worked with the 2016 Nobel Laureate in Chemistry, Prof. Fraser Stoddart.
Dr. Suryanarayanan (Radha) Radhakrishnan
Managing Director, UH Energy, University of Houston
Dr. Suryanarayanan Radhakrishnan is a Clinical Assistant Professor in the Decision and Information Sciences and the Managing Director of UH Energy. He previously worked with Shell Oil Company where he held various positions in Planning, Strategy, Marketing and Business Management.
Since retiring from Shell in 2010, Dr. Radhakrishnan has been teaching courses at the Bauer College of Business in Supply Chain Management, Project Management, Business Process Management and Innovation Management and Statistics.
At UH Energy, he has been involved in the development of the UH strategy, working closely with the Energy Advisory Board. He coordinates the day to day activities of UH Energy.
Dr. Radhakrishnan obtained a bachelor's degree in Mechanical Engineering from Osmania University, India; a master's degree in Industrial Engineering from Oklahoma State University and a doctoral degree in Business Administration from University of Houston.
Dr. Alan Rossiter
Executive Director, External Relations & Educational Program Development, University of Houston
Dr. Alan Rossiter is UH Energy's Executive Director, External Relations & Educational Program Development.
Prior to joining UH Energy, Dr. Rossiter served in a variety of engineering and management positions with two major chemical companies, Imperial Chemical Industries (ICI) in England, and Saudi Basic Industries (SABIC) in Saudi Arabia. He also worked for the industrial energy efficiency and waste minimization consulting firm Linnhoff March in the US, as a senior consultant, operations manager, and interim president. Later he ran his own indendent consulting firm.
Dr. Rossiter obtained his bachelor's, master's, and doctoral degrees in chemical engineering from the University of Cambridge. He is a licensed professional engineer (Texas).
He is also the lead author of Energy Management and Efficiency for the Process Industries (AIChE/ Wiley, 2015), and the contributing editor for Chemical Processing's award-winning monthly Energy Saver column.
---
INDUSTRY INSTRUCTORS
Dr. Richard Helling
Director, Sustainability/Life Cycle Assessment, Dow
Dr. Richard Helling is Director of Sustainable Chemistry for Dow, located in Midland, Michigan. Rich leads Dow businesses on the use of life cycle assessment (LCA) and sustainability metrics and tools to identify opportunities for innovation, differentiate products in the marketplace and create sustainable value for Dow. Rich has been with Dow for 33 years, in a variety of technical and managerial roles in R&D, Manufacturing and Sustainability. He has been based in Michigan, California and France.
Rich holds a bachelors' degree from Harvey Mudd College with majors in Engineering and History, a masters' degree in Chemical Engineering Practice from MIT, and a doctorate in Chemical Engineering, also from MIT. He is a LCA Certified Professional.
Nigel Jenvey
Managing Partner - New Frontiers, Baker Hughes
Nigel has over 25 years of global energy industry experience in technology, project development and operations with major international energy companies. He is an industry leader in the Energy Transition, Decarbonization and Carbon Management, and an expert in Carbon Capture, Use and Storage (CCUS).
Nigel has participated and lead collaborative industry technology programs, policy and regulatory development, and capability building efforts in low carbon energy. This includes roles such as the chair of the CO2 Capture Project, chair of the North American CCS Association, program chair of the Society of Petroleum Engineers CCUS Technical Section and founding member of the GAIA Sustainability program, peer-reviewer for International Energy Agency reports, and Alternate Chair to the National Petroleum Council CCUS Study Coordinating Subcommittee.
At Baker Hughes, Nigel is Managing Partner and responsible for strategy within New Frontiers that will position the company to help meet global energy demand by offering lower carbon solutions across industries.
Nigel graduated from Imperial College, London with a Master's degree in Petroleum Engineering, and from The University of Leeds, UK with a Bachelor's degree with honors in Mining Engineering. Nigel now lives in Houston, Texas with his wife and 2 children.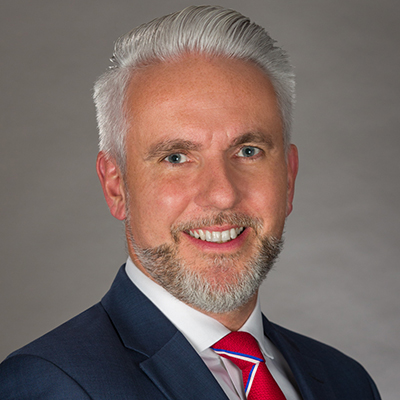 Dr. Teresa Jurgens-Kowal
Founder and President, Global NP Solutions
Dr. Jurgens-Kowal founded Global NP Solutions in 2009 to help individuals and organizations learn, adopt, transform, and sustain innovation. She is a writer, mentor, coach, and trainer, and her passion is helping people reach their highest levels of success with innovation. Teresa's consulting clients include a full spectrum of large industry corporations to entrepreneurs seeking to launch new products. She coaches executives and managers to improve innovation performance using a variety of work style assessments and customized tools. Teresa frequently presents keynotes and breakouts locally and nationally on her favorite topics of innovation, design thinking, and product development.
A frequent keynote speaker, Teresa has written the #1 best-selling book for New Product Development Professional (NPDP) certification, NPDP Certification Exam Prep: A 24-Hour Study Guide. She recently published a chapter on leading virtual teams for innovation projects with the Virtual Team Model (VTM) (October 2018, Leveraging Constraints for Innovation), and she also recently released The Innovation ANSWER Book, a comprehensive guide to building innovation leadership.
Prior to founding Global NP Solutions, Teresa worked in R&D, process technology development, and as an internal innovation expert at ExxonMobil Chemical Company. She has degrees in Chemical Engineering from the University of Washington (PhD) and University of Idaho (BS), and an MBA from West Texas A&M University. She is also a Registered Education Provider (REP) with the Product Development and Management Association (PDMA). Teresa lives in Southeast Texas, and enjoys bicycling and scrapbooking.
Scott Nyquist
Senior Partner, McKinsey & Company
Scott is a director and senior partner in the management consulting Firm McKinsey & Company. He serves energy and industrial companies on matters of strategy, organization, and performance improvement. He has assisted integrated oil companies, independent exploration and production companies, national oil companies, electric utilities, and industrial companies that serve the energy industry.
He joined McKinsey in 1984 and worked in McKinsey's London office until 1998 when he moved to McKinsey's Houston Office. He has led McKinsey's European and America's Oil and Gas practices, and co-led both McKinsey's Global Energy and Materials sector and McKinsey's Sustainability and Resource productivity practices.
He has been on McKinsey's board of Directors and a member of McKinsey's committees that review the performance of its partners. He has been on the extended board of the McKinsey Global Institute which is McKinsey's internally funded think tank. While at McKinsey, Scott has led internal research projects on topics related to oil and gas, resource productivity, and the US economy.
Before joining McKinsey, Scott obtained an M.B.A. from the Harvard Business School, worked for Exxon Production Research in Houston, and graduated from the University of Michigan with a B.S. in Chemical Engineering. Scott's Houston community involvement includes board membership on the Houston Symphony Board of Trustees, the Greater Houston Partnership Board of Directors, Rice University's Jones School, Council of Overseers, and most recently the University of Houston Energy Advisory Board.
Dr. Joe Powell
Principal | Retired Shell Chief Scientist – Chemical Engineering, ChemePD LLC
Joe Powell (Joseph B. Powell, PhD) is a Fellow of the American Institute of Chemical Engineers and served as Shell's first Chief Scientist – Chemical Engineering from 2006 until retiring at the end of 2020, culminating a 36-year industry career. He joined the Process Development Department at Shell Technology Center Houston in 1988, and over his career has led R&D programs in new chemical processes, biofuels, and enhanced oil recovery, in addition to a Hunters innovation group, and served as technology advisor for the energy transition to a net-zero carbon economy.
Dr. Powell has been co-inventor on more than 125 distinct patent applications with more than 60 granted and has received several industry awards including the A. D. Little Award for Chemical Engineering Innovation (AIChE 1998), R&D100 Award (R&D Magazine) and American Chemical Society Team Innovation Award (2000), U. Wisconsin College of Engineering Distinguished Achievement Award (2009), AIChE Process Development Division Service Award (2012) and Practice Award (2017), Wallace H. Coulter Award (2021).
He is co-editor and chapter author for the book Sustainable Development in the Process Industries: Cases and Impact, John Wiley & Sons, New York (2010), and has served AIChE in various roles including Process Development Division Programming chair, Spring Meeting Program Chair (2015) and Co-Chair (2012), Chemical Technology Operating Council, Executive Board Programming Committee, Center for Energy Initiatives board member, Pilot Plants 12B Area Chair, Shale Gas and Sustainability Topical Chairs, and was elected and served on the AIChE board of directors (2016-18).
He is past chair of the U.S. Department of Energy Hydrogen and Fuel Cell Technical Advisory Committee (HTAC) and was elected to the U. S. National Academy of Engineering (2021) after serving for two terms on the Board on Chemical Sciences and Technology. He served as Special Guest Editor of Catalysis Today Natural Gas Utilization, on the editorial board of Annual Review of Chemical and Biological Engineering and was Crosscutting Technologies team lead and author for Mission Innovation Carbon Capture Utilization and Storage (2017).
Dr. Powell obtained a Ph.D. from the University of Wisconsin-Madison (1984), following a B.S. from the University of Virginia (1978), both in chemical engineering.
Dr. Pieter Smeets
Sr. Manager, Industrial Sustainability (MEA), SABIC
Dr. Pieter Smeets has a PhD in chemical engineering from K.U.Leuven in Belgium and joined SABIC after his Post Doctorate at Stanford University.
He started his career in SABIC as a process development engineer in the Technology and Innovation department. In 2015, Dr. Pieter joined the Corporate sustainability department in SABIC's HQ Riyadh where he holds the position of senior manager Industrial Sustainability.
Amongst others, the scope of his team includes the execution of SABIC's renewable energy program, developing SABIC Climate Change strategy and ESG related disclosures. In addition, he supports the Saudi Ministry of Energy in G20 Climate and Energy working groups and other international engagements like the UN HLPF, CSLF and COP.
Andy Steinhubl
Vice Chair of the Board, Center for Houston's Future (CFH)
Andy Steinhubl serves as Vice Chair of the Board for the Center for Houston's Future (CFH), and on the Executive and Nominating Committees. He has led several CFH projects on Houston and the Energy Transition, including hydrogen's role in decarbonizing the energy system. Andy is also an Independent Director of FlexGen Power Systems (FPS), a leading Battery Energy Storage System provider, where he formerly served as Interim CEO and Chief Strategy Officer.
Prior to his current board roles, Andy had over 35 years of energy consulting and industry experience, most recently forming and leading KPMG's U.S. Energy and Chemicals strategy group. Previously, he served as the Houston office managing partner and in various North American and global energy sector leadership roles at Booz & Company, and earlier spent 17 years at McKinsey & Company. He began his career at ExxonMobil.
Andy earned a BS in Chemical Engineering at Purdue University and an MBA from Stanford University's Graduate School of Business.