Overview of Reporting of ESG Metrics by the Upstream Oil and Gas Industry By Suryanarayanan Radhakrishnan, Aparajita Datta, Ramanan Krishnamoorti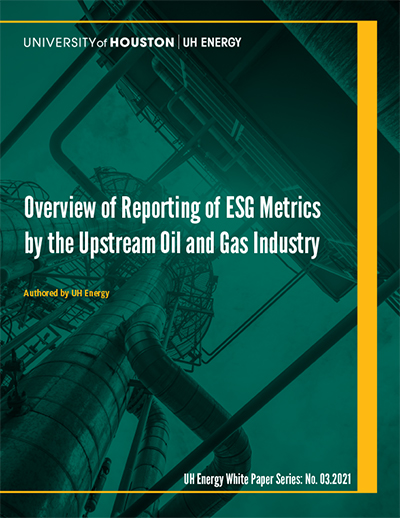 The importance of measuring, reporting, and managing Environmental, Social, and Governance (ESG) metrics has gained greater momentum with the ongoing energy transition. In the hydrocarbon energy sector, upstream oil and gas majors have taken the lead and have been reporting and managing many aspects of ESG for the past several years; however, given the lack of a common methodology, organizations tend to include the metrics that are most material to them, those required by regulation, and those related to conventional measures of Health, Safety, and Environment (HSE).
The spotlight caused by the energy transition has highlighted the need to evolve to more comprehensive, robust, advanced, and transparent metrics for ESG. As a result, several industry groups are actively working on developing common methodologies on what is included in ESG, what needs to be measured, reported, and managed. Their efforts indicate that managing GHG emissions, emerging social risks, and transparency of corporate governance are the greatest near-term challenges. Debottlenecking these challenges requires developing an industry-wide platform for ESG data wherein a union of items from the three leading standards or frameworks, i.e., SASB, GRI, and IPIECA, is included as guidance for measurable and continued progress on an array of ESG factors, standardized reporting, and the active engagement of all stakeholders.