Carbon Capture Utilization Storage: Executive Education Opportunity By McKenzie Ganders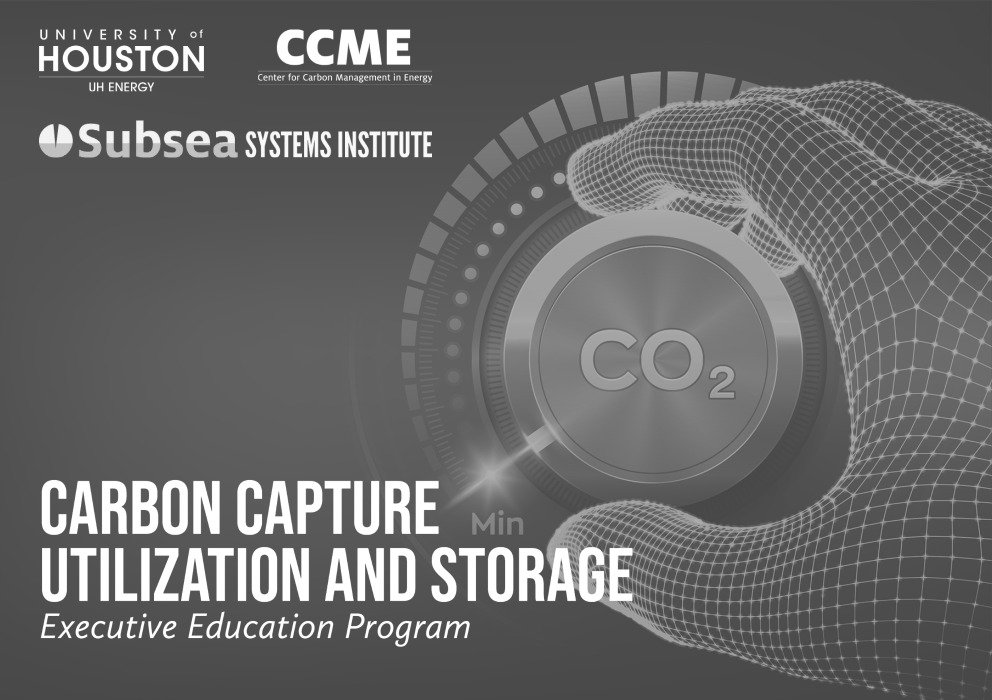 The University of Houston is a key player in preparing the future workforce for the energy industry. New skills, knowledge, insights and capabilities are required to be successful in the new energy world that is in transition to a lower carbon future. Making it happen and doing it sustainably is the key.
CCUS (Carbon Capture Utilization and Storage) is one of the most critical components of the energy transition. CCUS is not simply an option. It is recognized by the International Energy Agency and our own US Department of Energy as a requirement to decarbonize our society. Markets such as oil & gas, petrochemicals, electric power, hydrogen, and the circular plastics economy all ride on the shoulders of the broad commercial deployment of CCUS.
UH Energy has developed the CCUS Executive Education Program to meet the needs of energy industry executives and professionals who are tasked with deploying this essential technology. This unique program for runs from Oct. 4-20, synchronously via Zoom, Mondays and Wednesdays from 6 - 8:30 p.m.
Charles McConnell, Executive Director for the UH Center for Carbon Management and Energy Sustainability (CCME), leads this program, along with Dr. Ramanan Krishnamoorti, UH's Chief Energy Officer, Victor Flatt (UH Law) and Greg Bean (C.T. Bauer College of Business).
The additional key element of the course will be the instruction and interactions provided by globally recognized industry experts such as Scott Nyquist, Senior Advisor of McKinsey & Company, Cindy Yeilding, former Senior Vice President for BP America, Jane Stricker, in Strategic Relations at BP America, and Nigel Jenvey, Energy Transition Executive & Managing Partner with Baker Hughes.
This interactive program provides a unique preparation for industry professionals and executives entering the CCUS space. It delivers a comprehensive framework for understanding the CCUS value chain, covering global market fundamentals, economics, competitive alternatives, risk and liability, as well as policies and legal considerations for deployment of CCUS. It also addresses the technologies of CCUS, including carbon capture, transportation, utilization and storage – both onshore and offshore. All of this is illustrated by real-world case studies, backed by the extensive real-world experience of the team of instructors. The classes includes presentations, discussions, and question and answer sessions; and learners gain added insights through group projects. Knowledge empowers and enables solutions!
"Don't hesitate. The slots are expected to fill quickly," urges program leader McConnell. "The industry needs people that have this sort of education to be able to implement solutions. So register and participate actively, ask questions and be proactive in this rare opportunity to interact with our exceptional team of experts."
The CCUS Executive Education course is now accepting applications and payment through the UH Energy Website. Applicants, once approved, will join this unique virtual class.