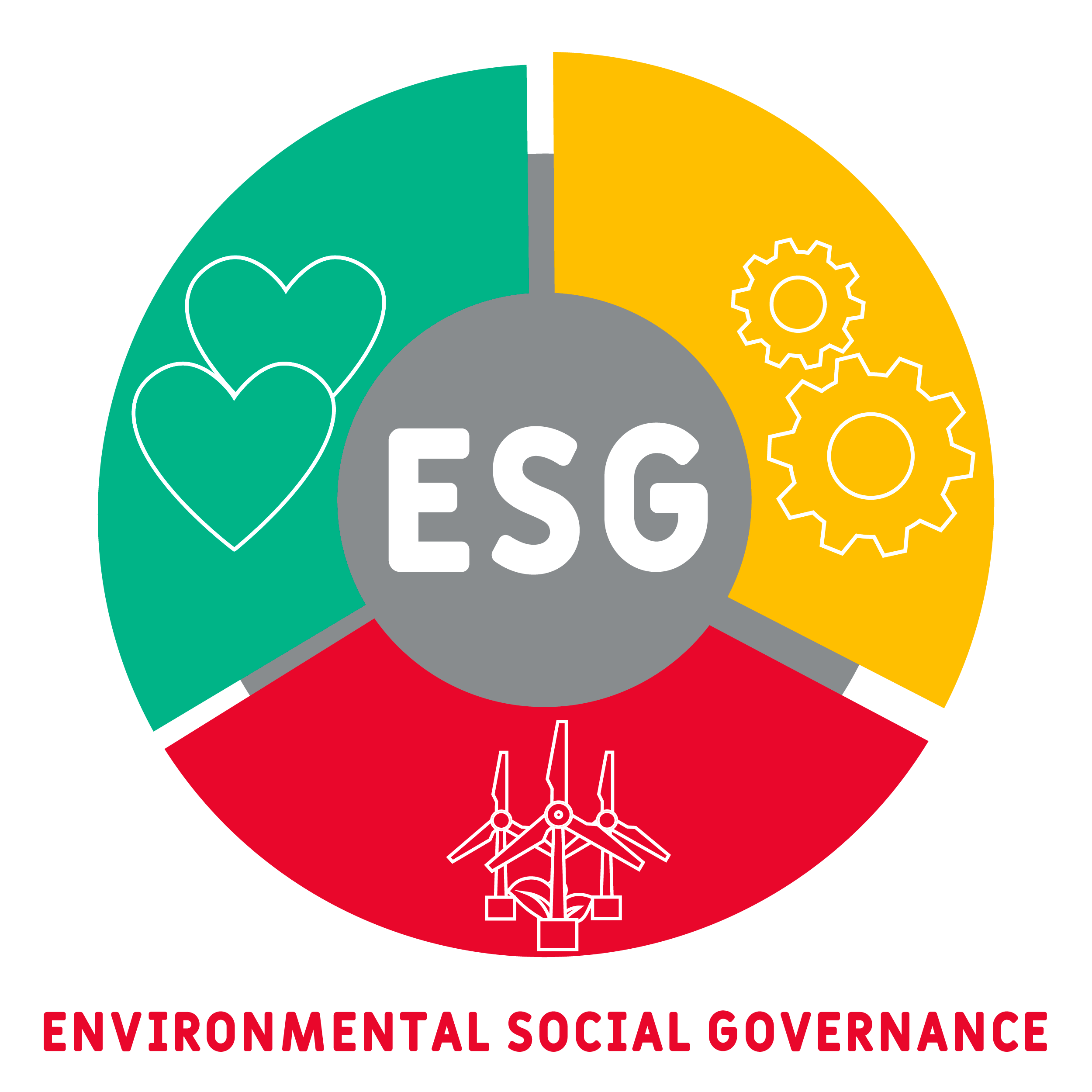 EXECUTIVE SUMMARY
The energy industry is undergoing a transition as it addresses its role in meeting the continued growth in demand for energy while ensuring it is cost competitive, sustainable, and its use is environmentally safe. This is increasing scrutiny on how energy companies manage their Environmental, Social and Governance (ESG) performance. UH Energy, at the University of Houston, is offering the Energy ESG Program aimed at helping train individuals and provide skills and tools towards developing, implementing and managing the ESG program for energy companies.
Whether you are just starting to address these types of issues or you have been at it for a while, this program can equip energy professionals – current and future – with the necessary skills to address this changing – and challenging – landscape over the coming years. The program focuses on developing (or enhancing) your ESG framework, managing of stakeholders and integrating ESG into your enterprise–wide risk management practices.
Designed and presented by leaders from industry and accomplished faculty from the University of Houston, the program provides the necessary frameworks and skillsets through a structured series of micro-credentials or "badges". Each badge is a 15-hour module, delivered on-line over a 3-week period, and built with the rigor of an academic program, including evaluations. The participants gain hands-on experience with real world examples and case studies, and must meet the academic standards in order to be awarded the badges.
Why This Program?
The energy industry faces challenges in the ESG area that include increased public expectations and actions amidst a global pandemic, growing environmental and climate actions, worker and community health and safety, and acknowledgement of basic human rights for all, and more principled corporate governance.
For this reason, UH Energy, at the University of Houston, has developed the Energy ESG Program, to equip current and aspiring professionals in the energy industry to further their skills in this ever-evolving field. Industry experts who have designed, developed and managed ESG and CSR programs over the past couple of decades will share insights, tools and expertise, while allowing for opportunities to customize concepts, models, frameworks and management systems to fit your own business needs.
UH Energy is delivering this program in collaboration with its Consortium for Energy Corporate Social Responsibility (CECSR) Advisory Board.
Who Should Attend?
This series of micro-credentials is designed for current energy industry professionals and those aspiring to join the energy industry's ESG workforce. It will enhance your capabilities through engaging, thought-provoking insights, together with opportunity to enhance skills critical for success in Energy ESG. The field continues to evolve rapidly in the highly competitive energy market place, and it requires cutting-edge, state-of-the-art training.
Pricing
INDIVIDUAL BADGES: $1,000 per badge
---
2-BADGE BUNDLE (Badges 2 & 3, purchased together): $1,800
Schedule
UH Energy is offering a three (3) badge series in the Energy ESG Program. This series also offers the participants the choice of which badge they would like to undertake. For example, participants can enroll for the entire three (3) badge series at a reduced rate, or select any combination of the badges. Instruction for each badge consists of 6, 2-hour online sessions and two 1.5 hours sessions for mid-term and final exams, for a total of 15-hours at completion.
Dates for the three badges are:
Badge 1 - Framework Development: JANUARY 4 JANUARY 6 JANUARY 11 JANUARY 13 JANUARY 18 JANUARY 20
Badge 2 - Stakeholder Management: FEBRUARY 1 FEBRUARY 3 FEBRUARY 8 FEBRUARY 10 FEBRUARY 15 FEBRUARY 17
Badge 3 - Managing ESG Risk: MARCH 8 MARCH 10 MARCH 15 MARCH 17 MARCH 22 MARCH 24
Credentialing Overview
Each badge is offered in 15-hour modules, each over a 3-week period. Micro-credentialing badges are awarded for each module, three in total, for the Energy ESG Program. The badges earned will be a permanent addition to your skillset and resume. You will be able to incorporate the micro-credentialing badge from UH into your LinkedIn profile upon earning the badges.
Badge 1: Framework Development
The world is undergoing an energy transition with a focus on providing a growing global population with affordable, reliable and sustainable energy. This is placing increasing importance on how energy businesses' address their ESG performance. Participants in this badge will get training in developing a framework for managing ESG in their organization, and a roadmap for its implementation. This includes:
Gain an understanding of the various dimensions of ESG
Learn how energy companies in different segments of the industry approach ESG:

Areas of focus
Reporting of ESG performance
Integration of ESG into company operations
Skills and tools required to manage ESG

Industry practitioners and subject matter experts will share their knowledge through case studies on differing levels of engagement in ESG.
Participants will work through examples and case studies:
Utilizing an ESG Framework participants will develop the ESG plan for their company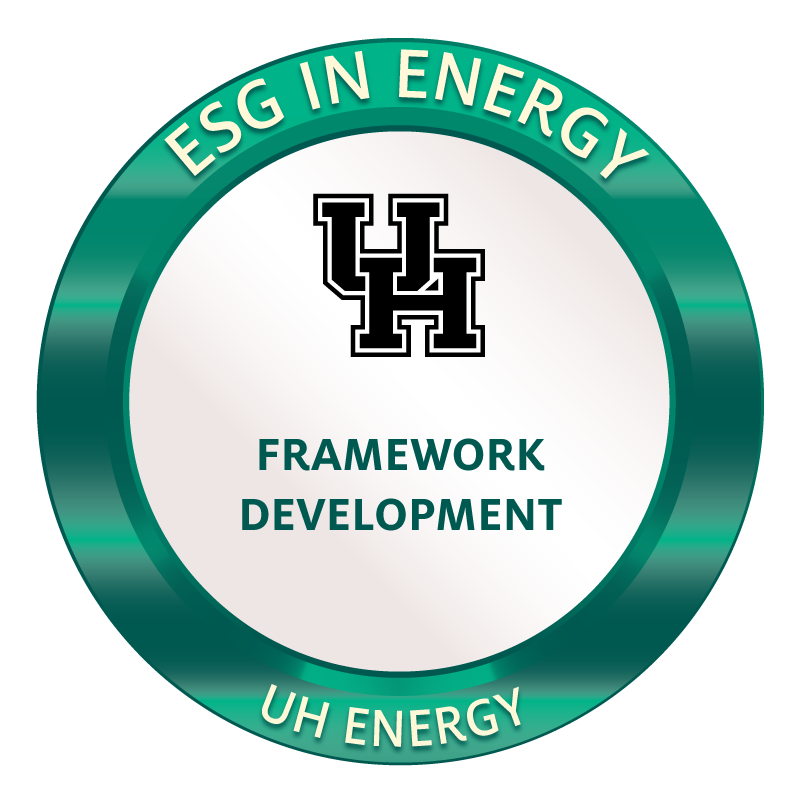 ---
Badge 2: Stakeholder Management
Building trusting relationships with key business stakeholders is a key cornerstone of any successful ESG/Business program. This badge covers aspects of how to build, maintain and manage stakeholder relationships in the energy industry. This includes:
Identifying key internal and external stakeholders
Assessment of stakeholder needs
Development of stakeholder strategies and their implementation including engagement, communication, monitoring & reviewing of progress and impact
Development of engagement capabilities of operations and other staff interfacing with stakeholders
Develop a companywide stakeholder management process for ESG
Industry practitioners and subject matter experts will share their knowledge about Stakeholder Management through case studies. Participants will work through examples and case studies to develop their Stakeholder Management capabilities through established frameworks and strategies.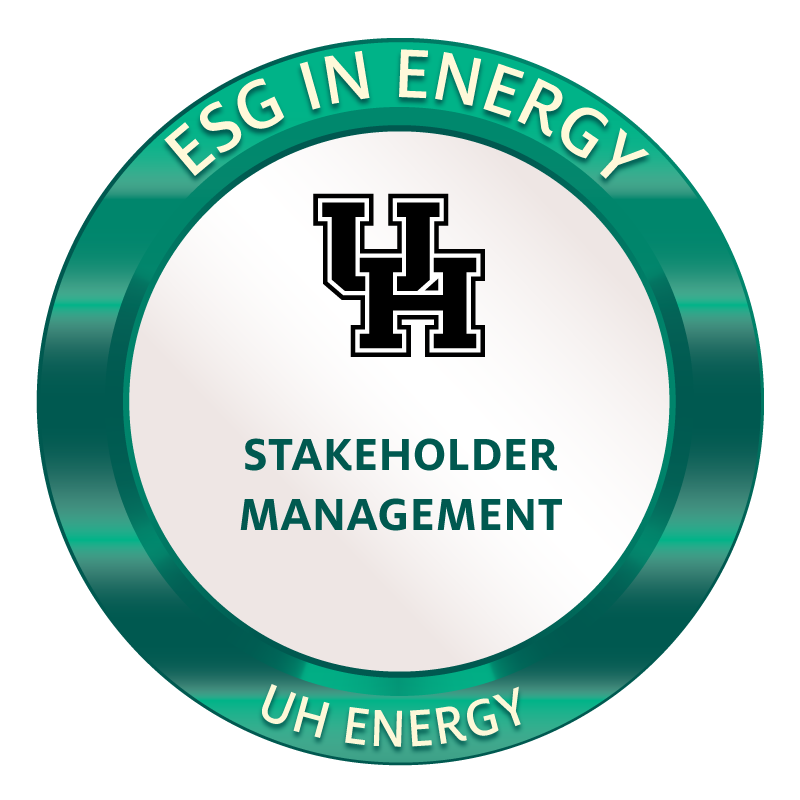 ---
Badge 3: Managing ESG Risk
Managing Risk is an important and integral part of managing any energy business. Entities track the major risks to the business and report on actions taken to manage them as part of their Annual Report. Participants in this badge will develop a comprehensive understanding, of how to build a risk management process as it pertains to ESG programs in the energy industry and they will learn tools and techniques to facilitate this process.
Identifying ESG risks in the energy industry
Established Frameworks for assessment of ESG risk
Management plans for ESG Risk
Incorporating ESG risks assessment into business and company risk and their monitoring and evaluation
Industry practitioners and subject matter experts will share their knowledge about ESG risk through case studies. Participants will work through examples and case studies using ESG Risk Management tools.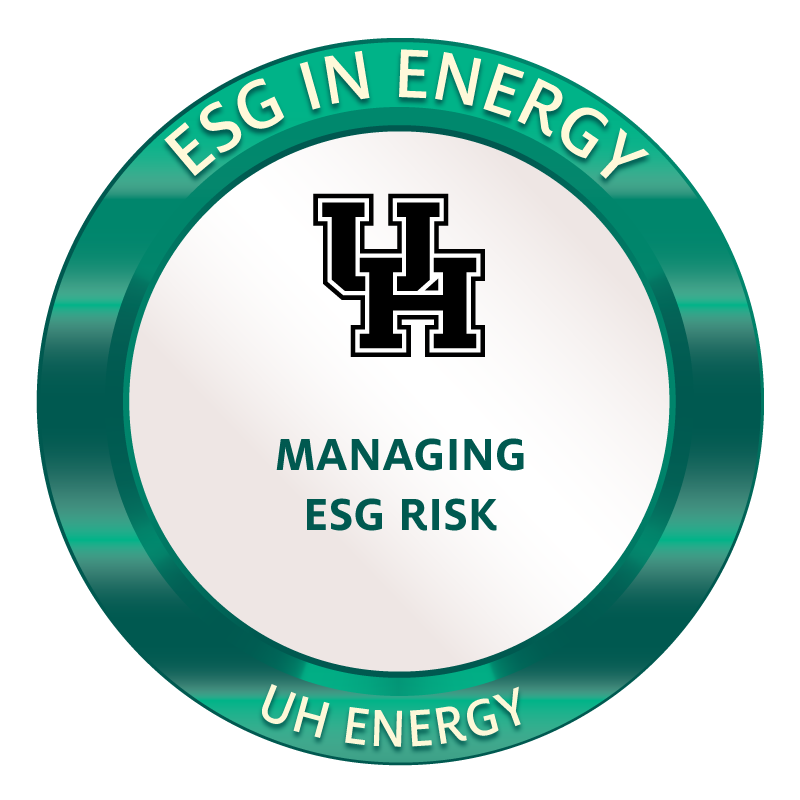 Learning Objectives
Upon successfully completing the ESG Badges, participants will understand and be skilled at:
The evolution of ESG and its importance to business
ESG and CSR core competencies, skills and responsibilities that are essential for developing your ESG framework, strategy and management buy-in.
Building an ESG framework for your company
Building a stakeholder management process and incorporating it in your existing business processes.
Building an ESG risk management process and integrating it into the company risk management process.
Credentialing Program Prerequisites
Either:
An Industry Professional: Applicants from within the energy sector, with experience in ESG, Sustainability, CSR, Social Performance, HSE, Communications, Investor Relations, Public Relations, Community Relations, etc.
Aspiring Energy Industry Professional: Anyone who aspires to work in the energy industry, or is already in it but in a different discipline, and who wishes to build skills and competencies in the ESG area.
Frequently Asked Questions