The Energy Advisory Board is a volunteer board appointed by the University of Houston President, Renu Khator, composed of global C-suite energy industry experts and leaders serving to advance energy education and research. Contributing to the University of Houston as "The Energy University," these dedicated individuals enhance energy research initiatives and education on campus and throughout the City of Houston. The Energy Advisory Board lends strategic guidance, external coordination, and resource development for UH Energy, and strengthens the University of Houston's reputation across the energy industry. They focus on four core areas: 1) Upstream, 2) Midstream and Downstream, 3) Alternative Energy, and 4) Environmental Sustainability.
Energy Advisory Board members meet three times per year and all members attend a minimum of one meeting per year. Members also participate on one of three sub-committees: Branding and Marketing, Student Success, and Strategic Planning.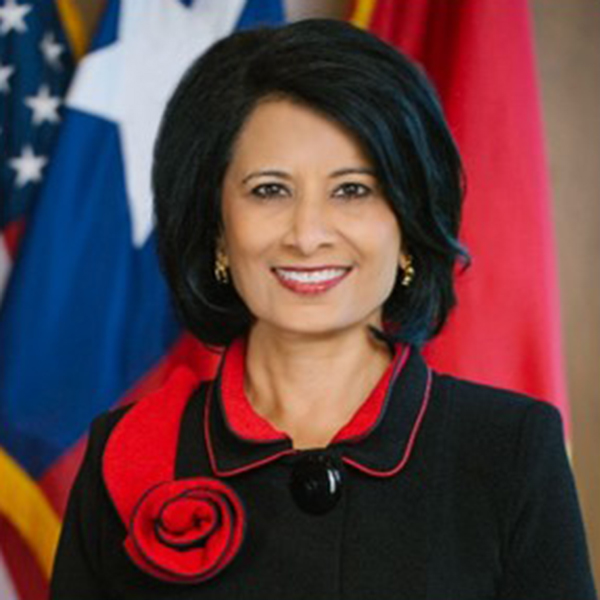 "Our board is made up of acknowledged leaders in the fields of energy development, management and implementation, I am delighted that they support UH's efforts to address the diverse research and work-force needs of the energy industry."
Please address all inquiries regarding the Energy Advisory Board to the Office of Leadership Volunteer Engagement at eab@uh.edu or 713-743-9116.
Current Board Members
Darrin Talley

Chair, UH Energy Advisory Board

Vice President of Corporate Strategic Planning
ExxonMobil

Elizabeth Killinger ('91)

Chair, Marketing and Branding Committee

President
NRG Home and Reliant

Bill Maloney

Chair, Student Success Committee

Advisor
Balex Technologies

Scott Nyquist

Chair, Strategic Planning Committee

Senior Advisor, Director Emeritus
McKinsey & Company

David Adams

Senior Vice President, North American Land Business Transformation
Halliburton

Maria Claudia Borras

Executive Vice President of Oilfield Services & Equipment
Baker Hughes

Mary Anne Brelinsky (UHCL MBA '00)

President
ArcLight Infrastructure

Jim Gable

President, Chevron Technology Ventures and Vice President, Innovation
Chevron Corporation

Stephen Greenlee 

Energy Industry Advisor

Terri King (MBA '88)

Vice President and Chief Commercial Officer
ConocoPhillips

Andy Krieger

Senior Vice President, wells
bp America

Carri Lockhart

Energy Industry Advisor


Bill Mannel

Chief Technologist, HPC & AI, Americas Solution Sales
Hewlett Packard Enterprise

Thomas Morton

President
Switch

Keith Mosing

Chairman and Chief Executive Officer
Mosing Group

Tandra Perkins (UHCL MBA '98)

Senior Vice President, Chief Digital and Administrative Officer
Phillips 66

Jay Pryor

Energy Industry Advisor


Dianne Ralston (J.D. '94)

Chief Legal Officer
SLB

David Ramm

Chairman and Chief Executive Officer
Kelvin Energy Inc.

David Reid

Chief Technology Officer and Chief Marketing Officer
NOV Inc.

Torkel Rhenman

Executive Vice President, Advanced Polymers Solutions
LyondellBasell

Corbin Robertson, Jr.

Chairman and Chief Executive Officer
Natural Resource Partners LP

Haibin Xu

General Manager of Shell Research Alliance
Shell

Timothy D. Yang (J.D. '97)

Executive Vice President, General Counsel, Corporate Secretary and Land
Magnolia Oil & Gas