McElhinney Award Recipient Ranks Among the Best at UH as Staff Members are Honored for Excellence By Francine Parker
August 22. 2016–For many faculty and staff at the University of Houston College of Education, Timothy Rosas tops their list for professionalism, productivity and efficiency, and for good reason.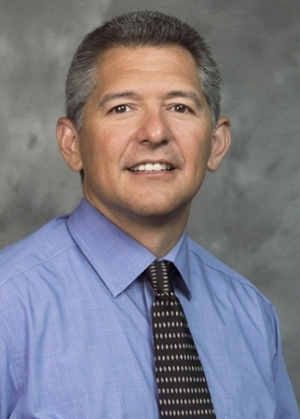 Rosas' proficiency in managing the budget and mentoring eight employees at the Center for Information Technology in Education (CITE) have been instrumental in the college's prestigious ranking. Its graduate online programs have been ranked number one by the U.S. News & World Report for two consecutive years. Small wonder, then, that Rosas was selected as the 2016 recipient of the coveted Charles F. McElhinney Award, the highest honor UH bestows on a staff member. The annual award, which recognizes exemplary staff contribution to the University, includes a $3,000 prize. 
"I had no idea the college had nominated me," said Rosas, who began his UH career in 2003 after leaving a job at a local school district. Rosas' decision to find employment at the University was spurred, in part, by a former co-worker at the school district "who spoke very highly of her time at UH as both a student and staff member," he said.
The first job Rosas landed at UH was as a teaching assistant in the College of Education, but he quickly moved to another position as program coordinator and then instructional designer for the college. In 2007, he was named operations manager for CITE.
"As a manager, he is a model for support, efficiency and good humor. He is exceptionally good at problem-solving with faculty, students and staff," Rosas' nominator noted. "In addition to his incredible workload, Tim provides incredible customer service to fellow staff members, vendors, students, faculty and guests. He consistently visits colleagues just to ask how he can help them succeed."
Another supporter commented, "Without Tim's well-run CITE team, the college would not have the level of instructional technology we have, and that contributes to the success to every student in the College of Education. For example, if a student has a question about e-portfolios or dissertation formatting, CITE staff can help."
No task is too small or too big for Rosas, according to his nominator and other colleagues. Over the years, he has taken the initiative to establish an equipment check-out system and reorganize lab classrooms, and that's just for starters. There has been more than a time or two that Rosas has rolled up his sleeves, grabbed a brush and repainted entire classrooms.
Why, one might ask. The reason is simple….the students, of course.
"At the end of the day, the students are why the university exists," Rosas said. "There are so many people from such diverse backgrounds with essentially one goal —to expand and elevate themselves. Working with and for driven people is always a pleasure."
Rosas admits that even though he enjoys many aspects of his job, what he enjoys most is "enabling others to be really good at what they do. I like partnering with people to address their concerns so they can achieve. When people are successful it is inspiring and fulfilling." In addition to honoring Rosas, UH also recognized several other staff members for their exemplary contributions to the University.
GROUP AWARD
STUDENT HOUSING & RESIDENTIAL LIFE OPENING COMMITTEE
Leanica Adams
Rosemary Aleman
Rhoda Arnes
Nicole Boucher
Bernice Cantu 
Aaron Crowe 
Lin Crowson 
Tiffany Dewberry
Andrea Griffin 
Brian Hall
Maria Honey
Shaniqua Johnson
Tyler Joseph 
Kandace Kendall
Adam Leal
Shannon Moore
Amber Perry
Shannon Reed
Teeba Rose
Alicia Whitmire 
Mackenzie Wysong 
Don Yackley
WOMEN AND GENDER RESOURCE CENTER DISTINGUISHED SERVICE TO WOMEN AWARD
Ayanna McCloud
Program Director Women's Studies Program
PRESIDENT'S EXCELLENCE AWARD
Dona Cornell
Vice President for Legal Affairs, Office of the General Counsel
Amber Mollhagen
Director of Admissions and Student Affairs
Dean's Office, Graduate College of Social Work
Samantha Ary
Program Manager
Communication Sciences and Disorders

Sarah Castillo
Senior Faculty Affairs and Assessment Analyst
Faculty Development and Faculty Affairs
Charlette Jefferson
Executive Secretary
Dean's Office, University of Houston Law Center
Maria Elisa Perez
Custodian 2
North Zone Custodial Services