Need a Cougar Card?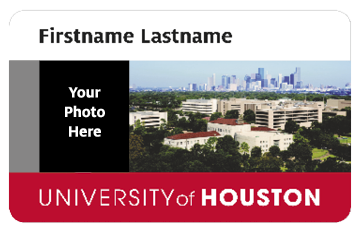 Now it's easier than ever to get a Cougar Card! Students taking classes in Sugar Land can have a new or replacement card made on site.
Your Cougar Card allows you access to the UH Shuttle, meal plans, ShastaBUCKS, Flex account, libraries and athletic events, along with access to main campus buildings and computer labs.
Submit Your Photo Online
You can upload a photo to the AccessUH's Cougar Card Management system. After a Auxiliary Services staff has approve your photo (based on the photo requirements) you'll receive a confirmation email inviting you stop by the Sugar Land Auxiliary Services office to have your card printed right away. Our offices are located in room 101 of the George Building. Our business hours during the regular academic semesters are 7 a.m. – 5 p.m. Monday through Friday.
Brand New Cards
If this is your first Cougar Card, you can get one printed at our Auxiliary Services office in Sugar Land. The cost is included in your student fees. You will need to bring a valid, government-issued photo ID. You'll also need to agree to the terms and conditions of the Cougar Card. You can submit a photo online or have a member of our staff take your photo. Your Cougar Card will be printed right away, and you'll be able to use it immediately.
Replacement Cards
If you have lost or damaged your Cougar Card, you can get a replacement at the Sugar Land Auxiliary Services office. There is a $20 replacement fee for lost/stolen cards, updated photos and name and classification changes. Except for lost/stolen cards, there is no replacement fee if the current Cougar Card is given back to the Cougar Card office in exchange for the replacement card. This charge can be paid in the Auxiliary Services office with a credit/debit card at the time of re-issuance. Your card will be printed right away and it will work immediately (your old card will be deactivated).
If you have lost your card or believe it has been stolen, go to the Cougar Card Management system in AccessUH. Under "My Card," select "Report Lost Card" to deactivate the missing card. Then come to the Auxiliary Services office during regular business hours to replace it.