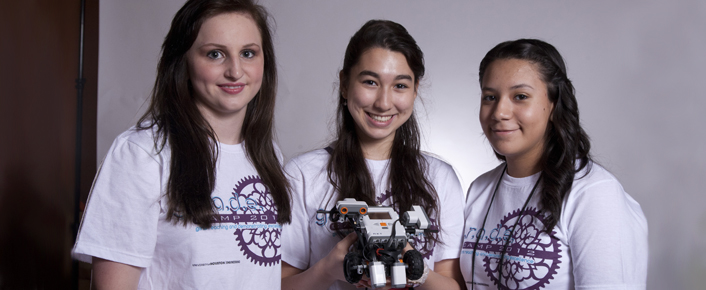 Discover STEM
Your teachers, parents, and friends may already be asking you about your future plans. Will you go to college? What will you study? They are doing so because, whether you realize it or not, your future is fast approaching. Have you given thought to pursuing a science, engineering, technology, or mathematics career? These are called STEM careers, and they are in high demand.
If you are undecided on whether to attend college or if you are unsure of what career path you want to pursue in college, we encourage you to consider a career in STEM. There are many short-term programs that offer you a glimpse into what it would be like to study and live out a career in STEM.
STEM High Schools
If you are not already attending a high school focused on STEM, you may want to talk to your parents and your teachers about it.
Prepare for College
Wonder if you already know enough to succeed? Take math, which is so essential the STEM fields: Test your math skills here.
To get a head start on college, you may want to consider taking courses that can help you create your future now. Depending on your interest and possible major, these resources can help you find out what you can be doing now to get you prepared:
I want to build robots.
I want to build a city.
I want to learn about moon rocks.
I want to solve crimes.
I want to turn wind into energy.
I want to find patterns.
I want to improve the environment.
I want to know how things work.
I want to create computer games.
UH Programs
Learn at some of the most interesting Houston area programs for elementary, middle, and high school students.
TC Energy Summer Scholars Academy
For: Incoming Freshmen majoring in STEM fields

At: University of Houston

Contact: Ashley Askew, aaskew@uh.edu

When: Summer

UH Mathematics Contest
A free event, the UH Mathematics Contest invites students from Houston area schools to compete in a team project, as well as individual exams in algebra I, geometry, algebra II, pre-calculus, statistics, physics, calculus and calculators. In addition, there is a competition known as the Quick Click Smackdown.

For: Math, science and computer science majors

At: College of Natural Sciences and Mathematics

Contact: jmorgan@math.uh.edu

When: Annually (early spring semester)

Saturday Physics
The UH Department of Physics partners with Rice University's physics department to implement the largest QuarkNet program in the U.S. A National Science Foundation-sponsored outreach program, QuarkNet focuses on high school physics teachers, with the goal of exposing more students to physics, cutting-edge research and career opportunities. Activities include a summer program for teachers, "Saturday Physics" for students and teachers, and presentations at schools.

For: High school physics teachers

At: Department of Physics

When: Fall, Spring

Science Engineering Fair of Houston
The Science Engineering Fair of Houston promotes the learning and application of science and technology through the development and presentation of science/engineering projects. SEFH serves as the regional fair for all public, private, charter, and home school students, grades 6-12, in Harris County and the 22 surrounding counties in Southeast Texas.

For: All public, private, charter, and home school students, grades 6-12, in Harris County and the 22 surrounding counties in Southeast Texas.

Contact: info@sefhouston.org

When: February 16-17, 2024

Location: Fort Bend Epicenter

Grades: 6-12