Director of The Center for Career & Professional Development Ann Liberman Awarded Lifetime Achievement Award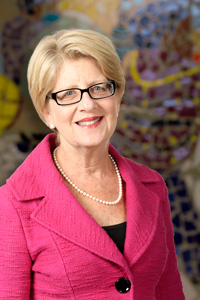 June 4, 2020
(HOUSTON, TX) - Director Ann Liberman of The Center for Career & Professional Development has been selected as this year's Lifetime Achievement Award honoree by the Houston Branch of the National Association of Social Workers (NASW).*

The criteria to receive the Lifetime Achievement award by NASW Texas states that the recipient must "demonstrate repeated outstanding achievements, have recognition beyond the social work profession, have made contributions of lasting impact, and have outstanding creativity." 
Initially brought on 20 years ago to fill the newly formed role of Alumni & Career Services Coordinator, Ann Liberman's continued work lead to the creation of the Office of Career Development Services. It was under her leadership that this office grew to also include Alumni Relations and Continuing Education.
We recently sat down with Ann Liberman to catch up with her as she reflects on her time at the GCSW and what initially inspired her to begin her career in social work and career services. 
----
Name: Ann Liberman, MSW
Preferred Pronouns: she/her/hers
Title and Program at the GCSW: Director of the Center for Career & Professional Development
When would you say your career in social work really began?
I received my MSW in 1978! My first social work position out of graduate school was with the Jefferson Parish School Board in New Orleans....this is where it all began! Through the years I realized my passion was for program development which after a move to Houston, took me into the career services field.
Who was someone that you looked up to when you began your unique career in social work?
I was influenced to enter the social work profession initially by my mother who worked with CPS in Hattiesburg, Mississippi where I grew up. I admired my field instructors at LSU where I attended graduate school. Upon first moving to Houston I found an opportunity to work at Career and Recovery Resources, Inc. in the Job Placement Department where I later became Director of the program. I was influenced along the way by my boss and mentor Bill Wanless who gave me the opportunity to combine social work with career services and the rest is history!
What was is it that initially drew you to work in the realm of alumni/career services?
I served as a Field Instructor while at Career and Recovery Resources where I met Ginger Robbins, former GCSW Director of Field. Through networking with Ginger, I discovered that the GCSW planned to hire a Coordinator of Alumni & Career Services, a newly created position at the college. She encouraged me to apply and it is now 20 years later and I'm still here. It was an exciting challenge for me to spearhead the creation of the department at the GCSW. At the time, Dean Colby told me that the creation of the department was only limited by my imagination! I took the challenge and I'm proud of where it has led, now to the Center for Career & Professional Development.
What do you believe makes the GCSW Alumni and Career Services Department unique when compared to other college/universities?
At the GCSW first of all, we have the very best students, alumni, faculty and staff of all! Next, I have the unique opportunity to support and direct student social work careers and watch careers develop through the years by working with alumni and supporting the GCSW Alumni Association. The additional part of my work is that I direct our Continuing Education Program that brings my work full circle. This is unique to the GCSW as at many other universities, career services, alumni relations and continuing education are all separate departments.
Congratulations on the Lifetime Achievement Award! What an honor! When looking back on your career, what do you hope will be your lasting contribution to the profession?
I like to think that thousands of social workers are fulfilling their career dreams, in part, because of our work together whether through career discussions, career workshops, the GCSW Online Job Board, connections to employers, NASW TX and NASW National Career Centers, through alumni networking events, mentorship opportunities and continuing education learning opportunities.
Anything else you would like us to know?
The Social Work Profession represents who I am. I am proud to be a part of this great work!
*Ada Cheung, PhD, LCSW-S and Jasmin Major were selected by the NASW-Houston Branch as Social Worker of the Year and Student of the Year, respectfully.