2018 Social Justice Solutions Event Highlights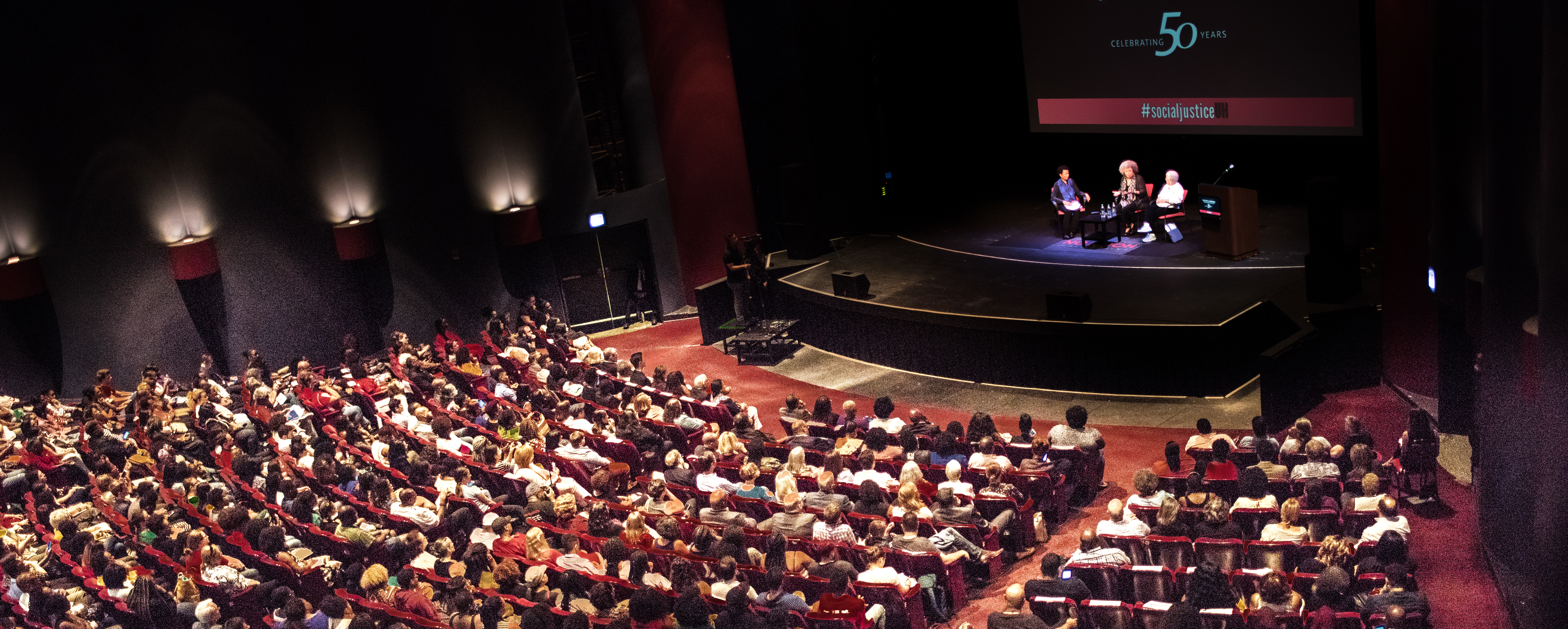 Highlights from A Conversation on Race and Privilege with Angela Davis and Jane Elliott
Angela Davis and Jane Elliott addressed a sold-out crowd at the University of Houston's Cullen Performance Hall for the latest installment of the student-led Social Justice Solutions series. Each year, we invite activists, thought leaders, and the community to explore action-oriented strategies to affect social change. This year we were honored to host two luminaries who have long been on the front lines of pushing the national conversation on race and racial justice forward.
Before an engaged and energized crowd plus hundreds more viewing online, Angela Davis and Jane Elliott did not disappoint as they shared their experiences and wisdom in a lively discussion moderated by GCSW Professor Emerita 
Dr. Jean Kantambu Latting
.

Memorable moments and quotes abounded, many of which were shared online via #socialjusticeUH.


"Educating is about teaching people to ask the right questions so they may discover for themselves what is wrong..... and we must do it in community not alone as individuals."
–Angela Davis
"Kneeling pays tribute to those who have fallen.
We had kneel-ins. So proud of Colin Kaepernick."
–Angela Davis
"How you conceptualize freedom defines your perspective of race and privilege."–
Angela Davis
"Turn of the TV. Pick up a book. Meet someone new. Don't ignore difference. Make a commitment to combat racism."
–Jane Elliott's suggestions for anti-racism  
(See her list of commitments here.)


The night's conversation was inspired by GCSW alumni Naiyolis Palomo, MSW '18 and Shanquela Williams, MSW '18. Last spring, while students, they approached College administration about hosting a community conversation about race and privilege. 

"Race and privilege are social constructs at the core of so many issues we face in today's society, including racial divide, police brutality, and structural racism," said Naiyolis Palomo.

This year's event, the third annual in the Social Justice Solutions series has become a tradition at the GCSW, to host a community event exploring social justice issues and highlighting solutions.
"As a college of social work, we are committed to providing a community platform and leading important conversations. Three years ago, the Social Justice Solutions series began as a student-led initiative, and we are proud that once again our students took the lead by proposing a topic and inviting speakers that reflect the heart of social work. As social workers, we have a responsibility to confront racism, discrimination, and oppression. This is part of our values and is written in our code of ethics. We are honored to host two prolific activists and launch our yearlong 50th-anniversary celebration with an event befitting of our commitment to achieve social, racial, economic and political justice for all," said Alan Dettlaff, dean of the Graduate College of Social Work.