UH Cougar Cub Summer Camp
If you're looking for a fun and exciting experience for your child for this summer, look no further because our camp has unique programming every week! From playing sports to rock climbing to swimming your child will receive top-notch activities and participate in weekly value-added events.
Early Bird Registration is March 11th – April 14th. Regular registration begins April 14th and will be available in person at the CRWC Member Services Desk and/or online through the Campus Recreation Portal. If you are registering for swim lessons in addition to camp you must register in person at the CRWC Member Services desk.
Camp registration must be done in person for the remainder of the summer.
Ages
Campers must be between the ages of 6 - 11
Dates of Camp
| Week | Date | Theme* |
| --- | --- | --- |
| Week 1 | June 3rd – June 7th | Celebration of Nations |
| Week 2 | June 10th – June 14th | Going Green |
| Week 3 | June 17th – June 21st | Survivor Cubs |
| Week 4 | June 24th – June 28th | Love Your Selfie |
| Week 5 | July 8th – July 12th | Creative Cubs (STEM) |
| Week 6 | July 15th – July 19th | The Rodeo is in town |
| Week 7 | July 22nd – July 26th | Cougar Cub Olympics |
| Week 8 | July 29th – August 2nd | The Greatest Camp on Earth |
Camp Times
Regular Camp Day: 8:30am – 4:30pm
*Extended Camp Day: 4:30pm – 6:00pm
Camp Fees
Early Bird Registration - March 11th – April 14th
UH CRWC Member - $137
Non-CRWC Member - $175
Registration – After April 14th
UH CRWC Member - $162
Non-CRWC Member - $200
Extended Care - $35 per week per child
*Extended care allows you to pick-up your child no later than 6:00 pm. We no longer offer early drop off due to the low number of families utilizing the service.
Activities
Recreational Sports
Indoor & Outdoor Activities
Arts & Crafts
Rock Climbing
Swimming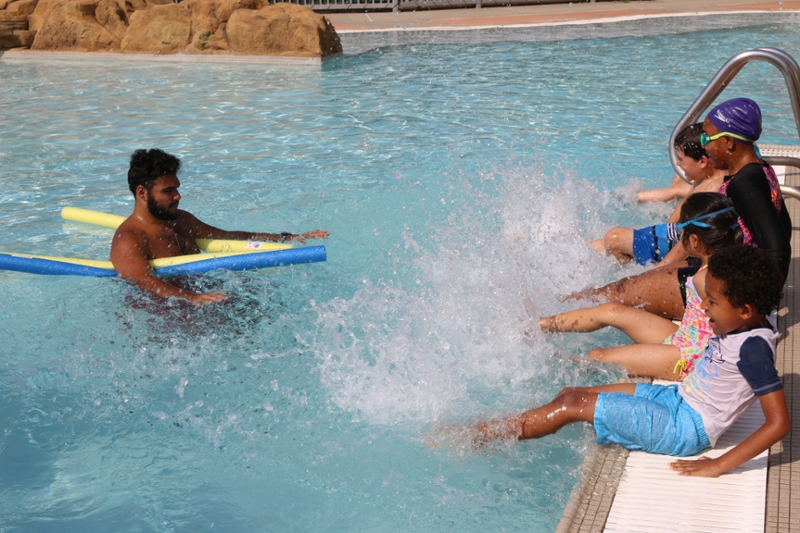 Swim Lessons during Camp
Purpose: To aid children in passing the UH Camp swim test.
Learning Objectives:
Enter and exit water using ladder, steps, or side
Recover to a vertical position
Roll from front to back and back to front
Tread water using arm and hand actions
Alternating and simultaneous leg actions on front
Alternating and simultaneous arm actions on front
Combined arm and leg actions on front
Learn how to stay safe, including recognizing an emergency and knowing how to call for help
Learn how to stay safe in, on and around the water, including the use of a life jacket, recognizing lifeguards and sun safety
Registration for Swim Lesson
Parents who wish to enroll their children in the camp swim lesson program (during summer camp swim time) will have to register at the Member Services desk at the CRWC. The cost is $35/week and that includes five lessons per week, 30 minutes each lesson. Instructors for the swim lessons will be American Red Cross Water Safety Instructor certified and assisted by teaching assistant(s). We will be limited to 8 swimmers per session. We will not be able to offer any additional swim lessons for more advanced levels at this time.
Sessions for swim lessons will be from 9:45a-10:15a. This is part of the daily free swim time. Once the lesson is completed, they will join the rest of the campers for the remainder of the free swim time. Camp supervisors will get all registered swim lesson campers changed and will bring them to the pool for lessons on a daily basis. Lessons will be conducted in either the indoor or outdoor pool.
Waitlist Process
Due to the tremendous number of registrations for this year's camp, we will have a waitlist for each week of camp. For families that want to register for open weeks but can't get into all desired weeks, please make sure the Member Services staff member knows that you want to be added to the waitlist and they will make a note on your packet. The wait list is kept with Camp Administration, not Member Services. Camp Administration will confirm with you that you wish to be on the wait list for other weeks and we will do this on a first come, first serve basis. If a spot becomes available, we will start at the top of the waitlist and contact the families in order, giving a set time frame for a response, before we move on to the next family.
Payment Policy
Early Registration Discount Register for camp by April 14th, 2019 to save $25. If after April 14th, camp fees increase by $25. Cougar Cub Camp FEES are due in advance of service; therefore all balances must be paid the day of registration. To receive the CRWC member rate, parents must be an annual member of the facility prior to signing their camper up for camp and maintain membership through the last session of camp. Parents who have registered and paid their fees, then become members, are not entitled to a refund of the difference.
Full Payment is due at the time of registration. We would prefer registrations/payments for future weeks to be made by the Wednesday prior to the start of the next camp week. Until the payment is made, your child is not guaranteed a spot.
Membership Discount To receive the camp discount the membership needs to extend through the entire camp season. What that means is, you must have a current annual membership when you submit the registration for payment, as well as have a current membership through the 8 weeks of camp too. We have two options for membership: pre-pay and payroll deduction. With pre-pay, you can purchase an annual membership for $348. If you cancel the pre-pay annual membership before the 12 months are up, you will not receive a refund. With payroll deduction, if you cancel the payroll deduction membership before the 12 months are up, you will be charged a $100 cancellation fee.
Camp Payment
We will begin accepting payments starting Monday, March 11th, 2019.
Normal CRWC Operation Hours
| Day of the week | Time |
| --- | --- |
| Monday - Thursday | 6:00 am – 11:30 pm |
| Friday | 6:00 am – 8:00 pm |
| Saturday | 10:00 am – 8:00 pm |
| Sunday | 12:00 pm – 11:30 pm |
Location:
University of Houston
4500 University Drive
Houston, TX 77204-6056
If you have any specific questions about payments, please contact Jon Janis at jjanis@Central.UH.edu
Refund Policy
All refund requests must be submitted in writing and received by UH Camp Administration by the dates below.
| Refund Amount | Request must be received |
| --- | --- |
| 100% | April 12th by 5 pm |
| 75% | April 13th – May 10th by 5 pm |
| 50% | After May 10th: No later than 15 business days before the purchased session begins |
| 25% | Within 15 business days of the purchased session |
| 0% | No refund after the first Monday of session or week |
Absences: Refunds are not available for vacations, special events, short-term illnesses, or other personal commitments that prevent attendance. Refunds for long term illnesses or family emergency of one full camp week will be handled on a case by case basis.
Dismissal: On occasion, dismissal may be necessary for disciplinary reasons. This action will take effect only after a conversation among the parents, camp (if appropriate) and the Camp Director. If a camper is dismissed for a disciplinary reason, there will be NO REFUND for the unused days. Campers may be dismissed immediately if deemed a harm to themselves or others by the Campus Recreation full-time staff.
Camp Fees paid by credit card will be credited immediately upon approval by UH Camp Administration. Purchases made by check or cash will be refunded by direct deposit within four to six weeks after approval by UH Camp Administration. Refunds will be made only to the original payee or credit card holder.
For cash or check payments, a Vendor Setup Form must be complete.
Registration Submission
Registrations will be available in person at the CRWC Member Services Desk and/or online through the Campus Recreation Portal. If you are registering for swim lessons in addition to camp you must register in person at the CRWC Member Services desk.
Parent Information
UH Cougar Cub Campers must remember each day:
Bathing suit, towel, sunscreen
Lunch and a drink
Morning and afternoon snack
Water bottle
Closed-toed shoes
BIG COOG SMILE
UH Cougar Cub Summer Camp Staff
UH Cougar Cub Camp prides itself on providing children with highly motivated and enthusiastic staff who will mentor your child. All staff must pass a Texas Department of Social Services Criminal Background Check; participate in several trainings such as child abuse prevention, CPR/First Aid Training, OSHA bloodborne pathogens, and others. Staff also adheres to a 1:10 counselor to camper ratio to ensure that appropriate supervision is maintained throughout the duration of the program.
Mandated Reporting: University of Houston Campus Recreation employees are mandated, by Texas State Law, to report any suspected cases of child abuse or neglect directly to the appropriate authorities for investigation. While we have established internal procedures to facilitate reporting and apprise supervisors, we cannot by law require our employees to disclose his or her identity to anyone.