UH Faculty Addressing Impact of Russia-Ukraine Conflict
March 10 Event in Honors College to Feature Experts in History, Political Science and Foreign Affairs
By Mike Emery, 713-743-7197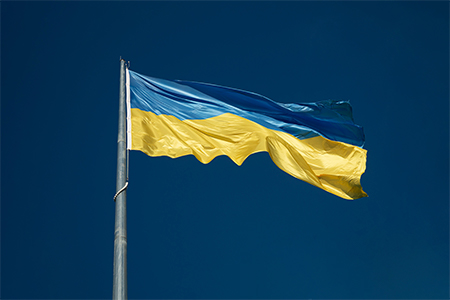 More than 6,000 miles separate Houston from Ukraine. Still, the eyes of Texas (and the world for that matter) have been on that nation since it was invaded by Russia.  
Many are still struggling to understand what triggered this conflict and how it will impact both the U.S. and the world at large. 
On March 10, a panel of University of Houston experts will address the Ukraine crisis and its ramifications on world peace, international economies and the shift of power among global superpowers. "Russia's War in Ukraine" will feature insights from University of Houston historians, political scientists and foreign affairs experts. 
This panel discussion will begin at 6 p.m. in UH's Honors College Commons (second floor of the M.D. Anderson Library – Room 212) and will feature the following faculty members: Zachary Zwald, instructional assistant professor of political science; Alexey Golubev, assistant professor of history; David Rainbow, instructional assistant professor in The Honors College; and Michael Pelletier, director of the UH's Institute for Global Engagement and a retired U.S. ambassador and diplomat. 
This free event is open to the campus community and the public. 
"Russia's War in Ukraine" is presented by UH's Institute for Global Engagement, The Honors College, and the Center for International and Comparative Studies. 
"The Ukraine situation is indeed concerning to members of our campus community, and the assembled experts will no doubt lead a conversation that will prove enlightening and engaging," said Paula Myrick Short, UH senior vice president for academic affairs and provost. "I commend those professors participating in this program for lending their expertise to this complex topic." 
Ambassador Pelletier (Retd.) indicated that this event is indicative of the University's commitment to promoting a greater understanding of global issues and building cultural competencies among its students. 
"The situation in Ukraine changes from day to day, often leaving more questions than answers," he said. "Our goal is to bridge any knowledge gaps by offering a range of perspectives on the immediate and long-lasting implications of this conflict. I look forward to sharing my perspectives with colleagues and community members in attendance … as well as learning from my fellow panelists."