UH Students Documenting U.S. Latino Experience Through Research, Archival Initiative
Recovering the U.S. Hispanic Literacy Program Helps Students Gain Community Insights, Research Skills

By Mike Emery, 713-743-7197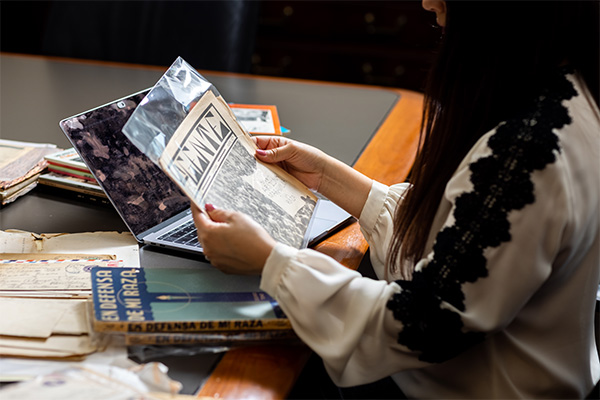 Latino authors have long found a platform for their work thanks to the University of Houston's Arte Público Press. Beyond its books, the publishing house – which celebrates 40 years of literary excellence this year – is home to initiatives focused on preserving lost literature and spotlighting cultural cornerstones.
At the heart of these efforts is its Recovering the U.S. Hispanic Literary Heritage Program, which salvages an assortment of written works documenting Hispanic culture. The program is led by a team of seasoned scholars, archivists and researchers within UH's U.S. Latino Digital Humanities Center (USLDH).
Students also play an important role in collecting culturally relevant data. Alejandro Aguilar, Carlos Campos Jr. and Carolina Lopez-Herrera are among those Cougars conducting research and collecting materials covering a range of topics. Working alongside USLDH team members, they have learned how to properly research and archive content. More importantly, these students are gaining insights on how to contextualize the materials they're gathering to fully understand their historical and cultural relevance.
"We provide students with readings and engage them in discussions, so they're not just collecting data," said Lorena Gauthereau, digital manager for USLDH. "We help them contextualize these materials, so they understand why the work they are doing is important and how it fits into Latino culture."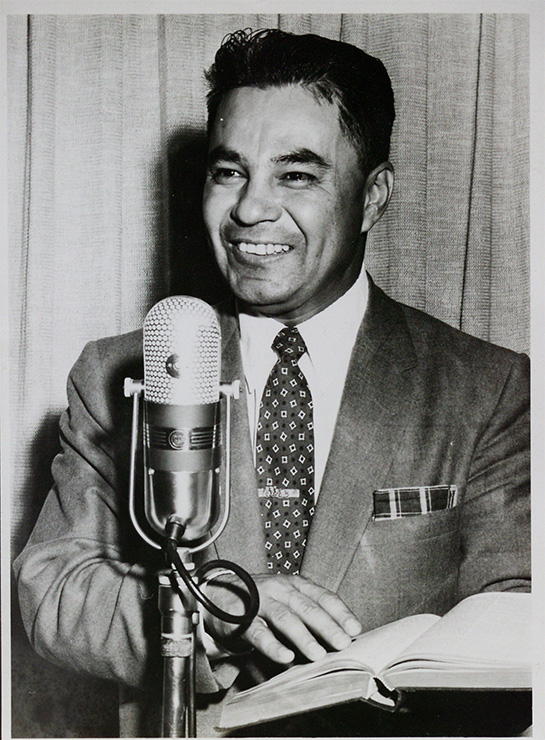 Among the topics researched by students is the legacy of Houston activist Rev. James Novarro. He was a principal organizer of "La Marcha," a historic organized protest in 1966 that supported fair wages for farm workers. The popular pastor also played a major role in supporting Mexico's victims of Hurricane Hilda in 1955.
Aguilar was tasked with locating digital materials connected with the late religious and community leader. He tracked down documents such as personal correspondence, flyers and letters. He also collected photographs of Novarro alongside various leaders and newspaper articles reporting on his work within the community.
"As a Mexican-American, I found it very important to learn about him," Aguilar said. "Often times, people from marginalized communities are disregarded. Novarro, however, made an impact in Houston and was active until his death in the 1990s. He was very inspiring."
Another digital project focused on how the influenza virus affected underserved communities in the early 20th century. Lopez-Herrera, now a Master of Public Policy student at UH's Hobby School of Public Affairs, reviewed articles from Spanish language newspapers and other publications such as pamphlets.

The project, she said, was particularly enlightening as newspapers were often censored during this period to enhance public morale during World War I. This censorship often restricted coverage of influenza, which was coined the "Spanish flu" at the time.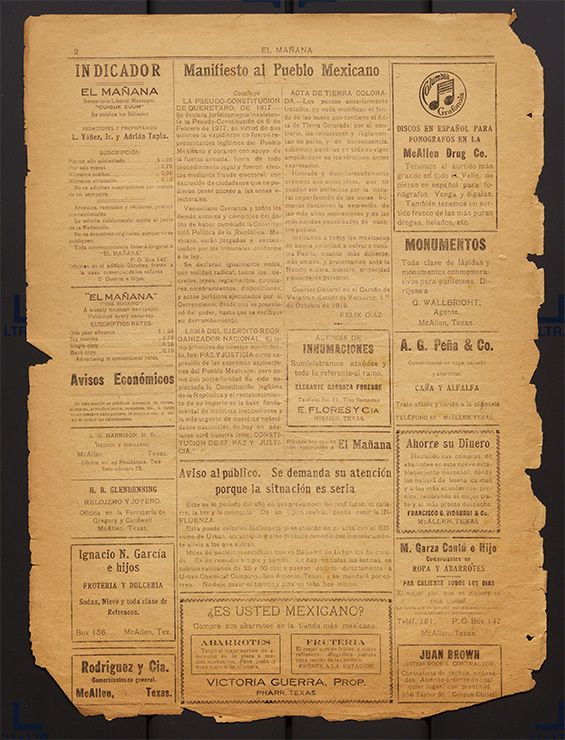 The information that was uncovered for this project also was particularly timely considering the ongoing struggles with COVID-19 and its effects on Hispanic communities.
"Not all of the documents I reviewed are considered 'historical,' but they're valuable," she said. "The content and context they provided regarding the flu's impact on communities are very informative. We often do not think twice about the many flyers or postcards we receive promoting vaccinations or health-related topics. Down the line, however, these items can be helpful in understanding the issues affecting our communities."
Campos' project differed somewhat from his peers as he focused on the ongoing shift in Latino demographics in the Houston area. Instead of reviewing digitized articles and literature, Campos, a senior sociology major, analyzed census data from 1940 to the present. He also used geographic information system mapping software to visualize the communities within the city.
Working with USDLH team members, he observed Hispanic growth in areas such as the East End and Near Northside during the 1950s and 1960s and peaks in the 1990s. Data collected during the past 20 years, however, reflect declines in Hispanic population within areas such as the Second Ward.
This particular project has not only proven informative but also has supported Campos' academic interests as an urban sociologist.
"This was my first real research experience," he said. "I had to determine how to capture the data and present it in a meaningful way. The skills that I gained through this project are preparing me for graduate school and beyond."
Aguilar, Lopez-Herrera and Campos are just some of the students who are helping preserve aspects of Hispanic culture in Houston and throughout the U.S. Recovering the U.S. Hispanic Literacy Heritage Program also extends its reach into Houston-area schools to infuse a passion for research in students of all ages. Likewise, the program also helps educate young Houstonians on the rich histories of their communities.
"For students at all levels, these are great learning opportunities," said Gabriela Baeza Ventura, associate professor of Hispanic studies. "Many of these students come from areas that are overlooked or underrepresented. These projects are dedicated to these very communities. They can see themselves in this research and within the academic environment here at the University of Houston. More importantly, they can play a role in documenting these communities' histories. That is life-changing for these students."
UH students' participation in the Recovering the U.S. Hispanic Literary Heritage Program is supported by the University's Research for Aspiring Coogs in the Humanities (REACH) initiative. REACH is a collaborative endeavor between UH's Office of Undergraduate Research and Major Awards and the Office of the Provost's Cougar Initiative to Engage (CITE).
"We are truly grateful for the institutional support because this work is very empowering for our students," added Carolina Villarroel, Brown Foundation director of research for the Recovering the U.S. Hispanic Literacy Heritage Program. "Through their research, they become more successful academically and personally. They also discover new talents and become contributors to their own communities."