June 1 Declared Paula Myrick Short Day in Houston
City of Houston Honors UH Provost with Proclamation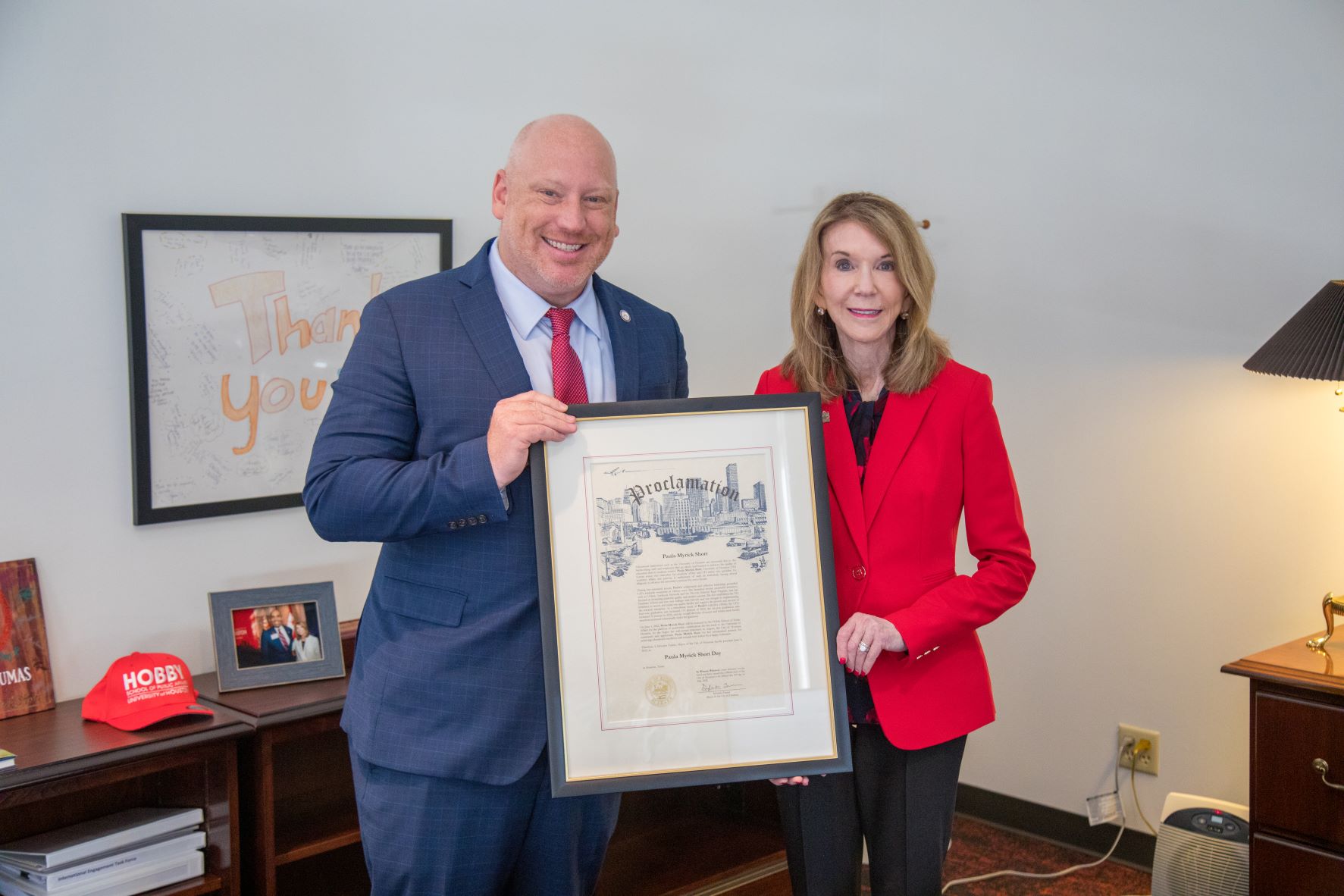 It's official! June 1, 2022 is Paula Myrick Short Day in Houston.
Houston Mayor Sylvester Turner dedicated today to University of Houston's senior vice president for academic affairs and provost and issued a proclamation recognizing Provost Short's accomplishments at UH.
During a meeting of the Hobby School of Public Affairs' Advisory Board, Short was virtually in attendance to deliver remarks and to be honored by those in attendance.
As she concluded her presentation to the board, Bill Kelly, director of governmental relations for the mayor's office, knocked at her office door and surprised her with a framed proclamation acknowledging her contributions to both UH and higher education.
Among the initiatives referenced in the proclamation are UHin4, Provost's Summer Read Program and the Graduate School. He also cited the University's dramatic growth in its four-year and six-year graduation rates. He noted her efforts in recruiting and retaining talented faculty.
"The City of Houston commends and applauds Paula Myrick Short for her unsurpassed passion for achieving educational excellence and extends best wishes," Kelly said, reading from the proclamation. "Therefore, I on behalf of Sylvester Turner, mayor of the city of Houston, hereby proclaim June 1, 2022 as Paula Myrick Short Day in Houston."
Complementing Kelly's presentation to Short was his acknowledgement that he is a UH alumnus and a reminder that Mayor Turner himself is a proud Cougar.
The proclamation and recognition from the Hobby School are just some of the accolades Short has received over the past few weeks and months. Since Short announced her retirement, UH's colleges, departments and organizations have made time to formally celebrate her accomplishments.
"I am touched by this proclamation," Short said. "It is very validating to be recognized by the city of Houston and so many others in the community. Thank you, Mayor Turner, for this acknowledgement … and thank you, UH for a truly wonderful 10 years."