UH Students Partner with Holocaust Museum in Documenting Oral Histories of Latinx Sephardic Jewish Communities
Project Supported by Cougar Initiative to Engage Grant
By Mike Emery, 713-743-7197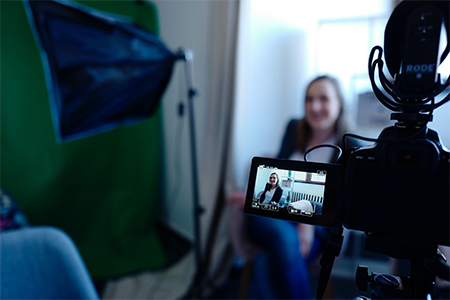 The story of the Sephardic Jewish community often is overlooked when addressing Latinx culture in the United States. Only 300,000 Americans identify as Sephardic Jews—or those descended from 13th century Jewish populations that resided in the Iberian Peninsula prior to expulsion by Spanish and Portuguese royalty.
This spring, 16 University of Houston students have been learning more about Sephardic Jewish heritage, particularly as it relates to the Latinx experience in Houston. They have been meeting and interviewing Latinx Sephardic Jews in Houston and documenting their stories as part of an oral histories course.
Credit Mark Goldberg, director of the UH Jewish Studies Program, Holocaust Museum Houston, and the Cougar Initiative to Engage (CITE) program for providing this academic opportunity to students and for a closer look at a niche segment of the city's population.
Goldberg, associate professor of history, has focused his own research on Cuban Jews and recognized the scholarly possibilities for students.
"I was doing my own research and capturing oral histories when I realized how powerful interviews can be," Goldberg said. "Sitting down with a person, asking questions, and listening to their stories is critical for historians. I thought this would be an outstanding experience for our students."
In designing an oral histories class, he applied for and obtained a grant from CITE, which supports academic initiatives with real-world implications. The grant, he said, helped purchase audio and video equipment and hire a transcription professional. Additionally, the course was made possible by a partnership with Holocaust Museum Houston's Latino Initiatives Project.
Goldberg, a native Houstonian and a Latino Jew himself, identified six Houstonians with Sephardic Jewish ancestry and divided his students into groups to interview them.
"Growing up here, I was raised in a predominately Jewish community," Goldberg said. "Some of the people I knew while growing up are indeed Sephardic, so I reached out to them. Someone at the museum then volunteered to be interviewed, and through word of mouth, we gathered more interviewees."
Diversity was key in identifying these interviewees, he added. The group of participants was divided equally by gender, but their origins varied (Mexico, Chile, Venezuela, Argentina) as did their Sephardic histories (Syria, Turkey, Palestine).
Students completed their interviews this month, and the oral histories of these individuals will be shared online through Holocaust Museum Houston's Latino Initiatives website. Students also will share their experiences working on this semester-long project during a special event conducted at the museum at 6 p.m., April 25.
Goldberg's students will be on hand to share their experiences with the project this semester, as well as to present posters based on their research. Those interviewed for this project also will be in attendance to provide perspective on this project.
According to Goldberg, these oral histories help shed light on Latin American Jewish immigrants in the U.S., particularly those with Sephardic lineage.
"Sephardic history is very much overshadowed," he said. "In America, when people talk about Jewish history, they talk about Ashkenazi Jews, those of eastern European descent."
For students, the experience was enlightening, particularly to those with Jewish Heritage.
Student Miranda Ruzinsky found the project especially rewarding as she was able to expand her knowledge of the Jewish culture.
"I learned a lot about the history of Judaism beyond the Ashkenazi traditions I have grown up with inside my own family that practices Judaism and whose lineage hails from eastern Europe," she said. "I believe this importance not only extends to Jews like me within the Houston community but also to the entire city's population as well."
Ultimately, Goldberg not only wants to shine a spotlight on an often-unnoticed segment of the community, but to provide students with an experience that is academically and culturally enriching. He particularly credits Holocaust Museum Houston and CITE for achieving this goal.
"Our students gained historical empathy through this project by engaging with people from different communities," he said. "That is so important to our students and a key mission at our university … to learn cultural and social responsibility. This semester, we have certainly accomplished that."