UH Community Commemorates Juneteenth
Faculty, Staff Share Perspectives on Freedom Day, June 19


By Mike Emery, 713-743-7197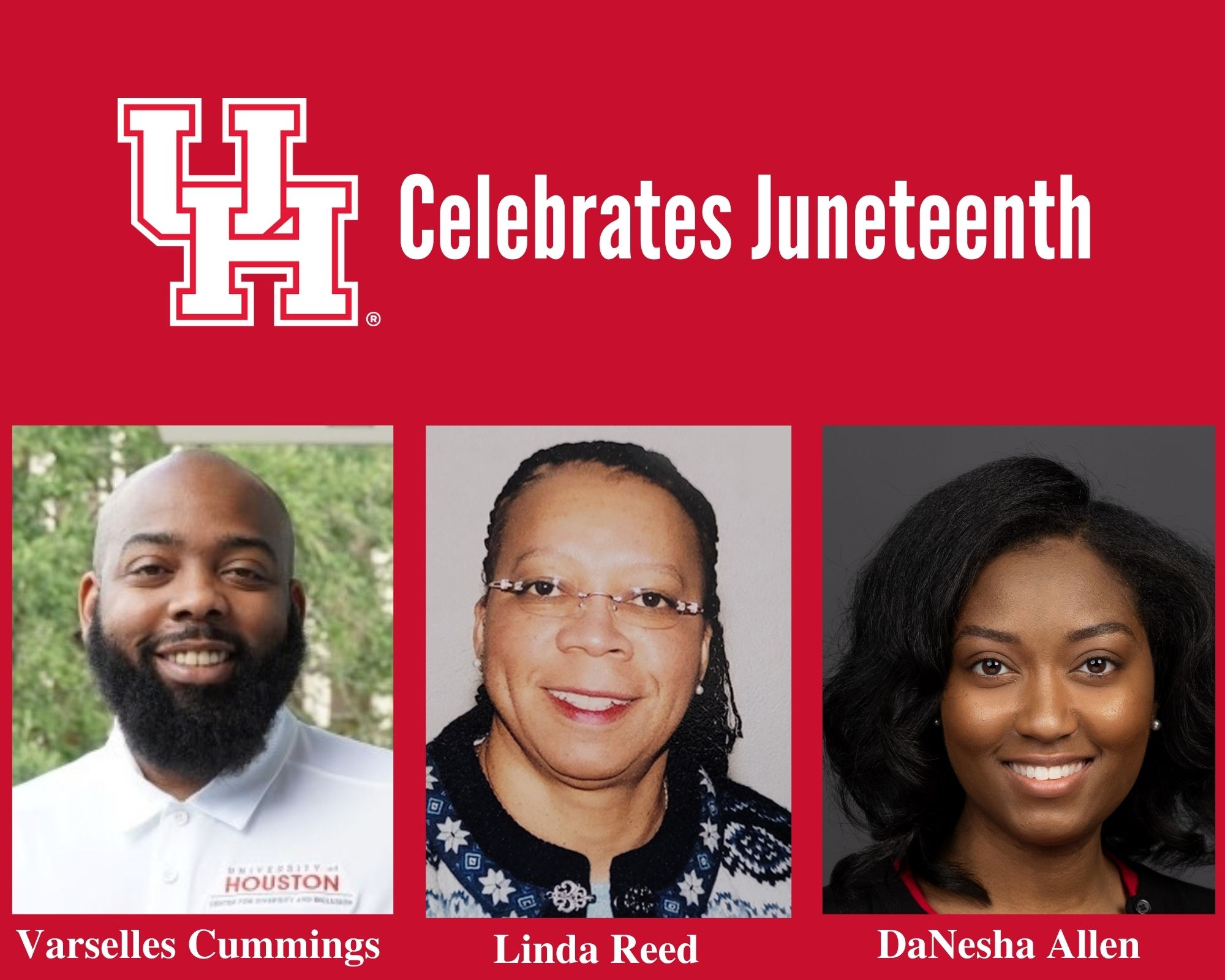 Juneteenth, also known as Freedom Day or Emancipation Day, serves as a time for celebration and reflection. It's a day that symbolizes the end of slavery in our nation and the start of a new age for Black Americans.
This year marks the 156th anniversary of Juneteenth (June 19), and the day holds particular significance in the greater Houston region. It was on this date in 1865 that Union General Gordon Granger arrived in Galveston declaring that all enslaved people were emancipated by General Order No. 3. This  announcement came more than two years following the signing of the Emancipation Proclamation by President Abraham Lincoln, but Granger's declaration further set into motion the freedom of more than 250,000 enslaved Texans.
While Juneteenth has been commemorated for well over a century, it did not become a federal holiday until 2021 following legislation signed by President Joe Biden.
This year, the University of Houston's Center for Diversity and Inclusion (CDI) will begin its Juneteenth celebration a few days early in the Student Center. A gallery with historical facts and information on Juneteenth will be set up just outside of CDI (Suite B12 in the Student Center) starting June 16 and will remain on display through June 19. Commemorative Juneteenth shirts also will be handed out from 10 a.m. to 2 p.m. on June 16.
For Varselles Cummings, director of CDI, Juneteenth has always been a special day. As a child growing up in Fresno, California, he remembers the numerous events honoring this day. The upcoming gallery hosted by CDI will provide a platform to help members of the Cougar Community recognize the significance of this special day.
"I think it's great that Juneteenth is now more familiar to most Americans and that it is a federal holiday," he said. "It's also important to talk about this day and to understand that while Juneteenth is symbolic of the end of slavery, there were many challenges ahead for enslaved populations."
Linda Reed, interim director of UH's African American Studies Program, agrees. She added that Juneteenth offers an opportunity to pause and contemplate the concept of freedom. Just as important, the day should also be observed with a festive spirit.
"Just because we still have work to do with regard to race and other issues, doesn't mean we should not celebrate," she said. "We, as a University community, celebrate diversity and each other. Juneteenth is an extension of that. It offers an opportunity to truly recognize and appreciate this moment in history and its impact on African Americans in our country."
Reed, who also serves an associate professor of history, recommended a few ways to become more familiar with the story of Juneteenth. The book "On Juneteenth" by Annette Gordon-Reed is a must-read, she said. A number of books on the topic also are available through UH Libraries.
Reed also advises a trip to Galveston to view the mural "Absolute Equality" by art collective the Creatives (led by Reginald Adams). This mural is part of the Freedom Walk, which retraces Granger's arrival in Galveston and journey through the city to proclaim General Order No. 3.
Of course, festivities also are taking place much closer to campus. These include the Emancipation Conversations Lecture Series June 11 - 15 hosted by the Emancipation Park Conservancy (featuring UH alumna Michelle Barnes as a speaker) and Emancipation Park's 150th Juneteenth Celebration on June 18 and 19.
Regardless of how Juneteenth is observed this year, it is critical to understand the origins of the holiday, its legacy, and how it can further inspire freedom in our world.
Like so many others, UH Staff Council President DaNesha Allen was raised with Juneteenth as a central holiday. She encourages her peers and others in our community to take a moment to honor those who fought for freedom, as well as those who endured the pain of bondage.
"Human rights are often taken for granted, but Juneteenth serves as a reminder that my ancestors were not afforded basic human rights because of the color of their skin," said Allen, who serves as executive administrative assistant for the associate vice president for Office of Administration. "As Texans, we must remember that Juneteenth recognizes the day that African Americans in Texas received the news of emancipation. We celebrate the integrity and courage of the people who lost their lives as a result of slavery, and those who were emancipated and birthed future generations of people who contribute to the greater good in the world today."