UH and UH Law Center Recognized with Higher Education Excellence in Diversity Awards
UH, Law Center Earn Seventh Awards from INSIGHT Into Diversity Magazine
By Mike Emery, 713-743-7197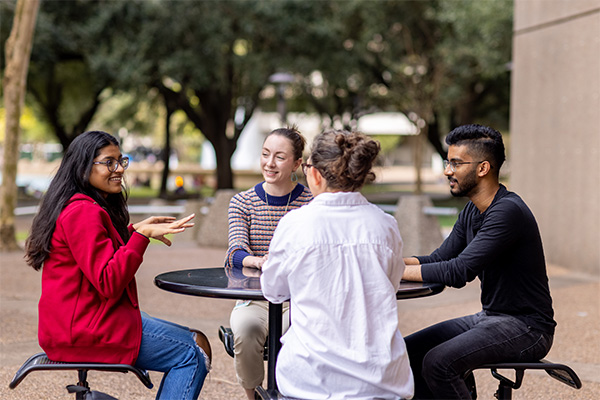 The University of Houston and the UH Law Center have long been recognized as inclusive institutions of higher education with culturally rich campus populations.
For their efforts in supporting students from all backgrounds, the University and its Law Center received their seventh Higher Education Excellence in Diversity (HEED) Awards from INSIGHT Into Diversity magazine. Both join the nation's top colleges and universities in receiving this award that recognizes best practices in campus diversity, equity and inclusion.
"Receiving the HEED Award seven years in a row speaks volumes of UH's efforts in promoting diversity, equity and inclusivity on campus," said Robert H. McPherson, UH interim senior vice president for academic affairs and provost. "Earning this honor is indeed a team effort and truly reflects our UH community commitment to supporting a multicultural learning environment."
UH's efforts in maintaining a welcoming and inclusive institution extends throughout its colleges, departments and offices, as well as the many student organizations that address the needs of underrepresented learning populations.  Additionally, the University recruits and retains diverse faculty through the Office of Faculty Recruitment, Retention, Equity and Diversity and through initiatives such as the Underrepresented Women of Color Coalition and the newly founded Underrepresented Men of Color Coalition.
The UH Law Center is noted for its Diversity, Racial Justice and Human Rights Initiative. This college-wide platform includes institutes, programs, centers, clinics and courses that relate to race, social justice, immigration, diversity, inclusion, equality and related issues.
"I am humbled and honored that UH Law Center was recognized with the HEED Award for the seventh year in a row," said UH Law Center Dean Leonard Baynes. "It is a testament to the dedication and commitment of the Law Center faculty, students and staff."
2022 HEED Award recipients will be announced in the November issue of INSIGHT Into Diversity. The HEED Award is the only national award recognizing colleges and universities for making diversity and inclusion top priorities on their campuses.
"The HEED Award process consists of a comprehensive and rigorous application that includes questions relating to the recruitment and retention of students and employees — and best practices for both — as well as continued leadership support for diversity and other aspects of campus diversity and inclusion," said Lenore Pearlstein, publisher of INSIGHT Into Diversity magazine. "We take a detailed approach to reviewing each application in deciding who will be named a HEED Award recipient. Our standards are high, and we look for institutions where diversity and inclusion are woven into the work being done every day across campus."