Fall 2021 Global Citizens Credential Ceremony
December 16, 2021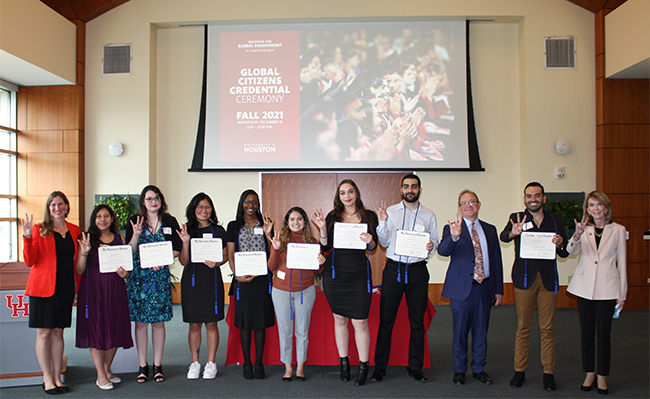 The University of Houston's new Institute for Global Engagement, An Aspire Initiative, hosted the Fall 2021 Global Citizens Credential Ceremony yesterday, Wednesday, December 15 to celebrate its graduates. This special event included remarks by the Senior Vice President for Academic Affairs and Provost and the Executive Director for the Institute for Global Engagement, followed by a formal award ceremony and reception. During the ceremony, the university recognized the accomplishments of ten undergraduate students who completed the program as well as the support of faculty, staff, and external partners.
"World citizens with cultural competencies and specializations are needed now more than ever," said Provost Short. "As our planet continues to shrink, and with nations so closely connected, the special knowledge, languages, and perspectives graduates have as a Global Citizen makes them unique and able stand out amongst their peers."
Since the Office of the Provost launched the Global Citizens Credential (GCC) four years ago, 190 students have completed the program. The GCC awards undergraduate students for completing global learning activities, such as global coursework, foreign language proficiency, learning abroad, global scholarly work, and/or intercultural activities.  Upon completion, GCC graduates receive a certificate, honor cord, and transcript notation. The GCC helps students stand out when applying to jobs, graduate school, or competitive international scholarships, and encourages them to become more active global citizens.
To learn more about the Global Citizens Credential program at the University of Houston, please visit the GCC program website.