Students' Worldly Accomplishments Recognized During Global Citizens Credential Ceremony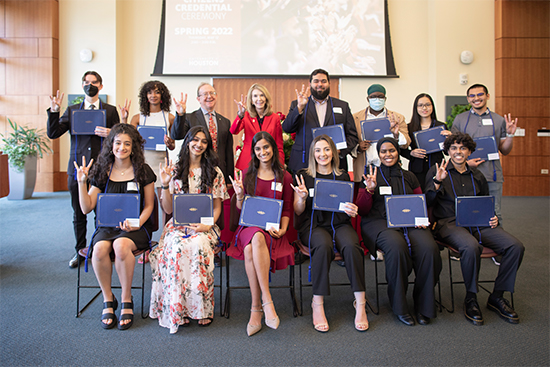 By Sydney Rose
The Global Citizens Credential (GCC) Ceremony took place on May 12 at the M.D. Anderson Library's Rockwell Pavilion to celebrate the 18 graduates who participated in initiatives led by the University of Houston's Institute for Global Engagement.
The event included a congratulations to all the GCC students from Ambassador Michael Pelletier (Retd.), executive director of the UH Institute for Global Engagement, as well as remarks from UH Senior Vice President for Academic Affairs and Provost Paula Myrick Short, who acknowledged the challenges overcome during the coronavirus pandemic.
She also recognized the many achievements that brought them to this moment.
"All of these students worked hard to reach this moment building new skills, mastering new languages, immersing themselves in different cultures, and ultimately, discovering what it means to be Global Citizens," she said.
The GCC as an undergraduate program through the Office of the Provost that is open to any UH undergraduate student in good academic standing and recognizes students for their work in building global knowledge and skills.
Graduates like Areeba Alsharfeen were celebrated for their work this past semester. Graduating with a Bachelor of Science in biology, Alsharfeen performed research with a global focus on combatting neurodegenerative illnesses worldwide in various populations.
Other students, such as Jacob Huling, who just earned bachelor's degrees in both history and political science, are immediately going global after graduation. Huling plans to take a gap year to apply for a Fulbright English Teaching Position, then apply for graduate school in Brussels to study diplomacy and global governance.
Many of the graduates were recipients of awards and scholarships during their time as GCC students, including Hana Mohamed, who just earned a Bachelor of Arts in psychology and was supported by the Frederick Douglass Global Fellowship during her study abroad term in Ireland. Trinity Johnson, who earned a Bachelor of Arts in economics, was recognized for his academic efforts with the Sino-USA Friendship Award. Others like Freisha Burke, who earned a Bachelor of Arts in political science, received scholarships. She was a recipient of the Shan-Zhih & Lucia Lee Wu Scholarship. Ngoc Nguyen, with a Bachelor of Science in biochemical and biophysical science, received the IES Scholarship for her semester in Swansea, Wales.
A large part of this celebration covers the number of research opportunities these graduates created. There were also students like Jimmy Nguyen, who graduated a Bachelor of Arts in religious studies. He conducted a research project on Buddhist studies. Another GCC student, Francisco Chan, who completed his bachelor's degree in architecture, performed research to focus on China's expansion in Africa and Latin America regarding infrastructure investment.
To learn more about the Global Citizens Credential, visit the website here.