UH Professor's Support of Syrian Refugee Communities Goes Global
Fulbright Specialist Samina Salim Sharing Insights, Expertise in Jordan
By Mike Emery, 713-743-7197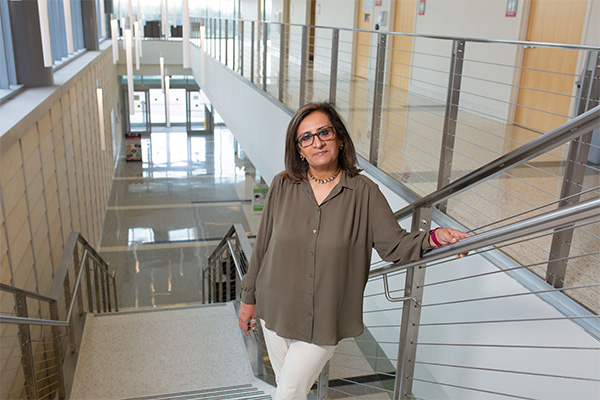 What started as a scientific investigation has become a passion project for Samina Salim.
The University of Houston associate professor of pharmacology has worked alongside colleagues to determine the biochemical basis of mental stress and breast cancer risk among Syrian refugees in Houston. As Salim began learning about the trauma experienced by families displaced by the Syrian Civil War, she became personally invested in Houston's refugee community.
This week, Salim expands on that work by traveling to Jordan, which hosts one of the world's largest Syrian refugee populations. Her journey is made possible by the Fulbright Specialist Program. She is among the U.S. scholars selected for this program and will continue her work with Syrian expatriate communities. In northern Jordan, she will examine Syrian refugee mental health, stress, and their awareness of breast cancer.
Her Fulbright-sponsored trip will also facilitate collaborations with Jordan University of Science and Technology in the city of Irbid, Jordan. At this institution, Salim will review its master's and doctoral pharmacy curriculum and conduct a scientific writing workshop for graduate students and junior faculty members. She will also showcase her research during presentations at the institution to further spotlight UH's scientific enterprise. Salim will depart on July 15 from Houston and returns on Aug. 8.
This is Salim's first Fulbright award, and she is proud to continue her research abroad and to represent the University of Houston on a world stage.
"International collaborations such as this are important to UH," she said. "Showcasing the University's scientific expertise on a global level will only lead to greater things for our university."
She is particularly pleased to also resume her research with Syrian refugees and looks forward to visiting those groups residing in Jordan.
"I never thought I would become so passionate about working with these communities," she said. "Once I began seeing the challenges faced by the children of refugees, I felt there was more work to be done."
In addition to researching mental stress among refugees, Salim also led an effort to tutor and mentor both Arab refugee and Arab immigrant high school students in STEM subjects. This project, the Incubator of Racial Equity in STEM Education, was supported by a Cougar Initiative to Engage (CITE) grant.
Salim also researched the effects of racism on refugee children alongside Johanna Bick, assistant professor of psychology. Their efforts were assisted by a Division of Research Grant to Enhance and Advance Research (GEAR).
Salim credits pilot grants from CITE, GEAR and the National Institute of Minority Health and Health Disparities Research Centers in Minority Institutions program, as well as the support of the UH community for helping elevate her work to a global scale. Likewise, she is grateful to the Fulbright program for providing this opportunity to further research and assist communities in need.
"It is an honor to travel to Jordan as a Fulbright Specialist," she said. "This is an amazing opportunity, but more importantly, it's a chance to extend my expertise to a new institution."
Salim joins other UH professors and students in traveling the globe as a Fulbrighter. Each year, Fulbright Specialists are selected based on academic and professional achievements to foster long-term collaborations between institutions in the U.S. and abroad.
UH recently announced that 10 of its students were selected as Fulbright Scholars, and the University has been recognized as one of the nation's top Fulbright producers.