Wynne Chin Earns 2022 Farfel Award
Distinguished Professor Receives University's Highest Faculty Honor

By Mike Emery, 713-743-7197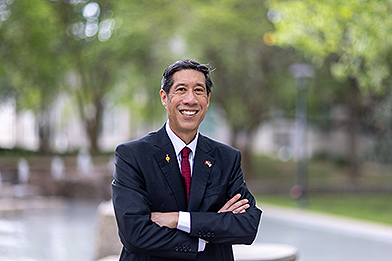 Accomplished scholar … distinguished faculty member …highly cited researcher … respected mentor.
Wynne Chin is recognized as all of the above, and after nearly four decades in higher education, he continues to add to his list of formal and informal titles. The latest is 2022 Esther Farfel Award recipient.
Chin, the University of Houston's C.T. Bauer Professor of Decision and Information Sciences, was nominated by peers, colleagues, and students who recognize his commitment to excellence within the academy and to advancing the discipline of information sciences.
Established in 1979, the Farfel Award is presented annually to UH faculty who demonstrate excellence in teaching, research, and service. It is the University's highest faculty honor.
"I am grateful to be bestowed this great honor," Chin said. "The University of Houston has vast talent within its faculty ranks, so it truly is a humbling experience to receive this award."
Chin arrived at UH in 1997 bringing his groundbreaking research in information sciences to campus. As a sought-after scholar, he was pursued by a number of leading universities, but he instantly recognized that UH would be the perfect destination for his work.
"UH is an excellent incubator for success," he said. "While the University continues to grow its resources and facilities, it always has had a 'can do' spirit that uplifts its community and inspires them to work harder and accomplish great things. You can't always find that at other universities."
Upon his entry to UH, Chin already was renowned as a proponent of the Partial Least Squares Path Modeling (PLS) technique. Chin's expertise on the subject was complemented by his development of PLS-Graph software. This free tool has become a universal platform for researchers around the globe and accentuates Chin's commitment to both advancing the discipline and supporting his peers. Likewise, his 1998 book chapter "The partial least squares approach to structural equation modeling" (published in the book "Modern methods for business research") remains a go to resource for scholars and has been cited close to 24,000 times.
Chin has authored 170 books, book chapters, papers and conference proceedings. He remains the sixth most cited UH professor with 75,000 career citations and is ranked third worldwide in first authored articles published in his discipline's top two journals - MISQ and ISR from 1990 through 2016. Within the more general field of information and communication technologies, Chin holds rankings of No. 295 and No. 147 out of 570,025 scientists for career and single year contributions respectively. He is also the sixth most cited researcher in the world related to structural equations modeling.
Since his arrival at UH's C.T. Bauer College of Business, Chin has worked diligently to support students and continues to teach core undergraduate courses such as Supply Chain Management, Business Modeling and Analysis and Introduction to Business Analytics. At the graduate level, he presides over classes such as Business Modeling for Competitive Advantage and leads a doctoral seminar for management information systems students as well as mentoring doctoral students in other departments as disparate as Social Work, Education, and Earth and Atmospheric Sciences.
Chin's department chair, Norman Johnson, expanded beyond the many years he has served as the doctoral coordinator.
"During his tenure, not only did he mentor those in our program but also those outside it in our discipline. In recognition of his contribution to those outside, the KPMG Ph.D. Project named him to its prestigious 'Circle of Compadres' that recognizes faculty who promote and inspire African American, Hispanic-American and Native American Information Systems doctoral students as they pursue their degrees and take their place in the academic profession. Those chosen for this award are outstanding mentors to Ph.D. students in Information Systems and related STEM disciplines.
"As part of his drive towards improved institutional, student, and faculty support, Dr. Chin has also worked with the Provost's office to advocate for UH's being designated an Asian American Native American and Pacific Islander Serving Institution," added colleague David Mazella, associate professor of English. "He has been involved with multiple grant applications for student success, including a successful Underrepresented Minority NSF grant."
Outside of the classroom, Chin has been an ardent advocate for faculty and shared governance. As the only UH faculty to serve twice as president of Faculty Senate (2008 and 2015), he was elected president of the Texas Council on Faculty Senates in 2019, where he helped establish the National Council of Faculty Senates.
His support of fellow professors has been particularly visible on campus as he started a mentoring group to support new Asian and Asian American faculty members. Locally, he founded the Houston Chinese Faculty Association and nationally, he contributes his energies to organizations such as Leadership Education for Asian Pacific and Asian Pacific Americans in Higher Education.
"Dr. Chin consistently raises the bar for both our faculty and our students," said Paula Myrick Short, senior vice president for academic affairs and provost. "He is an exemplary scholar who elevates peers and pupils through support and mentorship. Dr. Chin readily assumes leadership roles at the University of Houston, demonstrating a clear passion … and vision …  for our institution. He is indeed a model professor and one that is worthy of UH's highest honor, the Esther Farfel Award."